Ram temple trust cash theft charge levied by former BJP MP
The trust formed by central government early this year has been alleged to be more interested in financial embezzlement than in construction of the temple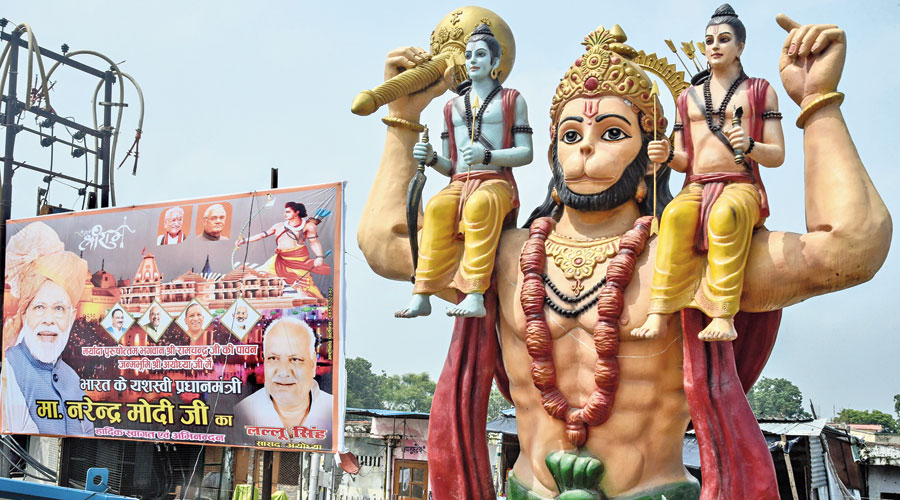 ---
|
Lucknow
|
Published 05.12.20, 02:29 AM
---
Ram Vilas Vedanti, a sadhu from Ayodhya and former BJP MP, has joined Dharam Das, mahant of Nirvani Ani Akhara, in alleging that the Shri Ram Janmabhoomi Teerth Kshetra Trust was mismanaging the funds meant for construction of the Ram temple.
"All is not well in the trust, which was formed by the central government early this year for the construction of Ram temple. The present members of the trust are involved in financial embezzlement," Vedanti told reporters in Ayodhya on Thursday.
"This was the reason that they didn't give me and (Dharam) Das any space in the trust. Former VHP president Ashok Singhal had included me in the Ramjanmabhoomi Nyas, which was active before the Supreme Court's verdict. But my presence was ignored in the formation of the new trust," he added.
Das was one of the parties in the Ram Janmabhoomi-Babri Masjid case, in which the Supreme Court had given its verdict in November last year in favour of the Hindu side and asked the central government to form a new trust for the proposed temple. The apex court had also asked the state government to give an alternative five acres of land to the Uttar Pradesh Sunni Central Waqf Board.
Das had written to the Union home ministry on November 13 threatening that he would move the Supreme Court unless some sadhus of Ayodhya were made members of the trust within two months.
Das had also alleged embezzlement of funds in the trust.
Only one sadhu from Ayodhya — VHP leader and Maniram Chhaoni mahant Nrityagopal Das, who headed the now-defunct Ramjanmabhoomi Nyas — is part of the trust.
Das claims his predecessor Baba Abhiram Das alias Abhinandan Mishra, a mahant of Hanumangarhi temple, had surreptitiously installed the idol on the night of December 22, 1949, setting off far-reaching events.
Das said on Thursday, "The trust is more interested in financial embezzlement than in construction of the temple. We will try to remove those members of the trust who are working with bad intentions. We will not let them live in Ayodhya."
"I am waiting for the home ministry's reply and taking legal views to move the Supreme Court," he added.
A trust member said on the condition of anonymity, "Some sadhus are unhappy because they didn't get space in the trust. All the names were decided by the home ministry only. We can add them in some sub-committees in future after a discussion with the Centre."