Ram temple: As ruthless as the demolition squad
The spearheads of the shrine campaign that culminated in one of the darkest episodes in independent India when the Babri Masjid was demolished have not been invited till Saturday evening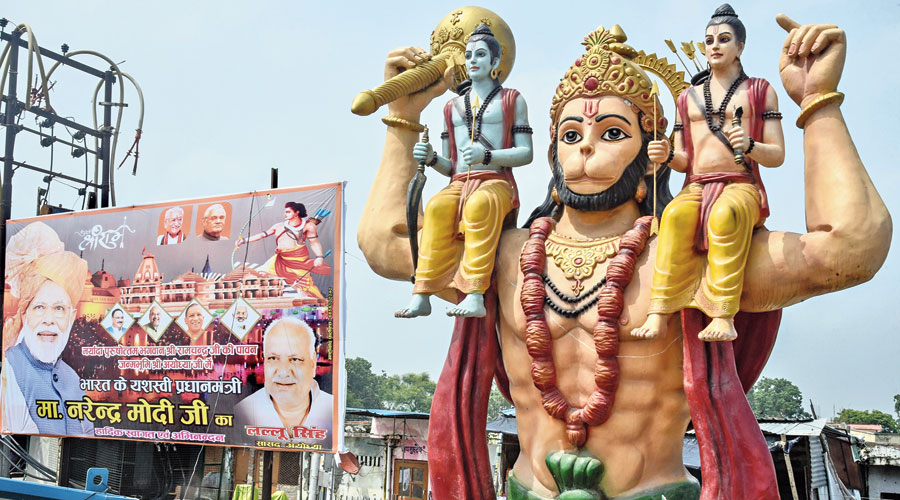 ---
---
In the temple politics pantheon, there never has been any doubt about the pecking order, regardless of their current station in life: L.K. Advani, Murli Manohar Joshi, Kalyan Singh, Uma Bharti….
But the order has been more or less reversed while invitations are being sent out to next week's Ram temple event in Ayodhya.
Advani and Joshi, the spearheads of the Ram temple campaign that culminated in one of the darkest episodes in independent India when the Babri Masjid was demolished, had not been invited till Saturday evening.
"There's been no invite so far. That's all," Advani's secretary Deepak Chopra told The Telegraph on Saturday evening. Sources close to Joshi too confirmed he had not received an invite.
Both Kalyan and Uma received their invites on Friday.
With questions being asked in BJP circles, unnamed sources told some media outlets that Advani and Joshi would be invited. No explanation was given for the delay.
All four — Advani, Joshi, Kalyan and Uma — are accused in the Babri demolition case. Last month, the four had deposed in the case.
On August 5, "bhoomi pujan" for the Ram temple is scheduled at Ayodhya, during which Prime Minister Narendra Modi is expected to lay the foundation stone for the proposed shrine. The guest list was recently expanded from 200 to 600.
While some suggested that Advani, 92, and Joshi, 86, hadn't been invited because their age put them at high risk from the coronavirus, others underlined that this was true of most of the BJP and Sangh parivar heavyweights who have been invited.
Kalyan, the former Uttar Pradesh chief minister during whose reign the Babri Masjid was demolished, is 88 — two years older than Joshi. Modi himself is just weeks short of 70 and RSS chief Mohan Bhagwat is six days older than him.
While the Centre's Unlock 3 guidelines ban all large gatherings including religious congregations, the latest standard operating procedures issued by the Union home ministry advise people above 65 to stay at home.
"Advaniji and Joshiji may themselves decide not to go because of health reasons, but how can you not invite them?" a BJP old-timer said, asking not to be quoted.
Advani and Joshi had been sidelined within weeks of Modi's rise to power in 2014. They were made part of the margdarshak mandal — a toothless band of "guides" for government and party — putting them out of the running for key positions.
No comments could be obtained from the Shri Ram Janmabhoomi Teerth Kshetra Trust, which is overseeing the temple construction and organising Wednesday's ceremony, on the subject of invites to Advani and Joshi.
Calls to trust general secretary Champat Rai, said to be in charge of issuing the invitations, went unanswered.
"Champatji is managing all the invitations. We have no idea but there is talk that Advaniji and Joshiji are not being invited in view of the health risks from the coronavirus," a trust member said. "They may participate through videoconference."