Ram Madhav moved out in BJP reshuffle of office-bearers
Tejasvi Surya is chief of youth wing in Nadda-appointed team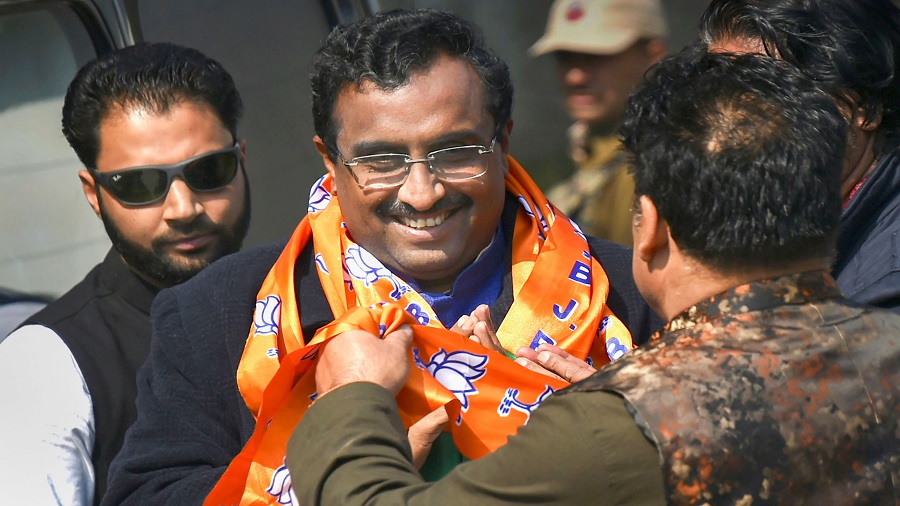 ---
---
BJP president J.P. Nadda announced a new team of party's national office-bearers on Saturday with party sources describing it as an exercise aimed at combining young people, women as well as experienced faces.
The list of eight general secretaries, crucial organisation positions in the party as they are the link between state and central leadership, has five new faces with Bhupender Yadav, Arun Singh and Kailash Vijayvargiya being retained.

However, Ram Madhav, P Muralidhar Rao, Saroj Pandey and Anil Jain have been replaced.

Dushyant Kumar Gautam, D. Purandareshwari, C. T. Ravi, Tarun Chugh and Dilip Saikia are new choices as general secretaries.

Party MP Tejasvi Surya, a fiery speaker, has been made the president of the party's youth wing in place of Poonam Mahajan.

The party has also expanded its list of spokesperson to 23, with MP Anil Baluni being elevated as the chief spokesperson and remaining its media head.
The new spokespersons include Rajeev Chandrasekhar, Rajyavardhan Singh Rathore, Sanju Verma, Iqbal Singh Lalpura, Aparajita Sarangi, Heena Gavit, M Kikon, Nupur Sharma, Raju Bisht and K.K. Sharma.
Prime Minister Narendra Modi welcomed the changes on Twitter.
This is the first reshuffle under Nadda who was elected unopposed as party chief in January, taking over from Amit Shah.
Radha Mohan Singh, Mukul Roy, Rekha Verma, Annapurna Devi, Bharti Shiyal, D.K. Aruna, M Chuba Ao, A.P. Abdullakutty were appointed national vice presidents.
Other appointments include K. Laxman as head of the OBC (Other Backward Classes) Morcha, Jamal Siddiqui as chief of the minority wing and Lal Singh Arya as chief of the SC (Scheduled Castes) Morcha.
Ram Madhav reacted to the new appointments on Twitter, saying, "Congratulations to the newly appointed office-bearers of d BJP. Grateful to d party leadership for providing me d opportunity to serve for one term as Gen Sec."