Ram cash theft jab at Modi-Shah
Jibe comes a day after reports of Ayodhya Development Authority naming Ayodhya mayor, a BJP MLA and a ex-BJP legislator as among 40 people who had illegally traded plots and built infrastructure on its land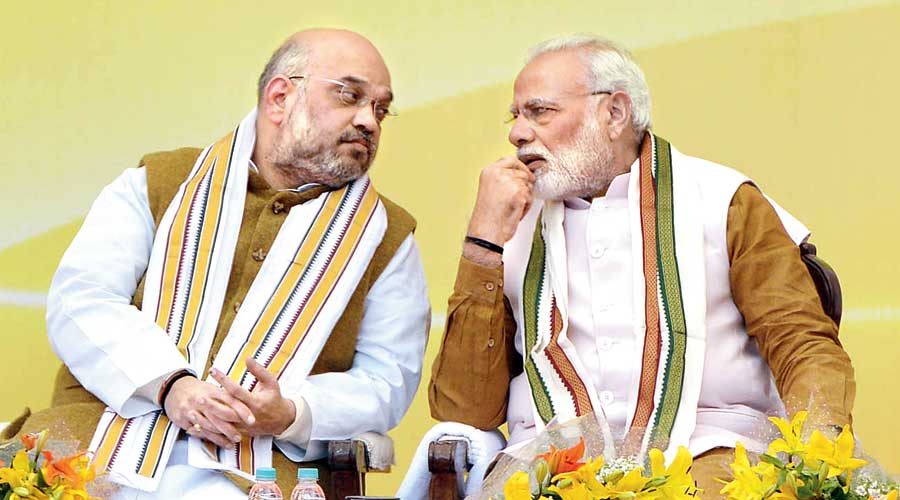 Amit Shah and Narendra Modi
File picture
---
New Delhi
|
Published 09.08.22, 01:20 AM
|
---
The Congress on Monday asked Prime Minister Narendra Modi and Union home minister Amit Shah to comment on the alleged theft by BJP leaders of contributions made by ordinary Indians towards the construction of the Ram temple in Ayodhya.
The jibe comes a day after reports said the Ayodhya Development Authority had named the Ayodhya mayor, a BJP MLA and a former BJP legislator as among 40 people who had illegally traded plots and built infrastructure on its land. Mayor Rishikesh Upadhyay and Sadar MLA Ved Prakash Gupta have denied the charge. The other accused is former MLA Gorakhnath Baba.
Last year, some Opposition politicians had accused the Ram temple trust in Ayodhya of buying land from people close to local BJP leaders at hugely inflated prices, using funds donated by the public towards the construction of the shrine. The land was bought to set up pilgrimage infrastructure relating to the upcoming Ram temple.
Congress spokesperson Supriya Shrinate on Monday said her party's allegations had now been confirmed.
"Why are Narendra Modi and Amit Shah silent on this scandal? Citizens contributed to the fund because of their faith but the money meant for the construction of the Ram temple is being swindled," she said.
"What is the punishment for chanda-chori (stealing donated money)? What is the punishment for the ministers, senior leaders and BJP spokespersons who were defending those involved in the illegal land deals?"
Shrinate said not only the Congress but the "Sant Samaj" (religious leaders) had complained of robbery in the name of Ram. Aam Aadmi Party Rajya Sabha member Sanjay Singh too reacted to the latest development, saying what he had been the first to expose had now been authenticated.
Shrinate demanded a Supreme Court-monitored investigation since the Shri Ram Janmabhoomi Teerth Kshetra Trust, entrusted with monitoring the construction of the temple, had been formed under its supervision.
She said the alleged theft by BJP members of donations meant for the Ram temple had established their low morality and untrustworthiness.
Priyanka Gandhi Vadra had addressed a news conference last year to accuse the BJP of misappropriating the donations towards the Ram temple.
She had questioned the Uttar Pradesh government's decision to get the land deals investigated by a magistrate and appealed to the Supreme Court to order a special investigation team.
The Congress had said that senior BJP functionaries were involved and the state government was aware of what was going on.
The then Congress communications chief, Randeep Surjewala, had alleged that the temple trust had bought land worth Rs 2 crore for Rs 26.50 crore.
"On November 15, 2017, (a total of) 2.334 hectares (23,340 square metres) of land was sold to absconding criminal Harish Pathak and his wife for Rs 2 crore. This was wakf land which could not be sold. An FIR was registered against this sale on April 22, 2018," Surjewala had said.
"On March 18, 2021, at 6.51pm, a portion of this land, 10,370 square metres, was sold to the temple trust for Rs 8 crore. (Temple trust member) Anil Mishra and Ayodhya mayor Rishikesh Upadhyay were the witnesses."
Surjewala added: "On March 18 itself, at 7.10pm, Pathak sold 12,080 square metres (another portion of the same plot) to Ravi Mohan Tewari for Rs 2 crore. After five minutes, this portion of land was sold to the temple trust for Rs 18.50 crore. The witnesses again were Anil Mishra and Rishikesh Upadhyay, both linked to the BJP."
"Anil Mishra is also a trustee and former head of the RSS in the state. The price of this piece of land grew by Rs 5.50 lakh per second, probably the fastest-ever in the world."