Rajasthan: Ashok Gehlot and Sachin Pilot in unity pitch
Both the leaders asserted that there was no groupism in the state Congress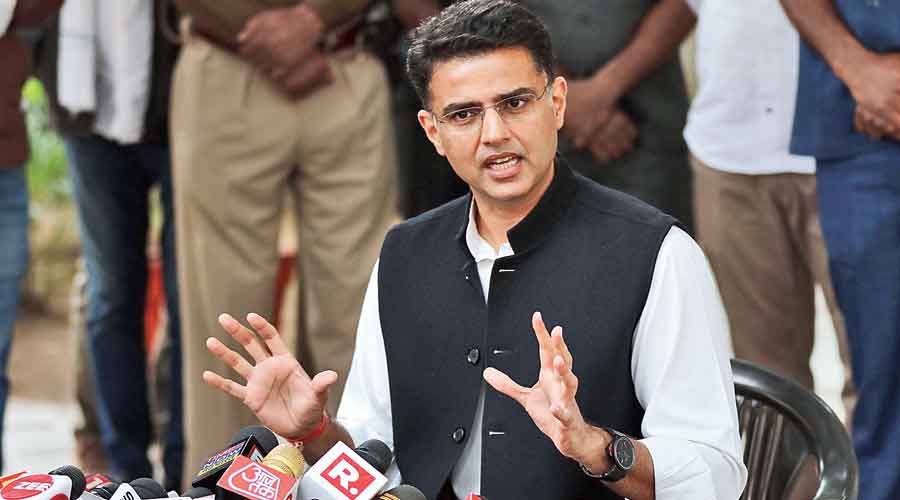 Sachin Pilot addresses the press conference at his residence in Jaipur on Sunday.
PTI Photo
---
New Delhi
|
Published 22.11.21, 02:06 AM
|
---
The Congress on Sunday unveiled a balanced ministry with adequate representation of different sections of society apart from accommodating leaders from the Sachin Pilot camp to project a unified face in Rajasthan.
After a protracted factional battle that threatened to tear the party apart, both chief minister Ashok Gehlot and Pilot on Sunday sang the unity tune, asserting that there was no groupism in the Rajasthan Congress. Rajasthan is one of the most crucial states for the Congress as it goes to polls just before the parliamentary election in 2024.
The Congress salvaged the government with great difficulty after the rebellion against Gehlot by Pilot and the strained relations between the two delayed the reconciliation process. While Pilot wanted his loyalists to be adjusted in the ministry again, Gehlot felt they could not be rewarded for endangering the government. The high command had to force Gehlot to change his mind by stressing the need for unification before the next assembly election.
Pilot loyalists, including the two ministers who were sacked for rebellion — Vishvendra Singh and Ramesh Meena, were reinducted in the government on Sunday. Others known to be close to Pilot — Hemaram Chowdhary, Murari Meena and Brijendra Ola — were also sworn in on Sunday. But there was more to the reshuffle than accommodating Pilot camp as strong regional leaders also got the place in the Cabinet.
While the Congress sent a strong signal to its traditional supporters by making four Dalit ministers, three women also got into the ministry. Strong Gehlot loyalists Mahesh Joshi, Ramlal Jat, Mahendrajit Singh Maliviya and Mamata Bhupesh were also inducted.
Senior ministers Raghu Sharma and Harish Chowdhary who were given election assignments in Gujarat and Punjab respectively were relieved of their ministerial responsibilities. State unit chief Govind Dotasara also quit the ministry adhering to one-man-one-post principle.