Rahul slams Modi for messing up economy
The Congress leader is planning a public outreach in the coming months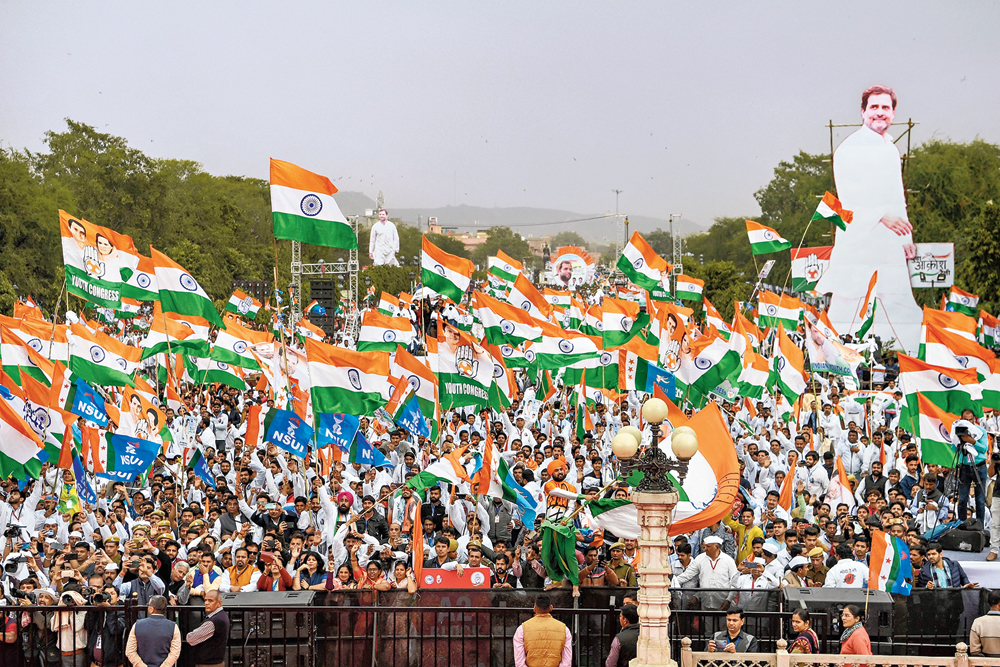 ---
---
Rahul Gandhi on Tuesday said investments would not pick up in a strife-torn country and restoring India's image as a pluralist country with thriving communal harmony was a must for putting the economy back on a high growth trajectory.
Addressing a mammoth public rally in Jaipur, Rahul said Prime Minister Narendra Modi had destroyed this image in the eyes of the world and wasted a great opportunity to use our greatest strength — the youth — to transform India into a global manufacturing hub.
Rahul, who is planning a public outreach in the coming months, accused the Prime Minister of betraying India at a critical juncture, which was like a once-in-a-lifetime opportunity.
Claiming the entire world wanted to help India to balance China's phenomenal rise, the former Congress president said: "Europe is ready, America is ready to help India become the manufacturing hub. Our talented and energetic youth is our main strength. But Modi wasted this capital. India was known to be a peaceful destination for investment. But the world is seeing the violence in our society. This is what Modi did."
He added: "The government is instigating violence. Earlier, investors said 'look at the strife-torn, violent Pakistan'. India was known for social amity and peace, marching on the road to progress unitedly. India was known as a country of pluralism and communal harmony. Our history, our culture is based on Gandhian values. That reputation/image has to be restored. India's identity should be — if we can become a manufacturing hub, we are also known for our character and morality."
Entreating people to stay united, Rahul said: "There is only one flag — that is for all. Reject anybody who wants to instigate one religion against the other, to divide. Stop it. Youth will have to understand that they have to speak up. Don't suppress your voice. Don't fear. Ask questions. Ask questions on India's future, on your future."
Accusing Modi of ordering firing on students who ask questions, he said: "I challenge the Prime Minister to go to any university and let the students ask questions."
Rahul Gandhi chose not to speak about the Citizenship Amendment Act (CAA) and instead dealt with the raging issue by stressing that social peace was an imperative for the revival of the economy and job creation.
The Congress clearly does not want to delink the economic distress and unemployment from the national discourse on citizenship to prevent the BJP from diverting attention from its failures.
Rahul tried to project the BJP's CAA-centric narrative in the Delhi election campaign as a ploy to drag the nation into the narrow groove of Hindu-Muslim divide.
He said: "The Prime Minister doesn't speak a word on real concerns of the society. He is not worried that the world is seeing India as a rape capital. He doesn't speak on farm distress, joblessness. He will talk of NRC but not of economic slide that hurts every single family. The GDP was growing at 9 per cent. It has come down to 5 per cent — that, too, if calculated by the new method. With the old method, it is 2.5 per cent. Shameful."
He also repeated his charge of crony capitalism against Modi, saying: "I am not against big corporate. I am for balance; if you help the big industrialists, help the farmers and small industries as well. But Modi doesn't understand economics. A person who can bring demonetisation obviously doesn't understand. Then he brought a flawed GSP; that destroyed small businesses. This time was the best opportunity to compete with China but Modi frittered it away."
Rahul, who hasn't campaigned in Delhi so far, will address a rally in Kerala on January 30. He will then address a rally in Delhi, followed by a tour of Jharkhand. Party leaders say he will continue trying to bring the focus on Modi's governance deficit and present a comprehensive critique of his failures rather than allow him to brush everything else under the carpet of the citizenship row.