Rahul Gandhi wins eyeballs in Wayanad, over to polls
Police estimated that 3 lakh people gathered along the 2.5km stretch of National Highway 212 that passes through the town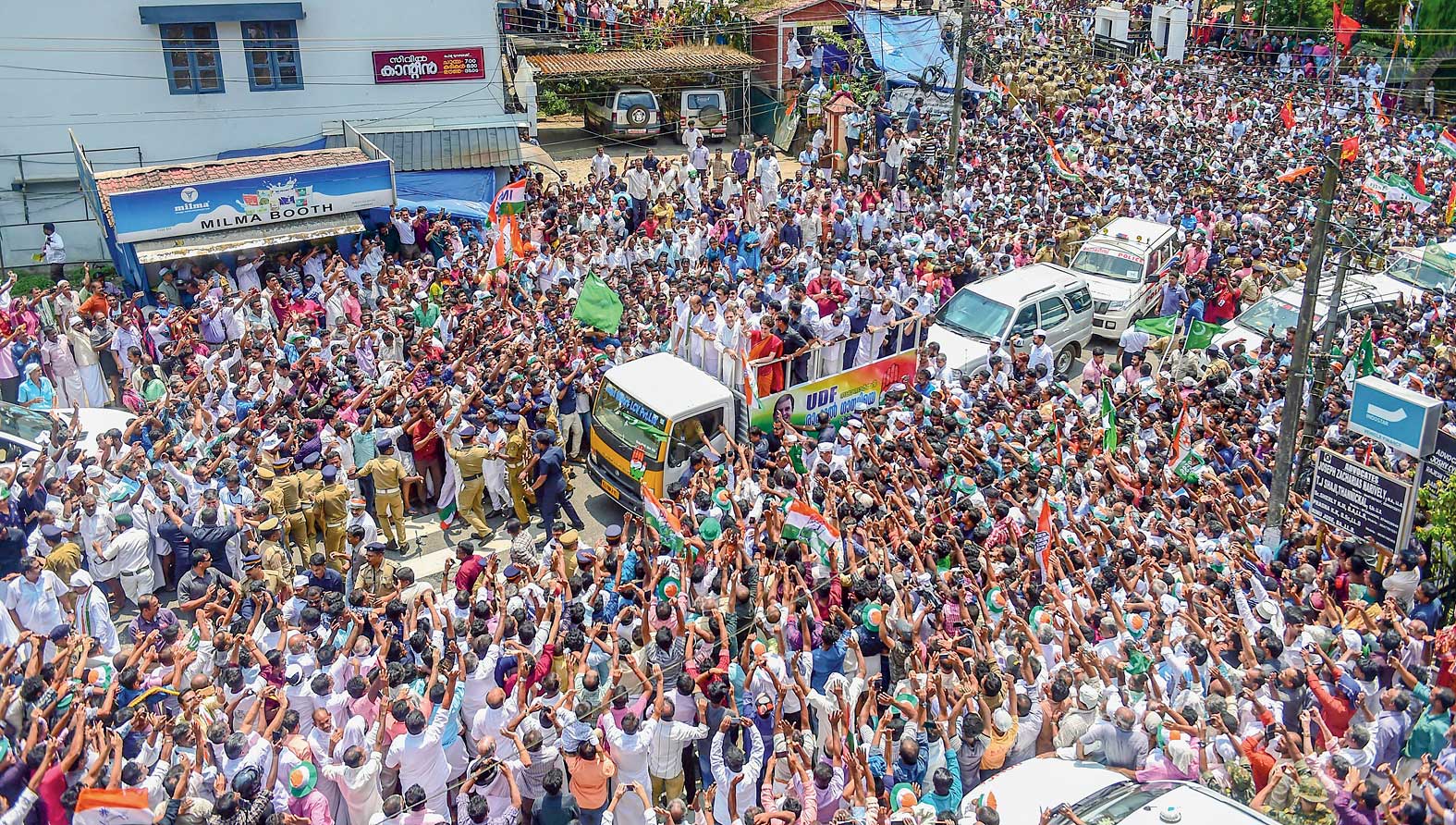 ---
---
Tens of thousands crowded roadside eateries, balconies and terraces in this town on Thursday, waiting hours in the steamy heat to catch a glimpse of Rahul Gandhi as he arrived with sister Priyanka Gandhi Vadra to file his nomination from Wayanad constituency.
"I have never seen anything like this here before," said a middle-aged Moosa Haji, who had waited more than two hours by the barbed-wire fencing of the helipad where the Congress president's aircraft landed at 11.02am.
He seemed to be struggling to believe that a heavyweight was indeed contesting from sleepy Wayanad. "He'll win by more than 5 lakh votes."
Police estimated that 3 lakh people had gathered along the 2.5km stretch of National Highway 212 that passes through the town — and was blocked to all traffic except Rahul's motorcade since at least 8am.
Kalpetta, district headquarters of Wayanad, has a population a little over 1 lakh. "People have come from across Kerala," a police source said. Upbeat local Congress leaders claimed a crowd of 5 lakh.
People who had taken up vantage positions along the highway, bypass and the side streets since morning, braving 32°C temperatures and 90 per cent humidity, stayed put till Rahul and Priyanka left around 2pm, after a 4km road show that took two hours.
While Rahul's arrival was a certainty — Thursday was the last day to file nominations — recent sightings of Maoists in the district had left a cloud hanging over a possible road show.
The shooting of a Maoist at a resort in Kalpetta on March 6 had already forced Rahul to cancel a scheduled trip to the town on March 14 to meet the family of a CRPF jawan killed in the February Pulwama attack.
So, when Rahul and Priyanka hit the streets in an open mini-truck after the filing of the nomination, the crowd went frantic, men and women screaming the Congress president's name.
"He is so young and good-looking," a woman accompanied by a teenaged girl gushed.
"We are stunned by the patience of the people who waited so many hours to see him," state Mahila Congress president Lathika Subhash told The Telegraph.
Even supporters of the BJP, a minor player in the constituency, appeared impressed. "I think we need to bring in (Narendra) Modi to offset the buzz created by Rahul," said a man in his 30s who declined to be named. Coincidence or otherwise, a few hours later, the BJP announced the campaign plans of Modi and a host of central ministers, including Rahul's Amethi challenger Smriti Irani, in Kerala.
The Gandhi siblings had arrived in neighbouring Kozhikode on Wednesday evening. On the way to the helipad on Thursday morning, Rahul stopped and interacted briefly with a crowd at Vikram Maidan.
His red-and-white helicopter took off at 10.45am and landed 17 minutes later at a heavily guarded, makeshift helipad at the SKMJ Higher Secondary School in Kalpetta. By 9am, thousands of party workers had filled up all the lanes leading to the school ground.
Rahul and Priyanka were driven to the collector's office, just 400 metres away, before the road spectacle began around noon. The whole of Kalpetta came to a standstill, with all its traffic diverted to a bypass while the town centre was reserved entirely for the cavalcade and pedestrians.
Rahul and Priyanka earned brownie points by rushing to the aid of a reporter who fell off a truck. The truck, carrying journalists covering the event, had hit a road bump, causing a dropside to come loose.
Rahul and Priyanka got off their mini-truck and hurried towards the reporter, from the Hyderabad-based channel India Ahead TV, who lay on the road. Rahul helped the emergency services carry the man on a stretcher, while Priyanka picked up his sports shoes that had come off.
Brother and sister left for Kozhikode at 2pm and caught a chartered flight to Delhi.