Rahul Gandhi savours rural job scheme success in Kerala tribal woman's IAS feat
Rahul cited Sreedhanya's achievement in Wayanad as evidence that the job scheme was working and took a dig at Narendra Modi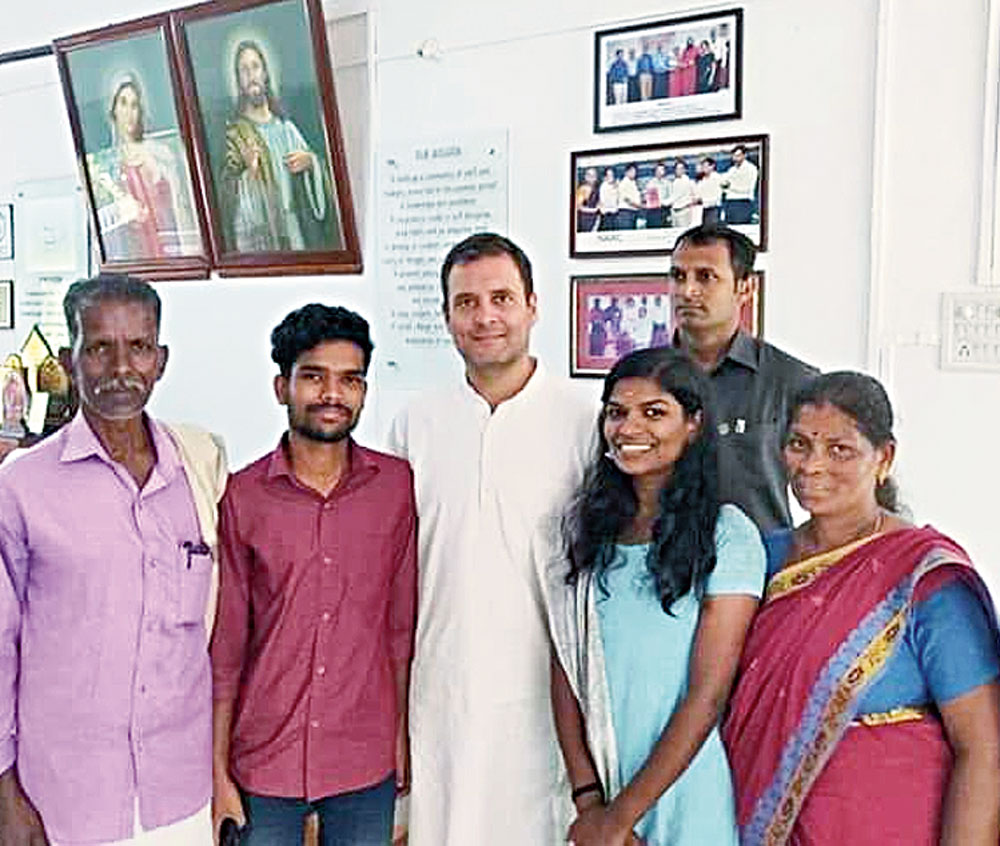 Rahul Gandhi with Sreedhanya Suresh (second from right), her brother Sreeraj Suresh, father Suresh KK and mother Kamala KC at St Mary's College in Sulthan Bathery in Wayanad, Kerala, on Wednesday
Sourced by the Correspondent
---
Kalpetta(Kerala)
|
Published 18.04.19, 01:38 AM
|
---
The first tribal woman from Kerala to qualify for the IAS told Rahul Gandhi on Wednesday that her parents were beneficiaries of the Mahatma Gandhi National Rural Employment Guarantee Scheme.
Sreedhanya Suresh said her parents had educated their two children with the money they earned from the rural job guarantee scheme, started by the erstwhile UPA government, her brother Sreeraj Suresh told The Telegraph.
Sreedhanya, who beat grinding poverty to crack the civil services examination this year with the rank of 410, met the Congress president over lunch after his rally in Sulthan Bathery, Wayanad. With her was Sreeraj and their parents Suresh K.K. and Kamala K.C.
Later, addressing a rally in Thiruvambadi, Wayanad, Rahul cited Sreedhanya's achievement as evidence that the job guarantee scheme was indeed working and took a dig at Prime Minister Narendra Modi.
"Today I had lunch with Sreedhanya Suresh, the spirit of Wayanad. A few months ago I heard our Prime Minister say in Parliament that the MGNREGA (rural job guarantee act) is a useless programme. The Prime Minister said in the Lok Sabha that MGNREGA is a humiliation to the Indian people," Rahul said.
"So, today I asked Sreedhanya Suresh, 'What do your parents do?' She said, 'My parents work in MGNREGA, and MGNREGA made it possible for me to do what I have done'. And the Prime Minister said it (the scheme) is an insult to the Indian people. He lacks basic understanding of economics."
The scheme guarantees up to 100 days of paid, unskilled work a year to every rural household.
This newspaper could not talk to Sreedhanya over the phone because she is still recovering from a bad throat caused by pneumonia, which had required a spell in hospital.
"Our parents educated my sister and me with what they earned from the employment guarantee scheme," Sreeraj confirmed.
"My family was able to see some money thanks to this programme. Otherwise it's difficult for our people to find jobs. My sister has been saying this to reporters since she cleared the (civil services) exam."
Sreeraj, a second-year student at the government polytechnic in Wayanad, said his parents were each paid Rs 272 for a day of work under the scheme now.
Rahul had listened eagerly to Sreedhanya, who spoke to him despite her bad throat, and asked several questions about her career and local issues in Wayanad, Sreeraj said.
"My sister was discharged from hospital only two days ago as she had had pneumonia. But she didn't want to miss meeting Rahul Gandhi," Sreeraj said.
"He asked about her studies, the issues people face in Wayanad, how badly last year's floods had affected this place, and what had led to the tribal population here falling to just 19 per cent of the total from 50 per cent a few years ago," Sreeraj said.
He said that local Congress leaders had passed on the lunch invite a few days ago.