Rahul rigging alert to party workers
The Congress has petitioned two high courts seeking directions to the EC to ensure fair counting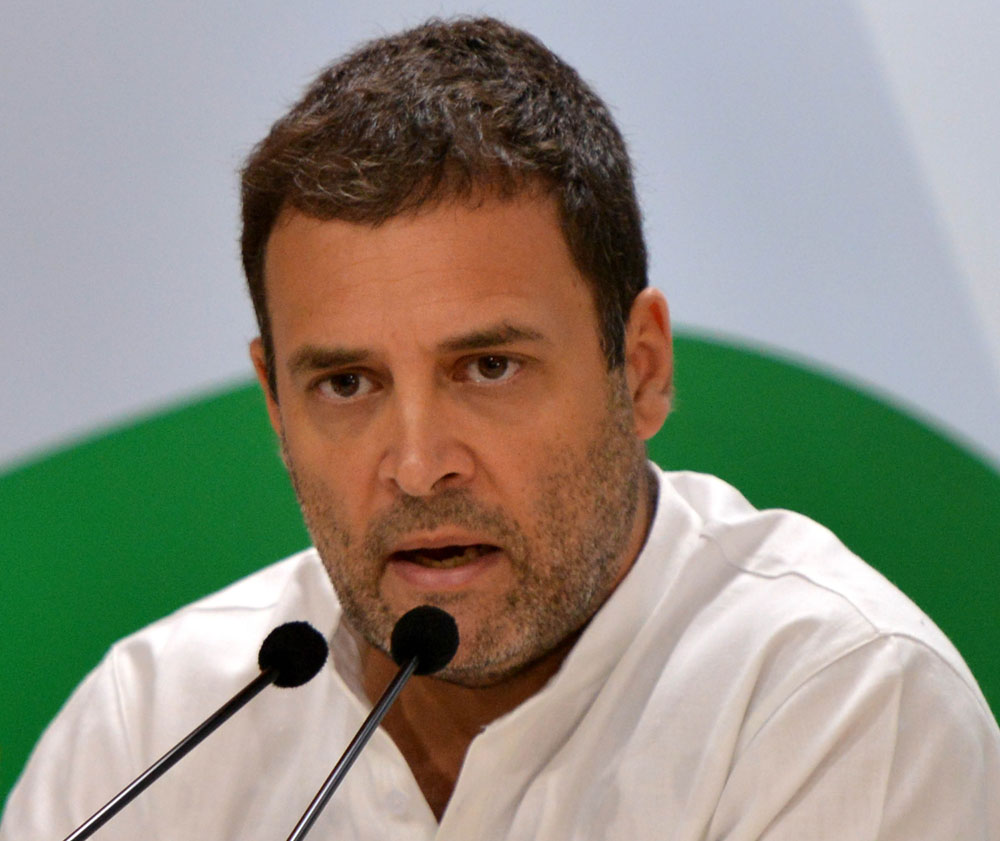 Congress president Rahul Gandhi: Be vigilant
Prem Singh
---
New Delhi
|
Published 07.12.18, 11:11 PM
|
---
Rahul Gandhi has asked Congress workers in the states that voted recently to remain vigilant till the end of counting for any possible attempts at rigging.
"Congress party workers, be vigilant after polls close today," Rahul tweeted as polling concluded on Friday evening in Rajasthan and Telangana, completing the current phase of Assembly elections that also involved Madhya Pradesh, Chhattisgarh and Mizoram.
"In Madhya Pradesh, EVMs (electronic voting machines) behaved strangely after polling: Some stole a bus and vanished for 2 days! Others slipped away & were found drinking in a hotel. In Modi's India, the EVMs have mysterious powers. Stay alert!"
Rahul seemed to be alluding to reports about a busload of voting machines being brought to the Sagar district collector's office two days after the November 28 voting in Madhya Pradesh, raising fears of tampering. The Election Commission has, however, said these were reserve machines for the Khurai constituency, meant as a backup.
On the eve of polling in the state, four election officials carrying voting machines were found checking into a hotel linked to a BJP supporter.
Congress workers are guarding the strong rooms in Chhattisgarh and Madhya Pradesh, where the voting machines have been kept, round the clock. Instructions have been issued also to party leaders in Rajasthan and Telangana to be watchful.
Ahead of the December 11 counting, party candidates and agents are being trained about the rules and procedures of counting, and about the technique of matching the voting machine numbers before they are unsealed.
"There are valid reasons to be alarmed: suspicious movements around strong rooms, the discovery of EVMs from places where they should not be, and the unlawful conduct of some polling officials reported from Madhya Pradesh and Chhattisgarh," Vivek Tankha, senior advocate and head of the Congress's legal department, told The Telegraph on Friday.
"Isn't it surprising that two persons, apparently Jio staff, were arrested yesterday as they entered a strong room in Chhattisgarh with a laptop?" Tankha, who is in charge of formulating a strategy to counter possible rigging, added.
Reports have said that two men who claimed to be working with Reliance Jio were apprehended from a strong room in Jagdalpur, Chhattisgarh.
News agency ANI quoted a police officer as saying: "They're saying they're employed with Jio. It's being investigated if they've IDs."
Two policemen responsible for the security of the strong room have been suspended.
Asked whether the Congress was satisfied with the Election Commission's responses to its various complaints, Tankha said: "We are not going to accuse the EC of bias. They have to conduct the election with district collectors and other local officials."
But he added: "There is no denying that the conduct of some officials has been unlawful and raised suspicions."
Vikas Singh, returning officer for the Khurai constituency, has been removed and proceedings started against four officials whom the poll panel has described as "delinquent". A BSF sub-inspector was removed from strong room duty in Bemetara, Chhattisgarh, on Wednesday for allegedly using a laptop outside the strong room.
The Congress has petitioned the high courts in Madhya Pradesh and Chhattisgarh seeking directions to the commission to ensure fair counting.
Madhya Pradesh Congress chief Kamal Nath on Thursday organised a daylong training session for party candidates. A 54-point document was handed over to every candidate to help them check for any manipulation during counting and tabulation.
"Remain serious and cautious on counting day. Protest strongly if you suspect foul play. I'm sure the administration would resolve all problems without bias, because they too know that after December 11 there will be a December 12," Nath said at the training session.
Party senior Ajay Singh told the candidates: "Remain extremely cautious on December 9 and 10 and do not let any outsider into the strong rooms in those two crucial days before counting. Get a list of all officials and employees on duty during counting before December 11. Check the photo IDs and the list of officials entering the counting stations."