A petulant lament devoid of introspection
Rahul Gandhi's resignation letter leaves us guessing about the real motive behind his decision — penitence or pique?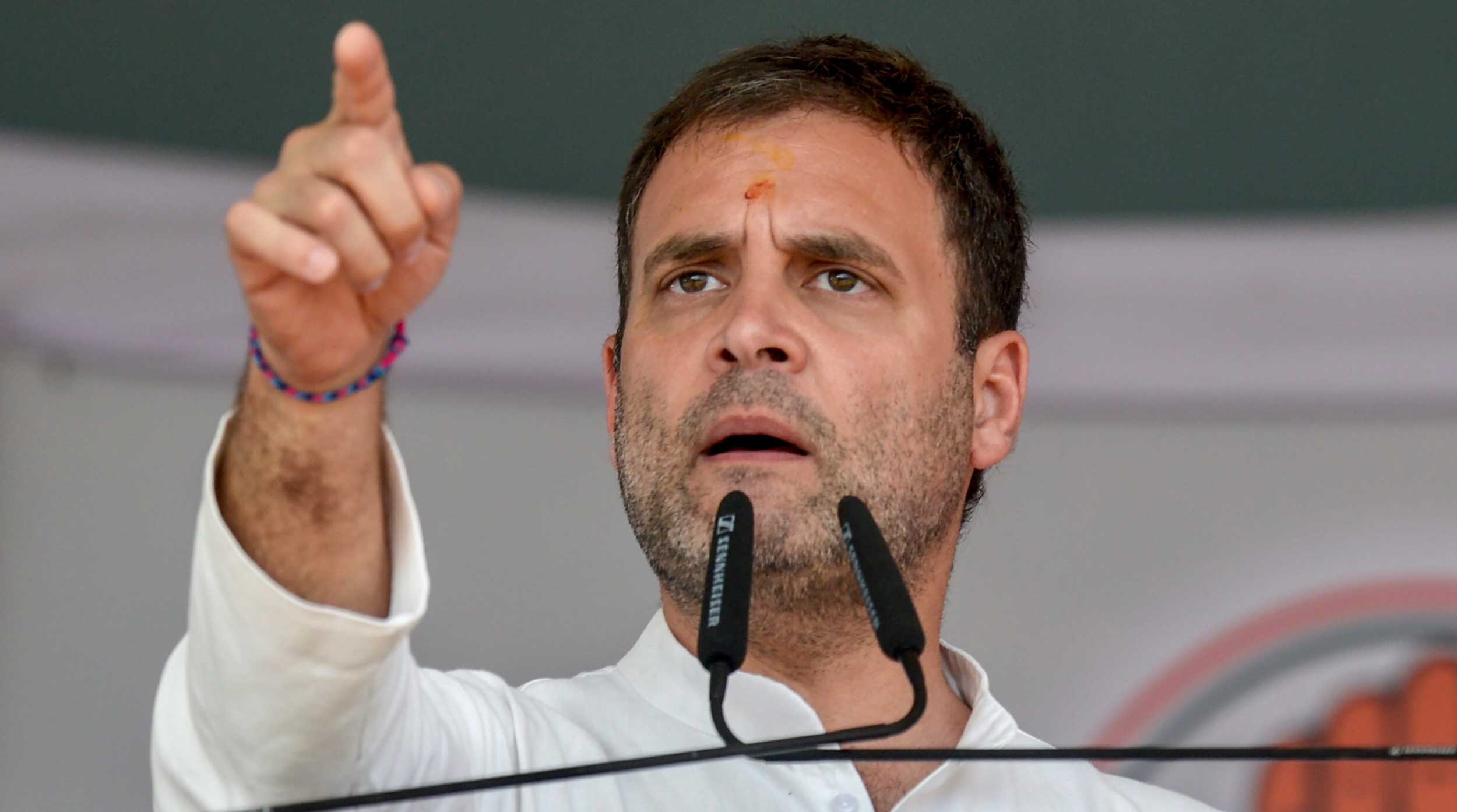 Instead of acknowledging (even privately) that his campaign against Narendra Modi's alleged corruption did not work and was possibly counter-productive, Rahul Gandhi appears to be blaming his own party for not echoing his slogan loudly enough
(PTI Photo)
---
Published 08.07.19, 03:32 AM
|
---
At the meeting of the Congress Working Committee two days after the Lok Sabha election results, Rahul Gandhi announced his decision to step down as party president, taking responsibility for the ignominious defeat faced by the Grand Old Party under his leadership.
Not many took the decision seriously. Leaders routinely offer to resign after a defeat and these offers are as routinely turned down by the party faithful. May 25 was no different. The CWC "unanimously and with one voice" rejected Rahul's offer.
In the days and weeks that followed, Rahul made it clear to party leaders that his decision to resign was no ritual; he was not budging from it. What was not clear — to either party insiders or observers outside — was why Rahul was insisting on resigning. Was it out of genuine penitence for a campaign strategy that had failed to work? Was it because he was stung by the (far from new) criticism about the ill-effects of "dynasty" on the fortunes of the Congress? Was it part of a well-thought-out road map at a critical juncture for himself and his party? Or was it a result of pique and frustration, a 'let's see how well you can do without me' dare to those who may have had misgivings about his leadership?
With the Congress top brass adamantly refusing to consider the prospect of a non-Gandhi leading the party, Rahul Gandhi finally decided to force their hand — and went public with his resignation last week.
The letter released on July 3 flagged the accountability principle as the sole reason. "As president of the Congress party," wrote Rahul Gandhi, "I am responsible for the loss of the 2019 election. Accountability is critical for the future growth of our party. It is for this reason that I have resigned as Congress president."
Given that so few people in public life take responsibility for their actions, Rahul's decision to step down is commendable in itself. But his resignation letter, in spite of running into four pages and nearly a thousand words, still leaves us guessing about the real motives behind his decision — about whether it is an outcome of penitence or pique.
And rather than reflecting on what may have gone wrong, Rahul's letter comes across as a petulant lament devoid of any introspection, leave alone self-criticism, on the party's rout.
Much of the letter is a reiteration of his commitment to fight for the "compassionate" idea of India and against the assault it faces from the BJP and the RSS. Defending the Congress's election campaign as part of this larger ideological battle, Rahul writes: "I personally fought the prime minister, the RSS and the institutions they have captured with all my being. I fought because I love India. And I fought to defend the ideals India was built upon."
Then comes the most intriguing line of the letter: "At times, I stood completely alone and am extremely proud of it." It is a direct attack on his own colleagues for not standing by him.
Although Rahul does not elaborate on this, it is likely that he is referring to the Rafale issue and his sustained attacks on Narendra Modi's alleged corruption in the defence deal. This gets reinforced by another line in the resignation letter: "The Prime Minister's win does not negate the breadth of corruption allegations against him; no amount of money and propaganda can ever hide the light of the truth."
But the truth is that in spite of the opacity shrouding the Rafale deal and the inexplicable grant of the offsets contract to Anil Ambani's fledgling defence firm worth thousands of crores, there is no "smoking gun evidence" yet of corruption that could nail Narendra Modi. Rahul Gandhi may well prove right one day, but the issue simply failed to acquire popular resonance in 2019 unlike Bofors in 1989.
Many critics of the Modi regime, including members and sympathizers of the Congress, realized this in the run-up to the campaign and felt that Rahul Gandhi's singular obsession with Rafale and repeated chanting of the "Chowkidar Chor Hai" slogan was somewhat misplaced. They were proved right. It was clear to reporters on the ground that the Rafale issue struck no chord with the vast majority of ordinary voters. And Narendra Modi, who is adept at turning every jibe into a badge of honour, cleverly used the 'chowkidar' epithet (reprising the chaiwala tag of 2014) to portray himself as a victim-cum-saviour.
Instead of acknowledging (even privately) that his campaign against Modi's alleged corruption did not work and was possibly counter-productive, Rahul Gandhi appears to be blaming his own party for not echoing his slogan loudly enough.
This apart, the resignation letter repeatedly asserts that he was helming an ideological battle against the BJP because "every living cell in my body instinctively resists their idea of India." Echoing his own words from numerous past speeches and interviews, Rahul says, "Where they see differences, I see similarity. Where they see hatred, I see love. What they fear, I embrace."
A little further on, he writes, "[w]e fought a strong and dignified election. Our campaign was one of brotherhood, tolerance and respect for all of India's people, religions and communities."
Fine as these words are, the truth is that the Congress avoided any frontal confrontation with Hindutva bigotry or hyper-nationalism before and during the elections. Statements and tweets apart, no effort was made to reach out to victims of cow vigilantism, for instance, by offering them legal help or solace. No sustained campaign was undertaken against the menace of stray cattle or the closure of industries affected by the ban on cattle trade. No Congress leader stepped up to defend activists such as Sudha Bharadwaj who is still in jail on charges of sedition; and no all India campaign was launched against the citizenship (amendment) bill which is the most brazen piece of legislation towards making India a de jure Hindu rashtra. There was no forceful defence of Article 370 either.
Afraid of losing the "Hindu" vote, the Congress decided to avoid "polarizing" issues altogether and focus on jobs, agrarian distress and Modi's alleged corruption. But in the absence of a pre-poll coalition that could offer a stable government, many a voter pragmatically reckoned that the Congress's promises on the economic front were pipe dreams for now.
With its enormous money power, propaganda machinery and capture of institutions, the BJP certainly had an upper hand in the elections. But by blaming the result solely on the adversary's clout and refusing to see the numerous flaws in the Congress's own message and messaging, Rahul Gandhi seems to be avoiding all blame for the rout, even if he is ostensibly claiming responsibility.
Without genuine soul searching, the mistakes of the past will only be repeated in the future. We can already see signs of it. Rahul Gandhi has talked of working "ten times harder" against the RSS-BJP, but neither he nor his party colleagues have actively reached out to those who have been beaten up and forced to chant "Jai Sri Ram" in different parts of the country since Modi returned to power. Tweets and letters are no substitute for real interactions with real people to find out who they voted for and why; what they fear and where their hopes lie. Such exchanges can give a far better insight into the reasons for defeat than all the post-mortems conducted by veterans in the CWC.
Without vibrant mass contact and visible action on the ground, Rahul Gandhi is in the danger of becoming a prisoner of his own rhetoric — no matter how ideological or idealistic it may be. Perhaps he should start out by visiting those who voted for him — and those who didn't — in his erstwhile constituency of Amethi...