Rahul Gandhi meets Wayanad nurse who first held him
'He walked up to me and hugged me like a son'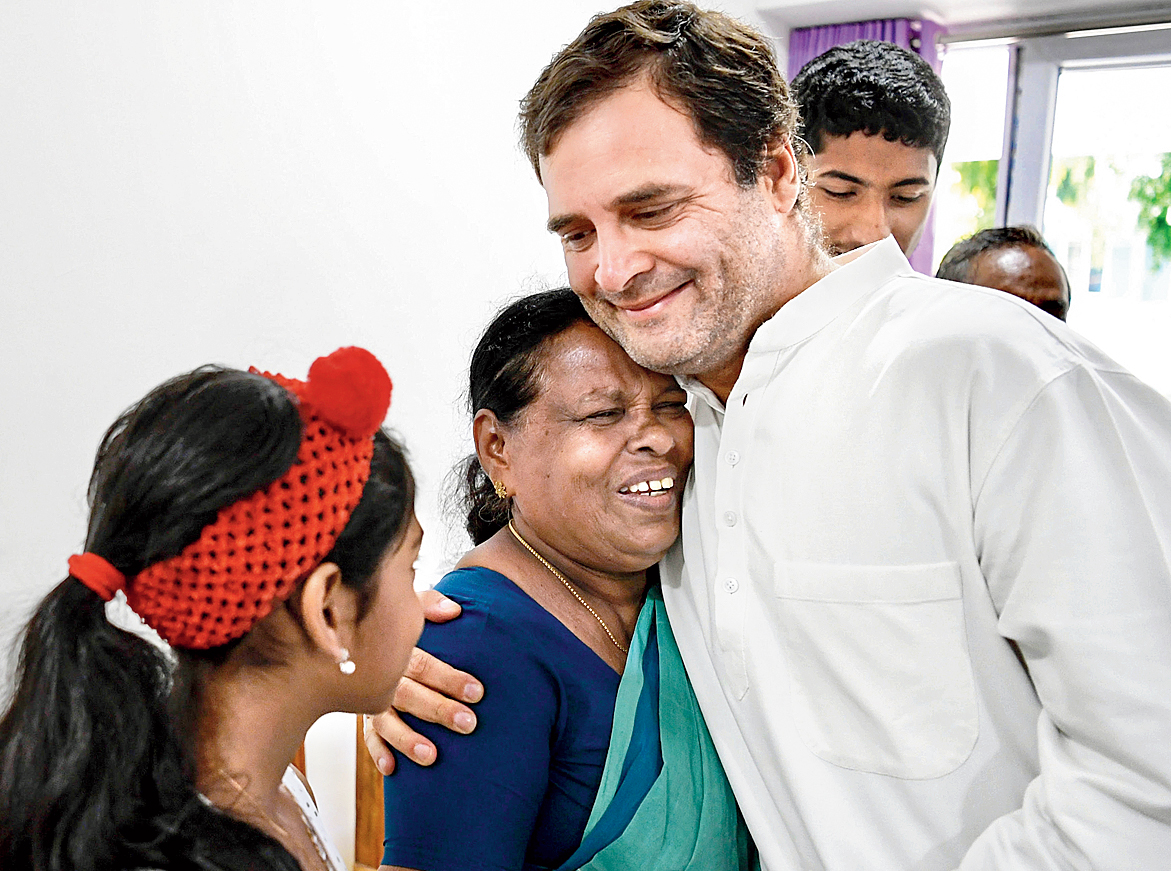 Rahul Gandhi meets former nurse Rajamma Vavathil in Wayanad on Sunday.
(PTI)
---
Bangalore
|
Published 09.06.19, 09:53 PM
|
---
Forty-nine years ago, Rajamma Vavathil says, she had been the first person to hold the newborn Rahul Gandhi in her arms at the Delhi hospital where she was then employed as a nurse.
On Sunday, the now 72-year-old met Rahul a second time during the Congress president's visit to his constituency of Wayanad in Kerala.
"I was at a loss for words when he walked towards me, saying 'Namaste'. I even forgot to invite him home," the retired nurse, a Wayanad resident, told The Telegraph. "He is as sweet as he was at birth. I can't believe my luck."
Sometime after Rahul decided to contest from Wayanad late in March, Rajamma had told the media she was longing to meet him. She received a last-minute invite a few days ago as Rahul set off on a three-day thanksgiving tour of Wayanad.
They met at the government guesthouse in district headquarters Kalpetta. She was accompanied by husband Rajappan Vavathil and two grandchildren: Gokul, 15, and Gouri, 10.
"He walked up to me and hugged me like a son and greeted my family," Rajamma said.
She handed Rahul a letter requesting an emergency ambulance service at Sultan Bathery, Wayanad's second biggest town, near which she lives.
"He promptly accepted the letter and said he would discuss the matter when he met me the next time," she said. "The next time, I won't forget to invite him home and discuss the need for quality medical care in Wayanad."
Rajamma had not forgotten to carry a pack of jackfruit chips and sweets for Rahul. "I told him these were for him, his sister and his mother."
Rahul then bent a little as Rajamma got on her toes to place her right hand on his head in a sign of blessing. "I said, 'May God bless you' before he moved away to shake hands with the others waiting for him."
Rajamma thanked local Congress worker P.C. Assainar for making the meeting with Rahul possible, saying he had "used his influence to find a slot for me".
Apparently, it worked the other way too: Assainar got a chance to shake hands with his party chief because of her.
"Like every Congress worker, I too wanted to meet him but never harboured any hopes considering the security apparatus around Rahulji," he said.
Senior Congress politician Ramesh Chennithala tweeted: "The hands that received little Rahul five decades back embraced him again today."
Rahul was born on June 19, 1970, at the Holy Family Hospital in Delhi. Rajamma had last month told this newspaper that Sonia Gandhi had been "extremely cooperative" with hospital staff and that Indira Gandhi and sons Rajiv and Sanjay never caused disruptions during their visits.
Rajamma joined the army as a nurse in 1971 after marrying Rajappan. She chose voluntary retirement as a lieutenant a decade later.
Jibe at PM
Rahul accused Prime Minister Narendra Modi of discriminating against non-BJP states and questioned his claim, made on Saturday, that Kerala was "as dear" to him as his own constituency of Varanasi, a PTI report said.
Rahul described the BJP as a party "blinded by hate and anger".
"I do not expect the Prime Minister to safeguard Kerala's interest. I know from my experience that the Prime Minister views the BJP-ruled states differently from the states ruled by the Congress or other parties," he said in Wayanad.
"I know the Prime Minister will not treat Kerala the same way he treats Uttar Pradesh because the CPM is ruling here. He can come here and say whatever he wants."