Question for Delhi police: True to oath?
Former DGP Julio Ribeiro asks commissioner S.N. Srivastava to examine officers under his command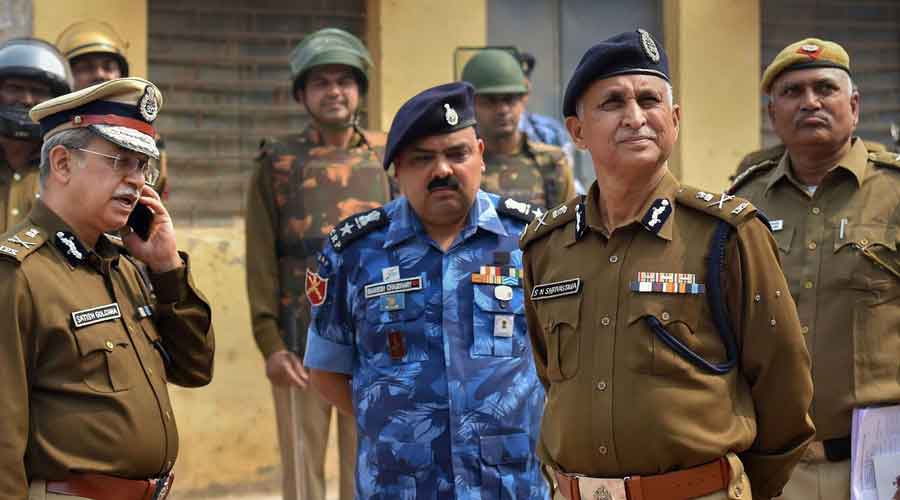 ---
---
A letter attributed to former DGP Julio Ribeiro has asked Delhi police commissioner S.N. Srivastava to examine whether officers under his command "have been true to their oath".
A group of defence veterans, retired bureaucrats, civil society groups, academics, artistes and activists also issued a statement on Saturday in support of the peaceful anti-citizenship-act protesters whom Delhi police have charged with fanning the February riots. Ribeiro is shown as a signatory to this statement, too.
The police have been accused of portraying the riot victims and citizenship protesters — including students and teachers — as the instigators and perpetrators of the communal violence, attracting similar statements from eminent citizens expressing support for those victimised.
The letter attributed to Ribeiro, former director-general of the CRPF and Gujarat police as well as of Punjab police during the Khalistan insurgency of the 1980s, questioned the Delhi police's actions.
On Saturday night, Delhi police said in a statement: "An e-mail purportedly sent by Sri Julio Ribeiro has been received today in which he has raised concerns regarding the investigation of NE Riots. Sri Ribeiro is a respected police officer. Since the officer in whose name the email has been received has not been in touch with Delhi Police in the recent times and especially in the past 6 months, we are trying to ascertain the veracity and the genuineness of the mail."
The letter attributed to Ribeiro was circulated by Constitutional Conduct Group, the association of former civil servants that the retired police officer is part of. He has signed the group's statements in the past. This newspaper could not contact Ribeiro, who is 91, because the Delhi police response came at night.
Ribeiro's letter to the Delhi police chief said: "The Delhi police has taken action against peaceful protesters but deliberately failed to register cognisable offences against those who made hate speeches which triggered the riots in N.E. Delhi. It troubles sane and apolitical persons, like me, why Kapil Mishra, Anurag Thakur and Parvesh Verma have not been arraigned before the courts of law while deeply hurt Muslim women, peacefully protesting against discriminations based on religion, were lodged for months together in jail!
"The not-so-subtle attempt by the Delhi police to entangle true patriots, like Harsh Mander (social activist and former IAS officer) and Prof. Apoorvanand, in criminal cases is another matter for concern. We, the police forces in the land, and its leadership drawn from the Indian Police Service, have a duty and obligation to respect the Constitution and the enacted laws impartially without regard to caste, creed and political affiliations.
"Kindly revisit the actions of the police under your command in Delhi to determine if they have been true to their oaths taken at the time of their induction into service."
Several students and activists are in jail, awaiting trial on terrorism charges for allegedly inciting through their citizenship protests the riots that killed 53 people.
The other statement on Saturday was issued by the Forum for Constitutional Rights and Democratic Freedoms, whose members and constituents include military veterans, Rajasthan's Mazdoor Kisan Shakti Sangathan that represents organisations of the poor and disadvantaged, the Constitutional Conduct Group of former civil servants, the Indian Cultural Forum and other organisations.
The statement voiced support for Harsh Mander, who has been named in a riot chargesheet.
After a news conference on September 4, Mander had issued a statement titled "We will not be silenced" condemning the continuing saga of the police harassing activists and attributing criminal motives to WhatsApp chats conducted for the purpose of organising peaceful protests against the Citizenship (Amendment) Act.
Among the 443 signatories to Saturday's statement were Admirals L. Ramdas and Vishnu Bhagwat, Air Vice-Marshal Kapil Kak, Major General S.G. Vombatkere, Brigadier V.H.M. Prasad — all retired — and several other veterans.
Several civil servants who had signed similar statements in the past endorsed this one too.
"We agree with him (Mander) that the communal riots in Delhi in February 2020 have not been caused by any conspiracy as alleged by the Delhi police. On the contrary, they have been caused by hate speech and provocative statements made by a number of political leaders of the ruling party," the statement said.
"We stand with Harsh Mander... Professor Apoorvanand and their fellow activists. Neither their voices nor ours will be silenced as we speak for truth and freedom....
"We declare here — and hope those holding (the) highest office in the country hear us loud and clear — that the government will never succeed in silencing us, and will never succeed in taking away from us the dream we inherited from our freedom struggle, the dream of together building a country which is just, and equal, and kind."