Punjab Congress crisis: Sidhu meets Priyanka and Rahul Gandhi
The party is understood to have offered him the post of deputy chief minister, a proposal opposed by both Amarinder Singh and the cricketer-turned-politician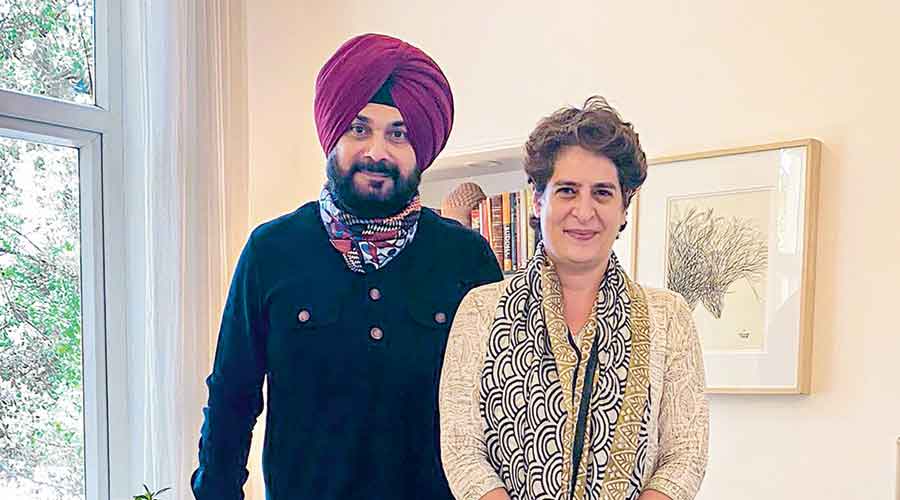 ---
New Delhi
|
Published 01.07.21, 02:37 AM
|
---
Cricketer-turned-politician Navjot Singh Sidhu kept the Congress first family busy on Wednesday as the party sought to battle factionalism in the Punjab unit ahead of next year's Assembly elections.
Sidhu began his day with what he described as a "long meeting'' with Congress general secretary Priyanka Gandhi Vadra. He wrapped up the day with a meeting with former party president Rahul Gandhi.
Priyanka was also on the premises when Rahul and Sidhu met but it is not clear whether she attended the meeting. In between, Congress interim president Sonia Gandhi was seen going to her son's 12 Tughlaq Lane residence. However, after the hectic parleys throughout the day, there was no official word on the fate of these meetings. Sidhu left Rahul's residence after an hour without speaking to the media. All he did was hold up folded hands from the front seat of his chauffer-driven car.
Sidhu is eyeing the post of the Punjab Congress chief but chief minister Amarinder Singh is not in favour of such a move.
As an alternative, the Congress is understood to have offered Sidhu the post of deputy chief minister in Punjab, campaign committee chairmanship and membership of the central election committee which clears candidates for the elections. Both Amarinder and Sidhu are opposed to the proposal of making the former cricketer deputy chief minister.
Sidhu, who entered politics with the BJP, joined the Congress in 2017 before the Assembly elections and was made a minister. However, he stepped down from the council of ministers two years later, upset with the manner in which Amarinder downgraded him.
While the Sidhu-Amarinder strain has drawn the maximum attention — primarily because of the ex-cricketer's flamboyant ways and caustic jibes — the chief minister is facing criticism from several other leaders in the state unit.