Farmers had rejected actor Deep Sidhu
Protesters cited activist's BJP past and open Khalistani sympathies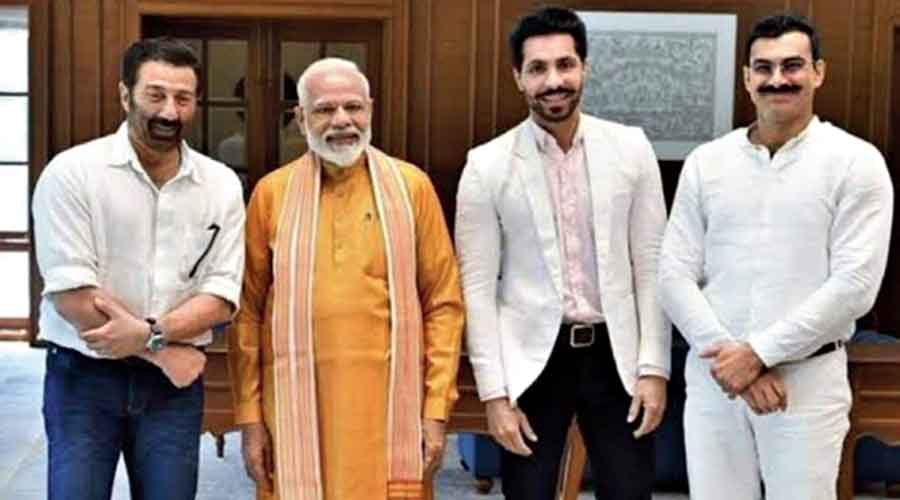 The picture of Deep Sidhu (third from left) with the Prime Minister that is being shared on Twitter
Telegraph picture
---
New Delhi
|
Published 28.01.21, 02:16 AM
|
---
Punjabi actor turned activist Deep Sidhu, accused of inciting farmers to deviate from their assigned route and storm the Red Fort on Tuesday, has from the start been persona non grata for most farmer unions because of his BJP past and open Khalistani sympathies.
Sidhu's Facebook Live webcast on Republic Day showed him at the spot where the Sikh pennant Nishan Sahib was hoisted in front of the Red Fort's ramparts — one of the protesters' acts that has drawn the heaviest condemnation.
Videos from the Red Fort, however, show Sidhu being chased away by some farmers after the flag-hoisting.
Sidhu had campaigned for Bollywood actor and BJP candidate Sunny Deol during the 2019 general election but publicly distanced himself from the BJP and Deol after jumping onto the farmer-protest bandwagon in September last year.
However, his pro-Khalistan utterances at a farmers' demonstration in Shambhu, Punjab, in October as well as in interviews to journalist Barkha Dutt in November had made him unacceptable to the majority of the farmer unions that have historically opposed separatism.
The hoisting of a religious flag at the Red Fort on Republic Day, in which Sidhu seems to have colluded, has played into the hands of a government that has been alleging Khalistani infiltration into the farmers' movement.
Amid these allegations, however, judicial activist Prashant Bhushan on Tuesday tweeted photos of Sidhu with Deol, Prime Minister Narendra Modi and current home minister Amit Shah.
On Wednesday, BJP parliamentarian Subramanian Swamy tweeted: "There is a buzz, could be fake, or fake
IDs of enemies that a BJP member close to high places in PMO acted as a (sic) agent provocateur in the Red Fort drama. Please check out and inform."