Priyanka to BJP: Be truthful on Mahatma
'The BJP cannot claim that it follows the path of Gandhi before it honestly starts practicing the ideology of truth'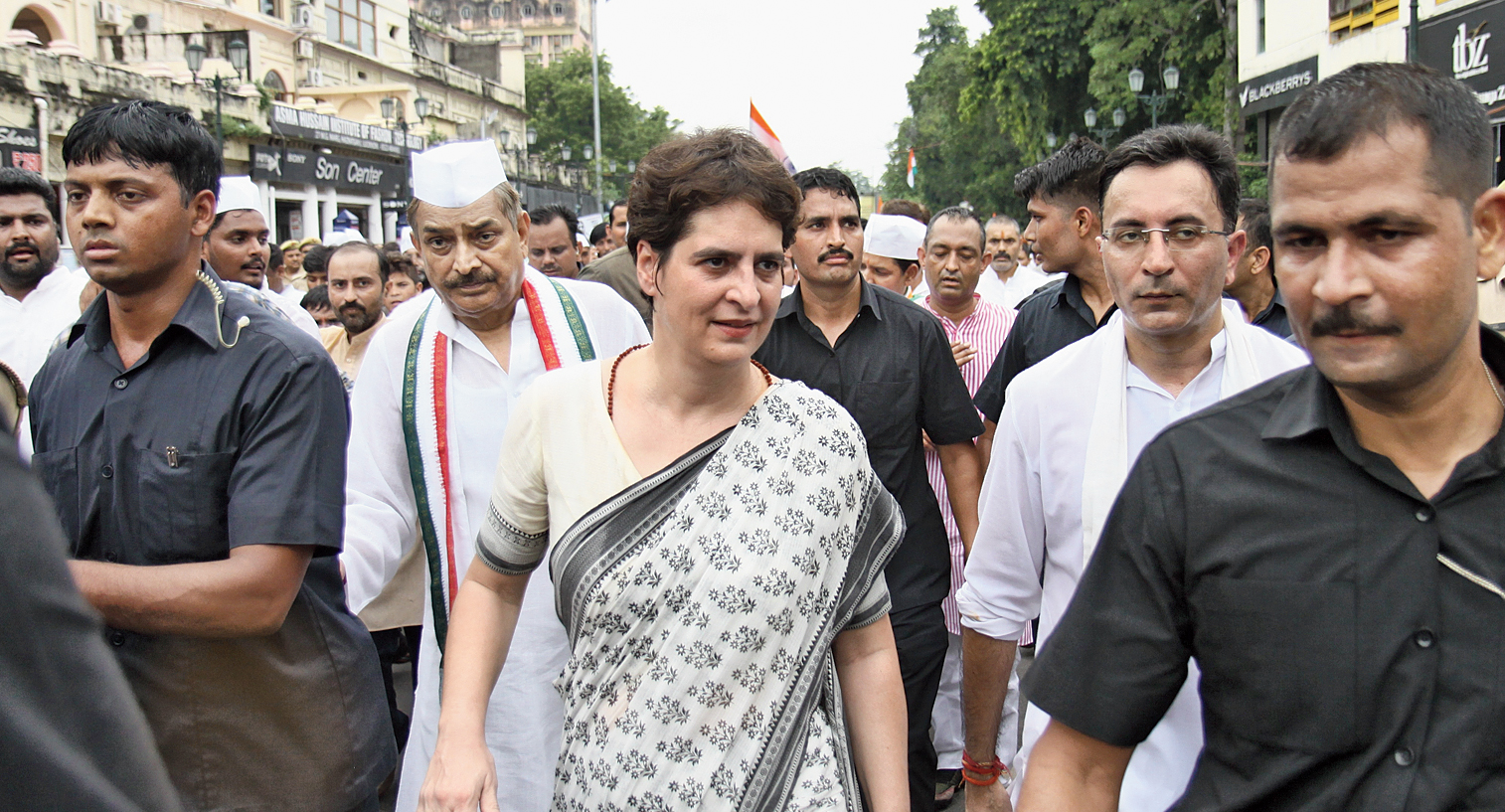 ---
---
Priyanka Gandhi Vadra said on Gandhi Jayanti that the BJP should follow the path shown by Mahatma Gandhi and be "truthful" before speaking about the Father of the Nation, while her mother Sonia Gandhi said those who indulge in the politics of falsehood cannot understand his ideals.
"The BJP can do anything. But Gandhiji had directed us to follow the path of truth. The BJP should be truthful before speaking about Gandhiji," Priyanka, the Congress general secretary in charge of eastern Uttar Pradesh, told party workers in Lucknow on Wednesday before leading a 3km "Gandhi Sandesh Yatra" on the occasion of the 150th birth anniversary of the Mahatma from Shahid Smarak to Gandhi Crossing in the state capital.
Around the same time, the BJP government began a 36-hour continuous special session of the Assembly, barely 100m from Gandhi Crossing, to commemorate the birth anniversary of the Mahatma.
However, the entire Opposition boycotted the session, accusing the BJP government of protecting rapists and ignoring people's issues such as poor law and order and skyrocketing prices of essential commodities.
"The BJP cannot claim that it follows the path of Gandhi before it honestly starts practicing the ideology of truth," Priyanka said.
"The Unnao rape victim has yet to get justice. Women are harassed and crushed when they raise their voice against atrocities on them. We are struggling against this," she added.
Besides the 2017 Unnao rape case, where BJP legislator Kuldeep Singh Sengar is a prime accused, Priyanka mentioned the support BJP leader and former Union minister Chinmayanand, accused by a 23-year-old law student of rape for over a year, is allegedly receiving from the ruling party.
A special investigation team has booked and arrested Chinmayanand for sexual exploitation and intimidation, but not rape. The SIT also arrested the woman on September 25, five days after picking up Chinmayanand, on the charge of extortion and blackmailing him.
A three-time BJP parliamentarian, Chinmayanand was the minister of state for home in the Atal Bihari Vajpayee government.
Sengar, the BJP MLA from Bangarmau in Unnao district, and his brother had allegedly gang-raped a girl in 2017. Her father, who was arrested allegedly in a false case, died under mysterious circumstances in jail last year. The gang-rape victim met with an accident in July this year. Her family members have accused Sengar, now in jail, of trying to kill her.
"A proper case (of rape) should be registered against Chinmayanand. One should follow the path of truth instead of showing false belief in Gandhi," Priyanka said on Wednesday.
Standing a few metres from Priyanka near Shahid Smarak, where she gave a brief speech, some Congressmen chanted "Balatkari ko fansi do, fansi do (Hang the rapist)", "Balatkari ko bachane wale Adityanath, jawab do, jawab do (Tell us Adityanath, why are you saving the rapist)" and "Mahatma Gandhi amar rahen (Mahatma Gandhi is immortal)".
Priyanka tweeted earlier in the day: "Do what is right, not what is easy."
Over 20,000 Congress workers had gathered in Lucknow from adjoining Rae Bareli, Amethi and Barabanki districts for Priyanka's march. However, most of them avoided sloganeering as the local administration had given permission for the padayatra on the condition that loudspeakers would not be used and "provocative or objectionable slogans" would not be raised.
Addressing party leaders and workers at Rajghat, Gandhi's memorial, Congress president Sonia said those thirsty for power who consider themselves supreme and indulge in the politics of falsehood cannot understand the Mahatma's ideals of truth, self rule and selfless service.
In what appeared to be a swipe at the current BJP leadership, Sonia said the Mahatma's soul would be pained by what was happening in India in the past few years.
Sonia participated in an oath Congress workers took to achieve the India of Gandhi's dreams by keeping faith in constitutional values.
Earlier in the day, Congress leader Rahul Gandhi led a march of party workers from the Delhi Congress office at Deendayal Upadhyaya Marg to Rajghat.
"How can those who pursue the politics of falsehood understand that Gandhiji was the worshipper of truth? How can those who can do anything for power understand that Gandhiji was a worshipper of non-violence? How can those thirsty for power understand the meaning of Gandhiji's Swaraj? Those who claim to be supreme at the first opportunity, how can they understand the value of selfless service of Gandhiji?" Sonia asked.
She said only the Congress had followed the path of Gandhi and had provided jobs, education and facilities to farmers, accomplishments which were unparalleled, no matter what others might claim.
Sonia said there had never been a dearth of those who tried to distract India from the path shown by Gandhi while citing his name.
"Despite all this, if India has not been distracted it is because its foundation is laid on the values of Gandhiji. India and Gandhiji are synonymous with each other. It is a different thing that some people are adamant on reversing this. They want the RSS and not Gandhiji to become the symbol of India," Sonia said.
"I want to tell them clearly... there cannot be any thought except Gandhiji's all-inclusive system, that includes the composite culture, civilisation and society of India," she added.