Wheat price up but 'not enough'
The 6.1 per cent hike in the MSP is expected to disburse a cumulative additional income of Rs 62,635 crore.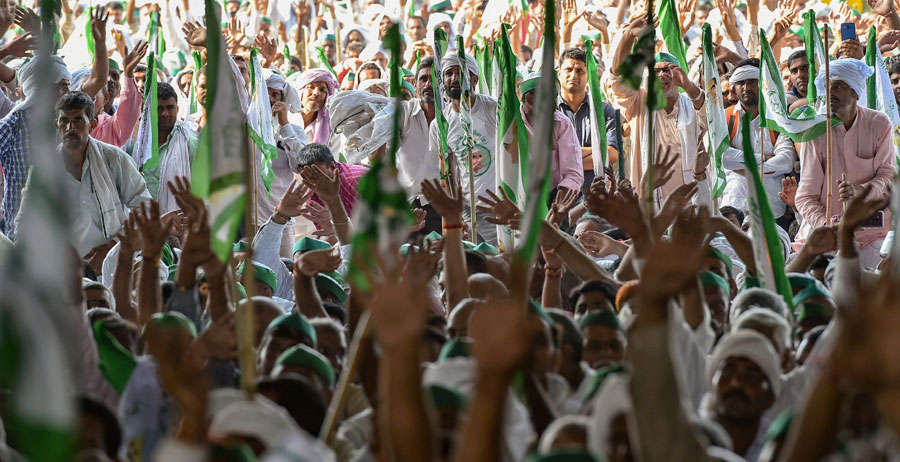 ---
---
The Centre has increased the minimum support price for wheat, the main rabi crop, by Rs 105 to Rs 1,840 per quintal (100kg), a day after police clashed with farmers demanding a higher support price and loan waivers.
The 6.1 per cent hike in the MSP is expected to disburse a cumulative additional income of Rs 62,635 crore.
The government claimed that the increase in the support price for the winter crop is in line with the budget announcement to provide a 50 per cent profit over the cost of production.
However, farm leaders pointed out that this is more of a "jumla" (an idiomatic expression that gained currency after BJP chief Amit Shah used it to play down an impression created by Narendra Modi on the 2014 campaign trail that each citizen would get Rs 15 lakh if all the black money is brought back from abroad.)
Chaudhury Rakesh Tikait, the president of the Bahujan Kisan Dal, told The Telegraph that "we are not happy with this decision and this is far below what was promised in the budget…. This is not really a 50 per cent increase.
"They (the BJP) had promised the Swaminathan formula, which means 150 per cent of the cost as calculated by the government's agricultural cost price committee," Tikait said.
The Swaminathan committee had recommended a 50 per cent rise over the actual cost of production, which included not just input costs and imputed labour costs but also the interest cost on capital and the imputed rent paid for land.
The MSP for the rabi crops (October-March) was increased according to the recommendations of the Commission for Agricultural Costs and Prices, agriculture minister Radha Mohan Singh said after a meeting of the cabinet committee on economic affairs.
"It will give additional return to the farmers of Rs 62,635 crore by way of increasing MSP of notified crops to at least 50 per cent over cost of production and will aid in doubling farmers' income," the cabinet said in a statement.
Radha Mohan said the MSP for all rabi crops was now higher than the cost of production ranging from 50-112 percent.
The government claimed that for wheat, the cost of production is Rs 866 per quintal and the MSP was Rs 1,840 per quintal, giving a return of 112.5 per cent to farmers.
The MSP of barley has been increased by Rs 30 per quintal to Rs 1,440 while that of gram (chana) by Rs 220 per quintal to Rs 4,620.