Pragya Thakur issues fresh apology for remarks on Godse
However, she asserted that she never described Mahatma Gandhi's assassin as a patriot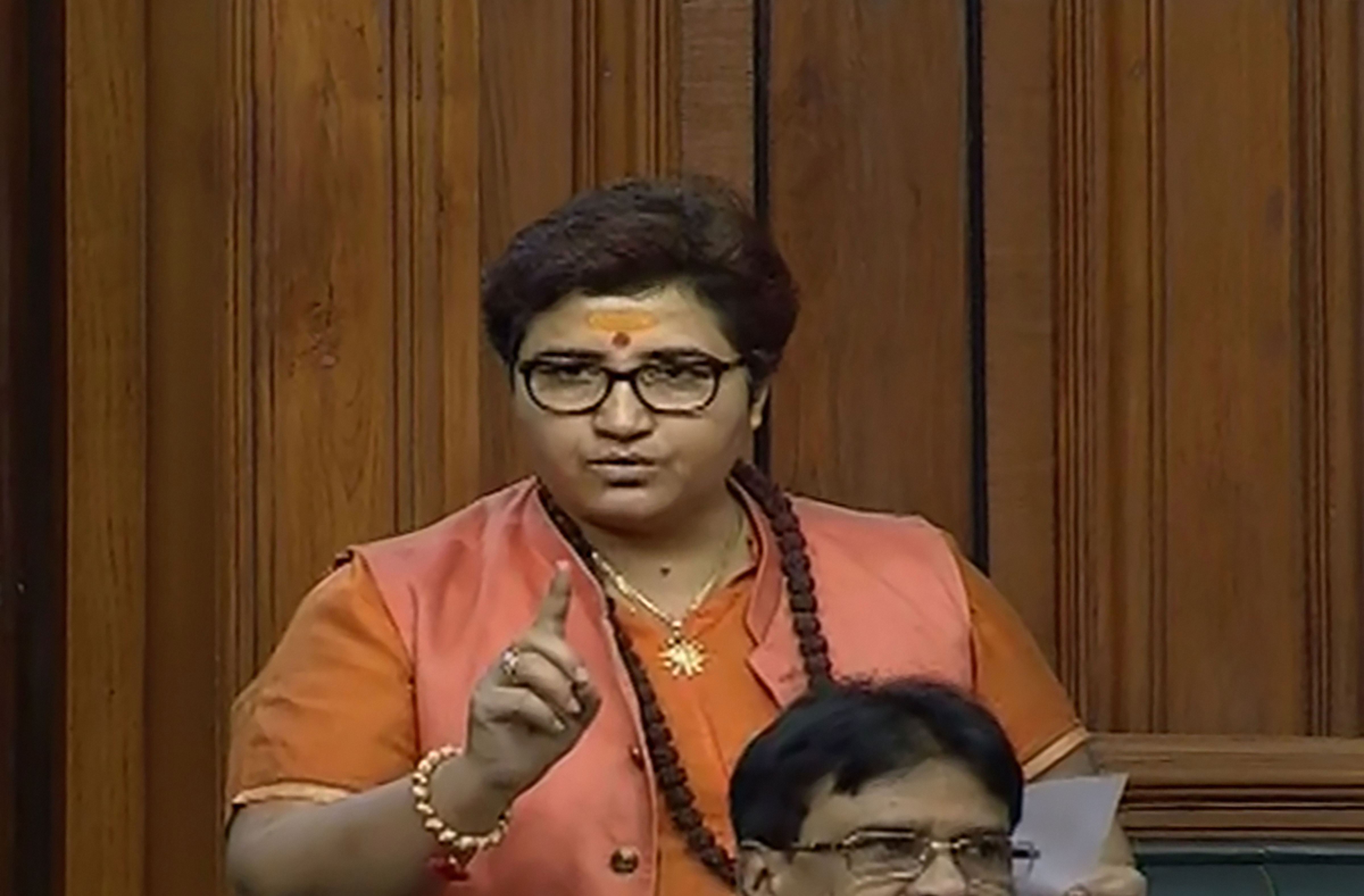 ---
---
Amid the ruckus created by the Opposition, BJP member Pragya Thakur on Friday made a fresh statement in Lok Sabha, apologising for her remarks on Nathuram Godse, even as she asserted that she never described Mahatma Gandhi's assassin as a patriot.
'I want to say only what I do for the country. On November 27, during a discussion on SPG (Amendment) Bill, I did not call Nathuram Godse a patriot (deshbhakt), I did not even take his name. Still if someone is hurt, I express my regret and apologise,' she said in Lok Sabha around 3.00 pm.
Before she entered the House, speaker Om Birla had said that Thakur would read out the statement agreed upon at the meeting of party leaders.
Thakur started her remarks referring to her enemies, but she was interrupted by the speaker.
She then read out the fresh statement.
The House then resumed normal business with members speaking on their Zero Hour references.
Earlier in the day, Thakur had made a statement on her remarks on Godse.
However, the Opposition parties led by the Congress expressed dissatisfaction over Thakhur's apology and demanded an unconditional apology.
She had said that her words were 'twisted' and that slammed Congress leader Rahul Gandhi for calling her a 'terrorist'.
'One member has publicly termed me as a terrorist, though I have not been convicted by the court ... it is an insult to a woman and a sadhvi,' she said and added that making such remarks too was against the law.
Thakur remains an accused in the Malegaon blast case.
Six people were killed and over 100 injured when an explosive device strapped to a motorcycle went off near a mosque in Malegaon, a power-loom town in north Maharashtra, on September 29, 2008.
'Terrorist Pragya calls terrorist Godse, a patriot. A sad day, in the history of India's Parliament,' Rahul had tweeted.
Earlier, when asked about if he stood by his statement, the former Congress chief said, 'Yes, I stand by my statement. What I have written on Twitter, I stand by it. Yes.'
Asked about the BJP calling for action against him for his remarks, Gandhi said, 'That's ok. There's no problem. Whatever they want to do, I'll welcome it.'