Jyotiraditya, Sonowal, Rane among probables
PM Modi's mega cabinet expansion at 6pm tomorrow
New team to be youngest-ever, probables include Jyotiraditya Scindia, Sarbananda Sonowal, LJP's Pashupati Paras, Narayan Rane and Varun Gandhi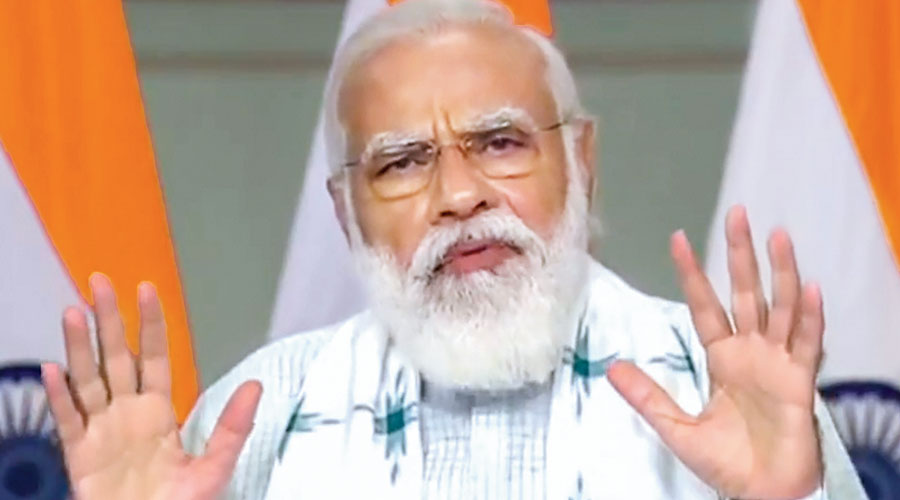 Narendra Modi
File Picture
---
New Delhi
|
Published 06.07.21, 08:05 PM
|
---
Prime Minister Narendra Modi's mega cabinet expansion, is all set to be announced tomorrow at 6 pm. According to sources, the new cabinet is going to be the youngest ever.
According to an NDTV report, the average age will be the lowest ever. More women ministers and special representation will be given to people with administrative experience.
"Overall two dozen OBCs (Other Backward Class) will be represented. The plan is to involve the smaller communities," said sources to NDTV.
The cabinet ministers are supposed to be highly qualified too. Many are supposed to be armed with "PhDs, MBAs, post-graduates and professionals" indicated the NDTV report.
Special focus will be on each state and even region in states, it stated.
Ministers who can make it to the cabinet have arrived or heading to the national capital, including the likes of Jyotiraditya Scindia, Sarbananda Sonowal, Lok Janshakti Party (LJP)'s Pashupati Paras, Narayan Rane and Varun Gandhi.
Jyotiraditya Scindia was seen offering prayers at Ujjain's famous Mahakal temple, hours before he took a flight to Delhi.
"I was on a visit to Ujjain. After completing my visit here, I'm going to Delhi," Scindia was quoted in the report.
Former Assam Chief Minister Sarbananda Sonowal, is also set to be a Union Minister. So is Pashupati Paras, who led the Lok Janshakti Party (LJP) coup in Bihar against ex-Union Minister Ram Vilas Paswan's son Chirag Paswan, mentioned the report.
Union Social Justice Minister Thawarchand Gehlot's appointment as Governor of Karnataka today has left a significant vacancy in the government. Speculations are being made about Dinesh Trivedi and Jitin Prasada, TMC and Congress turncoats fitting the slot, said the report.
Others camping in Delhi are Anupriya Patel (Apna Dal), Pankaj Chowdhury, Rita Bahuguna Joshi, Ramshankar Katheria, Lallan Singh and Rahul Kaswan.
The Union Cabinet, at present has 53 ministers but can be expanded to a 81 member team.
This is the first time Modi is making changes to his cabinet since began his second term in 2019.