PM Modi takes swipe at protesting Opposition members, saying their acts help BJP flourish further
Congress created hurdles in development, India lost six decades while smaller countries progressed, says the prime minister in Rajya Sabha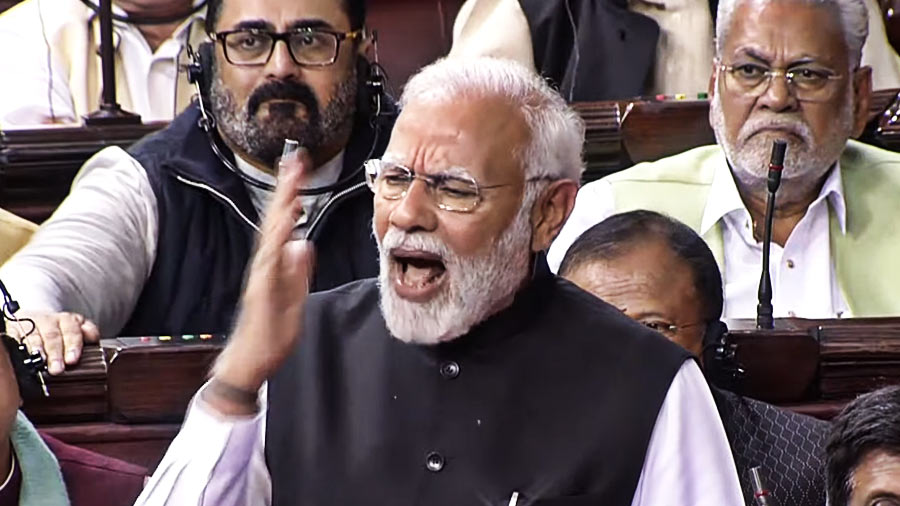 Prime Minister Narendra Modi addresses the Rajya Sabha on Thrusday
Video grab of YouTube (Sansad TV)
---
Published 09.02.23, 02:32 PM
|
---
More than half of the population without banking facilities till 2014, now 48 crore accounts opened in last 9 years: PM Modi in RS.
PM Modi says Rs 27 lakh crore sent to beneficiaries through DBT using 'Jan Dhan Aadhar Mobile' trinity in last few years.
Our govt has extended potable water supply to 11 crore houses in last 3-4 years against only 3 crore pre-2014: PM Modi.
PM Modi takes swipe at protesting opposition members, saying their acts help BJP flourish further.
Congress only engaged in 'tokenism', never tried to find permanent solutions to problems confronting country: PM Modi.
Congress created hurdles in development, India lost six decades while smaller countries progressed: PM Modi in Rajya Sabha.
Language, behaviour of some in the House is disappointing for India: PM Modi.
This is a breaking news story, more details will be added soon. Please keep refreshing this page.