Shringar Gauri-Gyanvapi case: Petitioner to withdraw case
Reports said Jitendra Singh Visen, head of Vishwa Vedic Sanatan Sangh and one of the petitioners, had said his niece Rakhi Singh would withdraw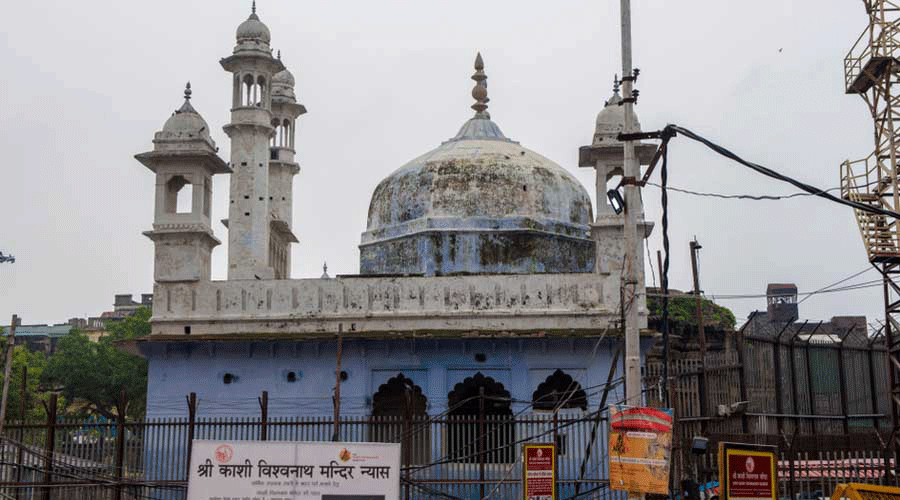 The petitioners want Hindus allowed to pray every day at the Shringar Gauri, a raised platform on the Gyanvapi mosque's premises.
File photo
---
Lucknow
|
Published 09.05.22, 02:00 AM
|
---
One of the six petitioners in the Shringar Gauri-Gyanvapi case may apply to withdraw her plea at Monday's hearing by a Varanasi civil court, media reports said.
The reports said Jitendra Singh Visen, head of the Delhi-based Vishwa Vedic Sanatan Sangh and one of the petitioners, had said his niece Rakhi Singh would withdraw.
The petitioners want Hindus allowed to pray every day at the Shringar Gauri, a raised platform on the Gyanvapi mosque's premises with engraved figurines that they claim are images of gods and goddesses. Currently prayers are allowed once a year, on the fourth day of Chaitra Navratri.
The civil court had ordered a survey and videography by a 36-member commission to help settle the dispute. The exercise triggered controversy on Saturday, its second day, with the panel's Hindu members accused of overstepping their brief to look for a temple's ruins under the mosque and local Muslims allegedly resisting the survey.
The issue has become sensitive since a Sangh parivar campaign claims the mosque was built after demolishing a part of the original Kashi Vishwanath temple and should be removed.
On Sunday, several news channels reported that Rakhi was no longer interested in the case. The reason remains unknown, and attempts to contact Visen failed, with calls and messages to the mobile number mentioned on his Facebook page remaining unanswered.
The other four petitioners — Sita Sahu, Rekha Pathak, Lakshmi Devi and Manju Vyas — would continue with the case.
They suggested the claim about Rakhi's wish to withdraw may be a "rumour". Rekha said Rakhi was in Delhi and was expected in Varanasi on Monday.
On Saturday, the Hindu side alleged that local Muslims had prevented them from entering the mosque premises. The survey, which began on Friday and was to last three days, did not resume on Sunday, either.
The Gyanvapi mosque committee members and their lawyers say the commission was seeking to survey the mosque's walls and underground storeroom, apparently to establish that a temple's ruins lay underneath.
They insist that the civil court had only ordered a survey and videography of the Shringar-Gauri while a lawyer for the Hindu side has said the mandate covered the entire mosque premises.
Syed Mohammad Yasin, a lawyer and joint secretary of the mosque management committee, said: "Any videography inside the mosque is prohibited."
An independent lawyer has said the court order is ambiguous and the point would have to be cleared up at Monday's hearing.