Pegasus : IT minister says use of data did not amount to surveillance
His predecessor Ravi Shankar Prasad wondered at a media briefing why India alone was being put in the dock when 45 nations were using the software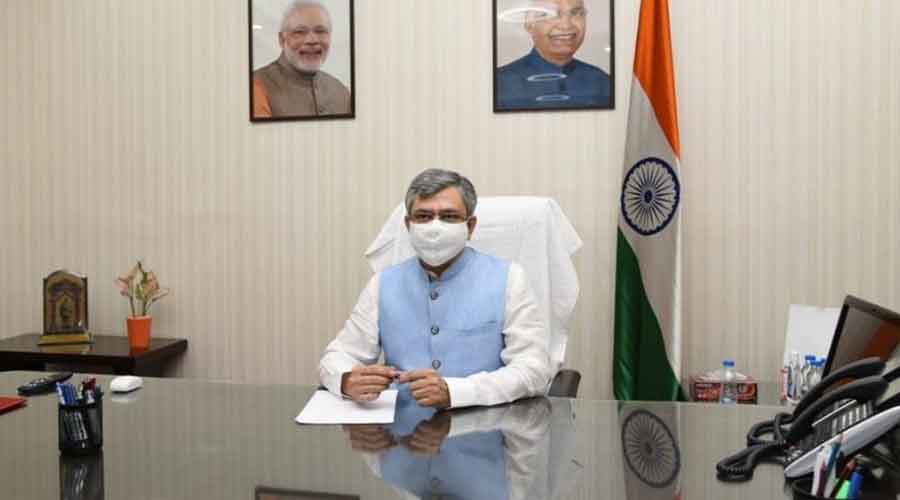 Ashwini Vaishnaw
File picture
---
New Delhi
|
Published 20.07.21, 02:01 AM
|
---
New information technology minister Ashwini Vaishnaw on Monday told the Lok Sabha that use of data didn't amount to surveillance, reacting to allegations that the Centre had snooped on opponents and critics using the Israeli spyware Pegasus.
His predecessor Ravi Shankar Prasad wondered at a media briefing why India alone was being put in the dock when 45 nations were using Pegasus, thus appearing to acknowledge that the Narendra Modi government had used the spyware.
Vaishnaw told the House: "It is also beyond doubt that the data has nothing to do with surveillance or NSO (the Israeli company that developed Pegasus), so there can be no factual basis to suggest that use of the data somehow equates to surveillance."
He added: "Any form of illegal surveillance is not possible with the checks and balances in our laws and our robust institutions."
The minister was making a statement on the controversy over a global investigative project that has claimed that Pegasus was used to snoop on more than 300 mobile phones in India.
A fresh list released on Monday by the international exposé suggests that even Vaishnaw had been selected as a potential surveillance target in 2017.
The Centre has so far evaded any direct reply to the specific question whether it had purchased the Pegasus spyware from NSO.
Relying heavily on NSO's statement, Vaishnaw termed the investigative report a conspiracy to malign India's democracy while denying any unauthorised snooping by the government.
Prasad seemed to indirectly admit government use of Pegasus but sought to deny it when asked directly.
"Isiliye, yeh sawal phir relevant hota hai, ki jab 45 se adhik desh Pegasus ka upyog kar rahe hain, jaisa ki NSO ne bataya hai, toh sirf Bharat ko hi target kyon kiya jaa raha hai (Therefore, the question again becomes relevant that when more than 45 countries are using Pegasus, as NSO has said, why is India alone being targeted)?" Prasad said.
Recently sacked as law, IT and communications minister, Prasad had been fielded to attack those using the Pegasus controversy to corner the government.
Asked directly whether his party's government at the Centre used the Pegasus spyware, Prasad first sought to avoid a direct reply.
On being pressed, he said: "We have never said that we use (Pegasus)."
He added that there was a foolproof legal framework for phone-tapping and that the government never breaks it.
Put on the defensive by the international exposé, the government tried to play victim, alleging a design to defame it.
"Is this some kind of revenge for the way India handled Covid, the way 75 per cent of the people are getting free vaccines and the way India's global clout has increased under Prime Minister Modi?" Prasad asked.
Vaishnaw said: "It can't be a mere coincidence that this report has been leaked by a portal on the eve of the monsoon session."
Home minister Amit Shah said in a statement: "This is a report by the disrupters for the obstructers. Disrupters are global organisations that do not like India to progress. Obstructers are political players in India who do not want India to progress."
He said the people of India were very good at "understanding this chronology and connection".