'Peace' on PM's lips, 'jihadists' on colleague's
BJP politicians in their private conversations showed no sign of concern about the protests or the violence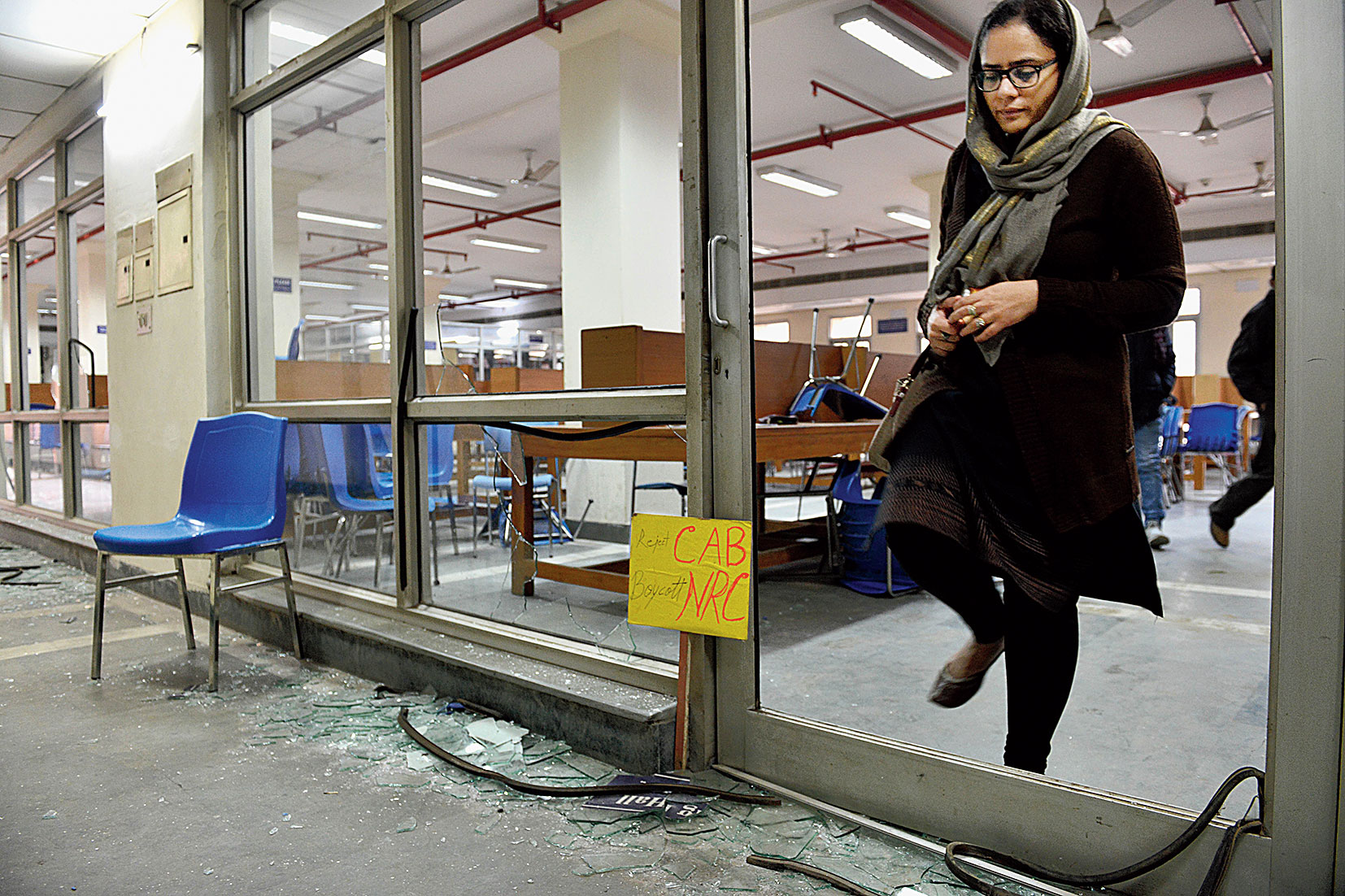 The damaged library at Jamia Millia Islamia following Sunday's alleged police action against the students.
Picture by Prem Singh
---
New Delhi
|
Published 16.12.19, 09:10 PM
|
---
Prime Minister Narendra Modi on Monday appealed for "peace, unity and brotherhood" while his ministers and party branded the protesters against the Citizenship (Amendment) Act as "jihadists, Maoists and separatists" and accused the Congress of fomenting a Hindu-Muslim divide.
Some BJP insiders gloated that the violence by students in "Muslim universities" would benefit the party, choosing to mirror not the sentiments the Prime Minister expressed on Monday but his comment of Sunday that the protesters can be identified "by their clothes".
Modi posted tweets condemning violent protests and stressing the importance of "debate, discussion and dissent", but he did not mention Sunday's police crackdown on students at Delhi's Jamia Millia Islamia or Aligarh Muslim University.
"Violent protests on the Citizenship Amendment Act are unfortunate and deeply distressing. Debate, discussion and dissent are essential parts of democracy but, never has damage to public property and disturbance of normal life been a part of our ethos," Modi's first tweet said.
His second tweet underlined how the act was passed in Parliament "with overwhelming support" and styled it an exemplar of "India's centuries-old culture of acceptance, harmony, compassion and brotherhood".
"We cannot allow vested interest groups to divide us and create disturbance. This is the time to maintain peace, unity and brotherhood. It is my appeal to everyone to stay away from any sort of rumour-mongering and falsehoods," he added.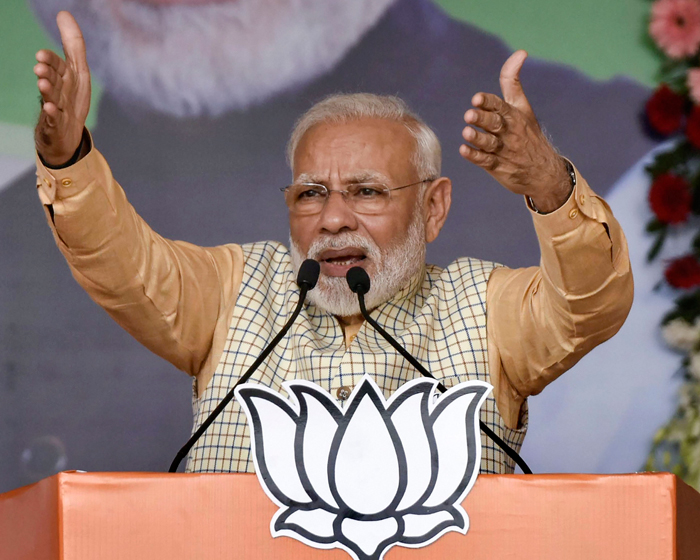 Finance minister Nirmala Sitharaman was quoted by PTI as saying she "didn't know what happened at Jamia last night" but insisted that "we must be wary of jihadists, Maoists, separatists getting into student protests".
BJP spokesperson Sambit Patra accused the Congress of dividing the country on "Hindu-Muslim" lines over the amended citizenship law but avoided commenting on Modi's remark about the protesters being identifiable by their clothes.
"The government has clearly said the CAA has nothing to do with Muslims in India. It's the Congress that is trying to mislead the Muslims and inciting violence," Patra said.
Rashtriya Janata Dal MP Manoj Jha condemned the Prime Minister's statement about the protesters' "clothes" as a divisive message aimed at profiling a community. "This is a dog whistle message; I condemn it strongly," he said.
BJP politicians in their private conversations showed no sign of concern about the protests or the violence, which they suggested would consolidate the Hindus behind the BJP.
"We are receiving feedback that people are asking why the Muslims are opposed to the country giving shelter to people persecuted in Pakistan and other Islamic countries. The Congress is being seen as pro-Muslim and pro-Pakistan," a BJP politician said.
Party managers said that according to an internal assessment, the BJP would make huge gains in Bengal because of alleged violence by the minority community.
"We may have lost the by-elections because of the fear-mongering over the NRC but now the amended citizenship law will turn the tide in our favour," a BJP politician said.