Congress spokesperson Pawan Khera was arrested at Delhi airport on Thursday over a comment he had made about Prime Minister Narendra Modi, prompting the Opposition party to say the acronym "MODI" now stood for "Murder of Democracy in India".
Khera, ordered off his plane and arrested by a police team from BJP-ruled Assam where the FIR had been lodged, was later granted interim bail by a Delhi court on the Supreme Court's directions.
Khera was about to fly to Raipur, Chhattisgarh, to attend a Congress plenary, whose run-up has been marked by Enforcement Directorate raids on party leaders that the Congress sees as intimidatory tactics. He is now expected to catch Friday morning's flight.
"It's harassment pure and simple, Modi style. MODI — Murder of Democracy in India — is the right acronym," party communications chief Jairam Ramesh tweeted, referring to Khera's arrest and the raids.
He expressed gratitude to the Supreme Court for providing relief to Khera.
While addressing a news conference in Mumbai on February 17, Khera had ascribed to Modi the middle name of "Gautamdas", appearing to refer to the Prime Minister's alleged proximity to Gautam Adani. Modi's actual name is Narendra Damodardas Modi, Damodardas being his father's name.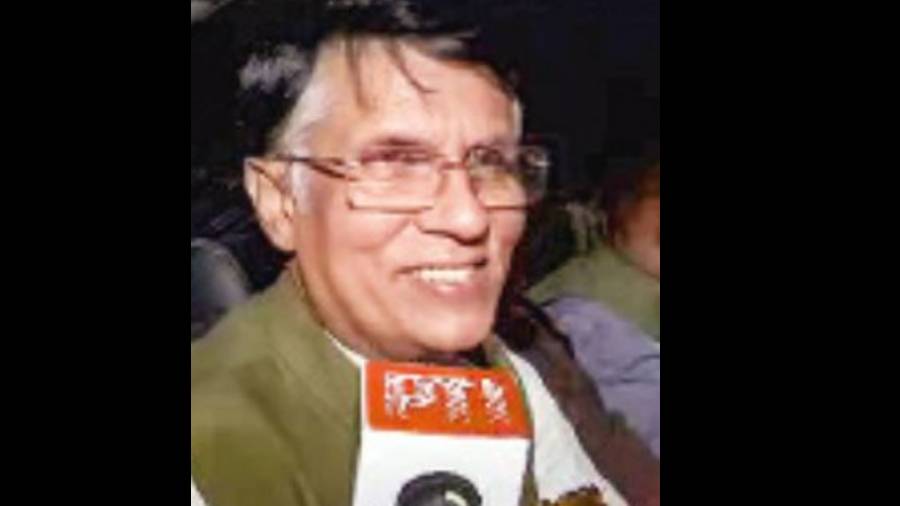 Pawan Khera after he was granted bail in Delhi on Thursday. PTI picture
Khera had immediately expressed regret and later emphasised that he had no intention of insulting Modi's father.
Several BJP leaders had objected to this expression and the electronic media played it up.
Ramesh said the judiciary was still alive despite regular threats from Union ministers and people holding constitutional posts — appearing to allude to law minister Kiren Rijiju and Vice-President Jagdeep Dhankhar who had recently questioned the apex court's powers and functioning.
"Assam Chief Minister is always willing to register a case to harass anybody — be it Pawan Khera or Jignesh Mevani. The BJP is rattled by the success of Bharat Jodo Yatra. This was manifested in the false and malicious statements coming during the yatra," Ramesh tweeted.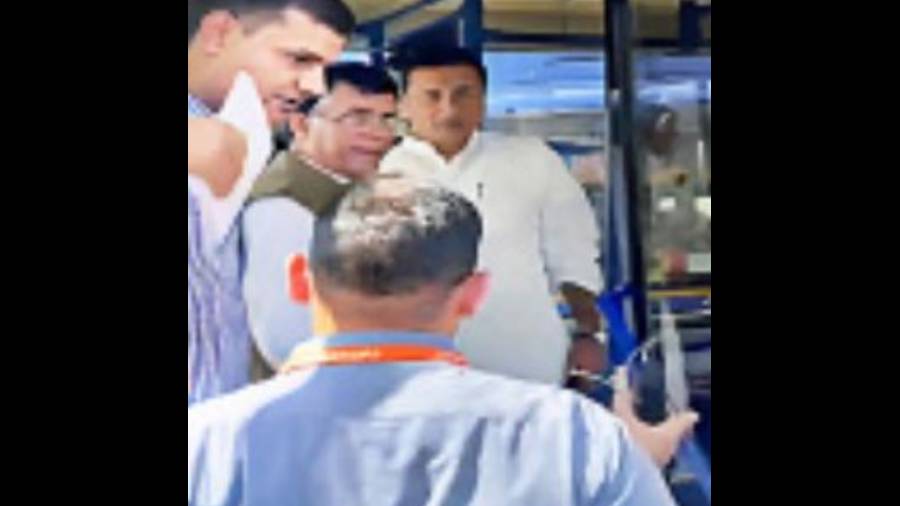 Pawan Khera (wearing spectacles) being taken into police custody. PTI picture
Gujarat MLA Mevani, then a Congress-backed Independent, had been arrested from his home state by Assam police last year over a tweet on Modi that referred to Nathuram Godse. Mevani is now a Congress MLA.
A large number of Congress leaders were travelling to Raipur on the same flight. All of them got off the plane to stage a protest, delaying the takeoff by several hours.
Party general secretaries K.C. Venugopal, Tariq Anwar and Randeep Surjewala sat on a dharna along with many others, including former minister Shakeel Ahmed, social media head Supriya Shrinate and minority department chief Imran Pratapgarhi, shouting slogans that accused Modi of dictatorial tendencies.
Surjewala, who came out of the airport to provide legal assistance to Khera, took the evening flight to Raipur after bail was granted. Congress leaders said Khera was asked to come out of his plane and arrested without the necessary legal documents, adding that such a thing had never been witnessed in India before. Delhi police officers said they were only assisting the Assam police.
Hen Samuel Changsan, an Assam BJP member whose police complaint led to Khera's arrest, told The Telegraph on Thursday that he had sought action because the Congress spokesperson's statements were "totally disrespectful" of Modi, whose "constructive" development policies had "positively impacted even the Northeast".
Changsan, who had been with the Congress before joining the BJP in 2015, said Khera's statement had hurt him personally because his own father too was a "selfmade" man. Changsan's father was an IAS officer.
Based on his complaint, police from Haflong in Assam booked Khera under multiple penal code sections, including defamation and promoting enmity between groups.
Congress members hit back at the BJP on Thursday, underlining how its leaders, spokespersons and even the Prime Minister often insulted Congress leaders and expressed no regret.
Shrinate, who ran audio clips purportedly showing Modi calling Sonia Gandhi "Congress ki vidhwa (Congress's widow)" and referring to Shashi Tharoor's late wife as "50 crore ki girlfriend" on TV channels, said: "Modi should be arrested for his obscene remarks first."
Surjewala told this newspaper: "This is brazen gundagardi (bullying) by the Modi government. How can anybody say Khera's statement would disturb social peace and arrest him? The police were treating senior Congress leaders like terrorists. It's all showing the political nervousness of the Hitler-shahi regime."