Nishan-e-Pakistan award storm in Geelani cup
The civilian honour is being seen as an attempt to further stir the Kashmir pot and also to placate the separatist leader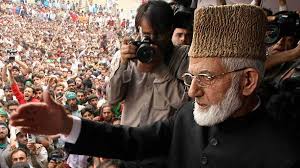 ---
|
Srinagar
|
Published 27.08.20, 02:00 AM
---
Pakistan's award of the country's highest civilian honour to separatist leader Syed Ali Shah Geelani, who has preferred political reticence since the scrapping of Jammu and Kashmir's special status on August 5 last year, has finally stirred those close to him into action, but only to wrestle an alleged campaign to malign him.
Geelani's family has issued a statement saying the "vicious campaign" against the 90-year-old leader, who is under house arrest since the August 5 decisions, had left him disturbed and taken a toll on his health. Geelani's family, however, made no mention of a letter attributed to the leader and doing the rounds on social media that claims that he has rejected the Nishan-e-Pakistan award.
The purported letter has triggered a blizzard of criticism in the Valley, further cornering Geelani who has already faced condemnation for appearing to capitulate before Delhi during the Valley's gravest crisis.
Geelani, a hardliner who once saw himself as the tallest leader of Kashmir and enjoyed widespread support, became an unlikely casualty of the scrapping of Article 370, falling silent apparently because of the fear of his immediate family being hounded.
During the government's unprecedented crackdown that followed, the separatist camp was left in disarray, with top leaders either landing in jail or being put under house arrest.
The hawk's supporters attribute Geelani's silence to his failing health but have never explained why he chose hibernation the very moment Kashmir lost its special status and was subjected to one of the most brutal clampdowns and communications blockade. Although Geelani remains under house arrest, it would not have stopped him from at least issuing a statement.
Geelani addressed his supporters for the first time in nearly a year on June 30, issuing an audio message in which he announced that he was ending his decades-long association with the hardline Hurriyat Conference, heaping a litany of corruption charges against his colleagues in the separatist forum as the reason.
The announcement earned Geelani much criticism, with many accusing him of surrendering before Delhi when the Valley needed him the most. The hawk had spearheaded the separatist movement for decades, being a vocal supporter of militancy and shutting Kashmir down on hundreds of occasions.
While Pakistan is believed to be unhappy with Geelani for lying low, the neighbouring country conferred its highest civilian award on him — the first Kashmiri to be honoured thus — on its independence day on August 14, triggering a blizzard of criticism in the Valley that forced the leader's family to react on Monday.
The award by Pakistan is being seen as an attempt to further stir the Kashmir pot and also to placate Geelani.
"It is unfortunate that people with vested interests have launched a vicious campaign to malign the stature of Quaid (leader)," a statement issued by Geelani's two sons — Nayeem Geelani, a doctor, and Naseem Geelani, an academic — and son-in-law Zahoor ul Haq Geelani said.
Not making a direct reference to the letter being attributed to Geelani Senior in which he has rejected the award, the statement said: "Repeated and fabricated letters in his name, posts, comments and imaginary stories is disturbing him and affecting his health very badly. The unnecessary social media campaigns and hounding of the family only adds to our already stressful life."