Pakistan alters stand on Kashmir parties
The neighbour country has traditionally described the governments led by the Valley's mainstream parties as India's 'puppet governments'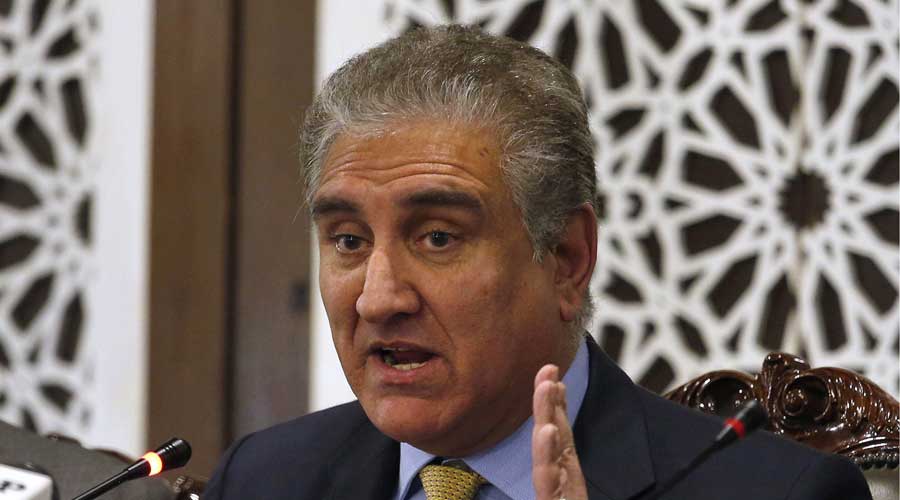 ---
|
Srinagar
|
Published 25.08.20, 01:36 AM
---
Pakistan on Monday appeared to be wooing the Valley's pro-India camp, terming a joint pledge by four regional and two national parties for restoration of Article 370 a "political resistance movement".
Islamabad's move comes at a time last August's changes to Jammu and Kashmir's constitutional and geographical status are threatening to further erode the Valley's already thin proIndia constituency.
Pakistan has traditionally described the governments led by the Valley's mainstream parties as India's "puppet governments". Militants have killed hundreds of leaders and activists of these parties over the past three decades.
On Monday, Pakistan foreign minister Shah Mehmood Qureshi addressed a news conference to announce a "very big development". He was referring to Saturday's joint pledge by the National Conference, People's Democratic Party, People's Conference, Awami National Conference and the Jammu and Kashmir units of the Congress and the CPM to restore the special status.
"A political resistance movement is gaining ground in Kashmir and the first sign is the joint statement.... What they said in the joint statement shows what is on their mind," Qureshi, who had returned from China three days ago, said.
"They are saying their political activities will be subservient to the sacred goal of reverting the status of J&K as it existed on August 4, 2019. It means they have rejected the August 5 decisions. It is a very big statement."
In their joint statement, the six parties have vowed to "tirelessly struggle to get back the special status and restore the constitutional guarantees forcibly taken away from J&K".
"There is unanimity amongst us that collective institution is the effective way to fight for these rights and tirelessly struggle to get back the special status and restore the constitutional guarantees forcibly taken away, against our will."
A leader of one of these parties said that Pakistan now "clearly owned the J&K mainstream" which "it had never done before".
"Look at the choice of his (Qureshi's) words, reserved in the past for the (separatist) Hurriyat. They are calling our struggle a resistance movement," he said.
"It shows a tectonic shift and will clearly embolden us. Tomorrow, I won't be surprised if we too give a call for a shutdown and the people follow us.'
Among the statement's signatories are former chief minister Farooq Abdullah, once known as staunchly proIndia, and Ghulam Ahmad Mir, Jammu and Kashmir chief of the Congress.
Qureshi said the political leaders had issued the joint statement after spending months in jail.
"The Hurriyat's stand is in front of us but the statement is from those people who had in the past looked towards Delhi. They have now changed their direction and are not looking towards Delhi. It is such a big change," Qureshi said.
He said China supported Pakistan's stand on Kashmir and wanted the issue settled through UN resolutions. He said China was not going to blink in eastern Ladakh, where it's engaged in a border standoff with India.
The Valley's proIndia or "mainstream" camp has always faced a credibility crisis here despite many people voting for them in elections. While the separatists have successfully shut Kashmir down hundreds of times, the proIndia parties never dared call for shutdowns, fearing a possible loss of face.
Pakistan has a few times in the past unsuccessfully tried to woo the "mainstream leaders".
Thousands of men, including former chief ministers, legislators and other political leaders, were arrested by the security forces ahead of the August 5 decisions to prevent any unrest.