UP: Out on bail, sadhu does not regret kidnap and rape threat
I'm ready to go to jail and face such attacks a thousand times: Bajrang Muni Das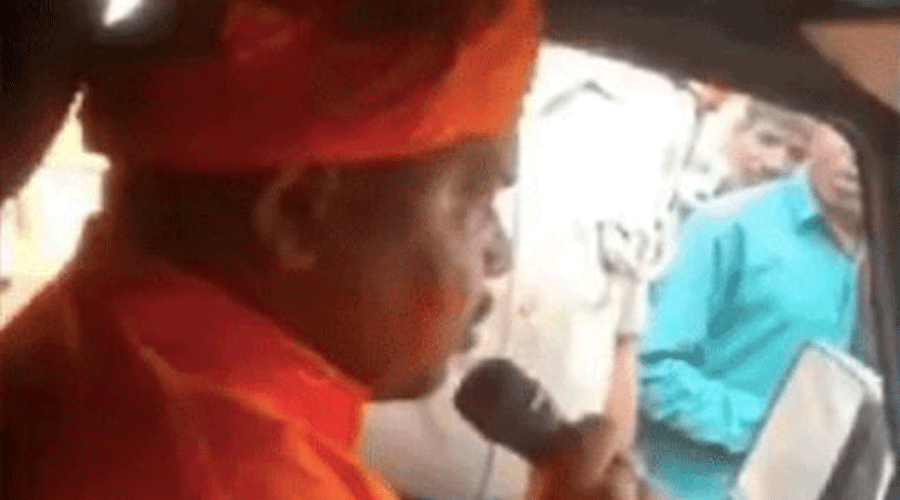 Bajrang Muni Das.
File photo
---
Lucknow
|
Published 25.04.22, 02:43 AM
|
---
A sadhu in Uttar Pradesh who had allegedly threatened to kidnap and rape Muslim women walked out of prison on bail on Sunday and immediately announced he did not regret his statement.
"I don't regret my statement. I'm ready to go to jail and face such attacks a thousand times," Bajrang Muni Das declared before reporters in Sitapur district.
On April 8, after police had lodged an FIR against him, the monk had said the video showing his alleged threat of April 2 had been "tampered with" and, in the same breath, issued an apology.
"I apologise to women. I didn't mean what the media showed," he had said.
But as he stepped out of jail on Sunday, Das said: "I shall continue to protect my religion and women. I'm ready to face any consequences for protecting the saffron flag and the Hindu religion."
Das had been arrested on April 13 and received bail on Saturday from Sitapur district judge Sanjay Kumar.
A video had shown the head of an ashram in Sitapur issuing his alleged threat over a megaphone during a Navaratri procession. Referring to a community as "jihadis", he had allegedly announced: "I shall publicly drag your daughters-in-law and daughters out of your houses and rape them if any Hindu girl is molested…. Muslims will be killed if any Hindu is killed here."
Das enjoys protection by the Provincial Armed Constabulary, provided by the Adityanath government.