Opposition warms to Rafale campaign
TMC, TDP and CPI join Rahul Gandhi's campaign against Modi govt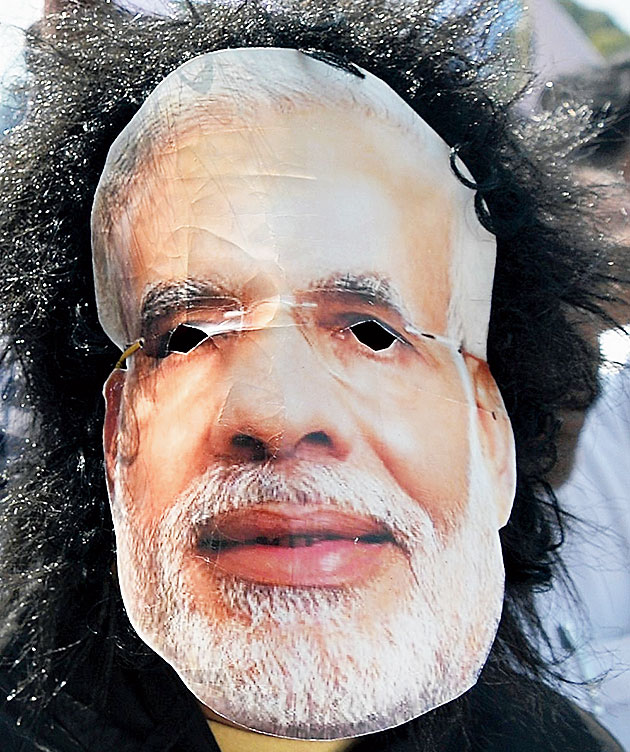 A protest outside the CBI office in Bangalore on Friday.
(AP)
---
New Delhi
|
Published 26.10.18, 09:03 PM
|
---
Rahul Gandhi's Rafale campaign seems to be slowly attracting other Opposition parties, which till now showed little enthusiasm for his corruption charges targeting Prime Minister Narendra Modi personally.
The Trinamul Congress sent a Rajya Sabha member to the protest the Congress president had called at CBI headquarters on Friday against the benching of agency chief Alok Verma, which Rahul claims was aimed at preventing him from investigating the Rafale deal.
Trinamul is also expected to join the delegation of Opposition parties planning to meet President Ram Nath Kovind on the issue.
The Congress tried all day to get an appointment but there was no official confirmation till late in the night. If the appointment comes through, many Opposition parties are likely to join in.
Andhra Pradesh chief minister N. Chandrababu Naidu's sudden decision to come to Delhi and address the media on Saturday has added to the speculation as he too has lately been talking about Rafale.
The Telugu Desam Party had joined the Congress and the CPI in the protests at the CBI office in Hyderabad. The three parties are planning to contest the Telangana elections in an alliance.
Naidu had earlier this week commented on the goings-on in the CBI and echoed the Congress contention that Verma had been removed to pre-empt a Rafale investigation.
"This development clearly establishes the Modi government's link to the Rafale scam,'' Naidu said.
During the monsoon session of Parliament, the Congress had wanted a joint news conference by the Opposition on the Rafale controversy but many of the smaller parties were reluctant, unsure whether the issue would resonate among the public or whether the charges would stick.
All that the Congress could manage — and only after former president Sonia Gandhi stepped in — was to get all the Opposition parties to gather before the Gandhi statue on the last day of the session and demand a joint parliamentary committee probe.
The Opposition parties began to come around only after former French President Francois Hollande's reported comments last month about the Indian government having nudged France to give the offset contract to Anil Ambani's Reliance.
While the CPI participated in Friday's protest in Delhi, the CPM has come out with a booklet on the Rafale controversy and conducted a public hearing earlier this week to mobilise opinion on the subject. Other parties, including the DMK and the RJD, have been adding to the chorus.