Opposition team barred from Valley
The 12 members were detained at the airport on arrival at 1.40pm and put on the next available flight around 4.15pm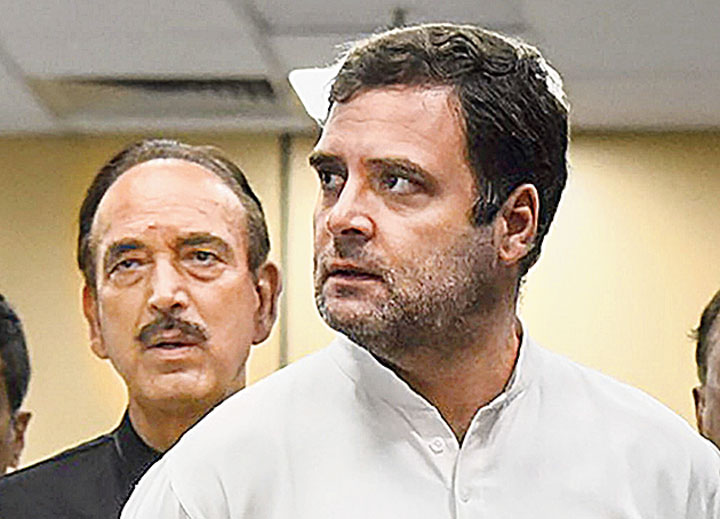 Rahul Gandhi and Ghulam Nabi Azad at Delhi airport after returning from Srinagar on Saturday.
(PTI)
---
New Delhi
|
Published 24.08.19, 08:30 PM
|
---
The nine-party Opposition delegation that arrived in Srinagar on Saturday to express solidarity with the people of Jammu and Kashmir and "expedite the process of return to normalcy'' was sent back from the airport, raising questions relating to the government's claims about the situation.
The 12 members, who included Congress leader Rahul Gandhi, were detained at the airport on arrival at 1.40pm and put on the next available flight around 4.15pm.
At CPM general secretary Sitaram Yechury's insistence, they were shown a written order barring them from leaving the airport.
A video from inside the room where the Opposition members were kept showed Rahul trying to reason with the administration, citing how the governor had invited him.
"Now I have come, and you are saying that I can't visit. That is a bit…. And the government is saying that everything is OK here, everything is normal. So, if everything is normal, then why aren't we allowed out?'' Rahul is heard saying.
Rahul said the delegation would be happy going to any area and speaking to a few people and that if it was a matter of Section 144 being in place, he was prepared to go individually as were the others.
In a joint response addressed to the district magistrate of Budgam, the delegation questioned the "tone and tenor of the order'' that attributes "baseless" motives.
"We are here at the public invitation of the honourable governor who asked us to visit and see for ourselves the peace and normalcy that prevails,'' the statement said.
Governor Satya Pal Malik had on August 11 invited Rahul to come and see the situation for himself, but later backtracked claiming the Congress leader was setting "pre-conditions".
Apart from four Congress members, the team was made up of Yechury, D. Raja (CPI), Dinesh Trivedi (Trinamul), Tiruchi Siva (DMK), Manoj Jha (RJD), Majeed Memon (NCP), Kupendra Reddy (JDS) and former JDU leader Sharad Yadav.