Opposition sounds out Prashant Kishor to fight NDA
'He is an excellent election strategist and if he cannot show his power in his native state, it will be like a face loss for him'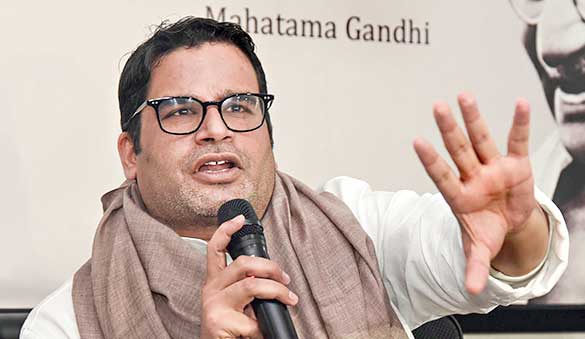 Prashant Kishor
Telegraph file picture
---
Patna
|
Published 20.02.20, 10:06 PM
|
---
Within two days of announcing an outreach drive in Bihar, poll consultant Prashant Kishor is getting offers from Opposition parties to work against the ruling NDA in the Assembly polls in the state that are expected to be held in October or November.
Opposition Grand Alliance leaders — Rashtriya Lok Janshakti Party (RLSP) chief and former Union minister Upendra Kushwaha, Hindustani Awam Morcha Secular (HAMS) founder and former chief minister Jitan Ram Manjhi and Vikashsheel Insan Party (VIP) leader Mukesh Sahni — met Kishor, who has been expelled from the JDU, in Delhi on Thursday evening to request him to strengthen the alliance against the NDA.
"We requested Kishor to work with the Grand Alliance (as a consultant) while keeping it united and help defeat the NDA in Bihar. One thing is clear. He wants to defeat the NDA. He is an excellent election strategist and if he cannot show his power in his native state, it will be like a face loss for him," Sahni told The Telegraph.
The meeting deliberated on various aspects of how to corner the NDA in Bihar, and the Opposition leaders stressed that there would be no third front in the state.
Kushwaha had met Kishor on Wednesday evening too to discuss Bihar and emphasised that though he cannot influence poll consultant's decisions, he would like him to work for the Grand Alliance in the forthcoming elections.
"We and Kishor are united over the concern for the development of Bihar. He has pointed that our state has not developed much in comparison with other states and we have also been saying this. We would very much like Kishor to strengthen the Grand Alliance," Kushwaha said.
Though Kishor, during his visit to Patna earlier this week, had categorically stated that he was not working to form an alliance against the ruling combine of chief minister Nitish Kumar's Janata Dal United (JDU), BJP and the Lok Janshakti Party (LJP), his criticism of the axis has lifted the hopes and spirits of the Opposition leaders.
However, Kishor has started a campaign called "Baat Bihar Ki", which aims to connect 1 crore people over the next three months with the aim of lifting Bihar to a position among the top 10 states over a decade.
Apart from Kishor' election strategy services, the Opposition parties are also seeing a uniting force in him for their Grand Alliance that comprises of Lalu Prasad's Rashtriya Janata Dal (RJD), Congress, RLSP, HAMS and the VIP.
Former MP Rajesh Ranjan alias Pappu Yadav, whose Jan Adhikar Party (JAP) is not part of the Grand Alliance, has even supported Kishor in his endeavour to prepare a blueprint for the development of Bihar. "We will leave no stone unturned for the sake of Bihar. We are ready to support Kishor with his blueprint for the development of the state because the state government has failed on all socio-economic parameters," Yadav said on Wednesday.
HAMS national spokesperson Danish Rizwan pointed out that Kishor has an undisputed record of helping parties win elections and his success rate is almost 100 per cent. "His USP is winning polls and we want him to work with us," Rizwan said.
Although Kishor did not take calls from this newspaper, it would be interesting to see what stand he takes, especially when the bigger Grand Alliance parties like the RJD and the Congress have kept quiet so far on requesting his services to defeat the NDA in Bihar.