In Odisha, they climb 250 steps to join online classes
Internet connectivity forces students to climb 150ft-high tank
Classes under the scorching sun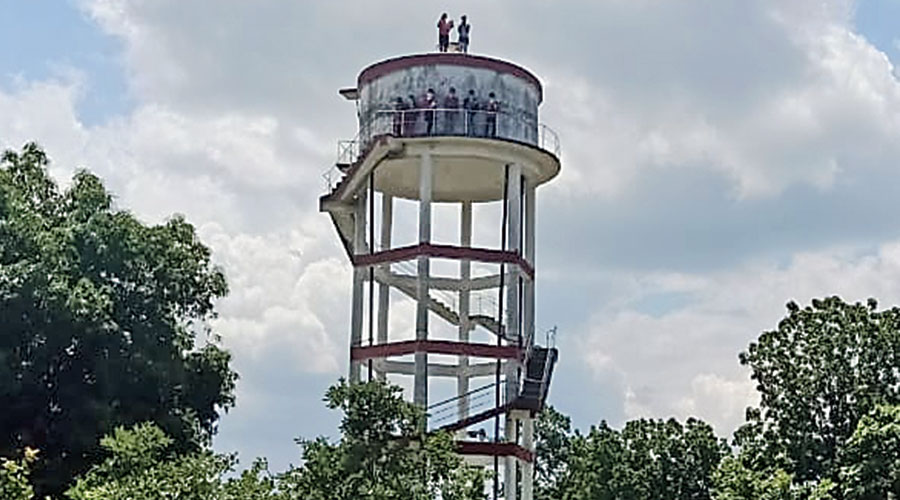 The water tank at Landimal village in Sambalpur district of Odisha
Telegraph pictures
---
Bhubaneswar
|
Published 04.08.20, 02:16 AM
|
---
If you have ever wondered how uphill the challenge is to access the Internet in India's villages, 20-year-old Sanatan Naik can give you a precise figure: 150 feet.
That's the height of the water tank whose 250 steps the final-year chemistry (honours) student climbs up every day to be able to connect to his online classes.
"I never look down while climbing up or down lest my head reel and I vomit or fall," said Naik, a resident of Landimal village in Sambalpur district, about 250km from here.
Around 25 other students from Landimal and adjoining villages, some of them girls, too climb atop the tank for the same reason every day.
Sitting on a narrow balcony near the top, they attend their online classes, which are mostly held in two slots: 9am to noon, and 3pm to 5pm.
The students said their parents continued to worry every day till they got down from the water tank, built recently and meant to supply all the villages in the panchayat area once it starts functioning.
"My father or my brothers sometimes sit on the ground waiting for me to climb down. We take precautions and help the girl students climb up with us," said Muna Biswal, an undergraduate arts student.
It's not only to attend their classes that the students need to climb up the steep concrete steps.
"My teachers and classmates send study materials and messages through WhatsApp. We can't access them without going to the top of the tank," Naik, who aims to be a chemistry lecturer, said.
Some of the students have tried other tactics. "We have climbed atop tall trees, but sitting on a branch for hours and taking notes is not easy," said Bimal Mirdha, a second-year undergraduate student of Nakatideul College.
"It's easier to sit and write atop the water tank. So one has to take a calculated risk (that of climbing up and down 150 feet)."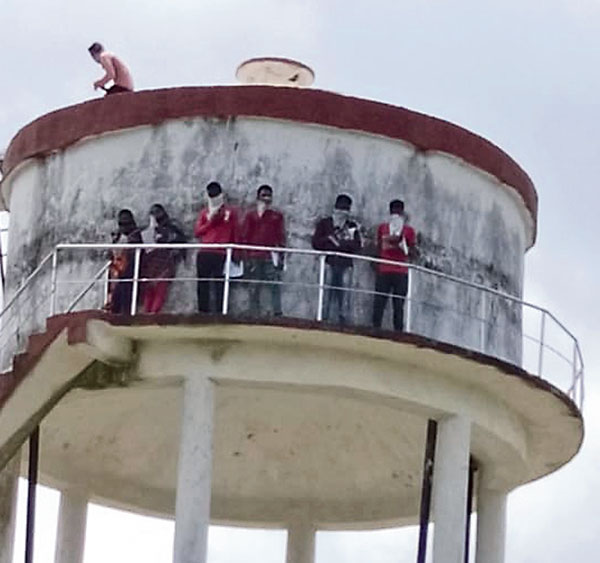 However, the tank balcony poses a challenge that the leafy trees don't: the scorching sun in Sambalpur where, with the monsoon playing hide and seek, temperatures are nudging 40 degrees.
"It's painful to sit under the open sky atop the water tank. Sometimes, we take along umbrellas. Some of our friends wrap gammuchas (towels) around their head to shield themselves from the sun," Bimal said.
Not all the students have android phones, so they have to share handsets to access the study materials sent by their colleges. During the classes, those without smart phones have to peer over the shoulders of those who do.
"Yes, we share phones but sometimes issues such as recharging the phones come up," said Manoranjan Majhi, a student of Swami Sivananda Sanskrit College, Nuapada, in Deogarh district where he stays in a hostel in normal times.
Naik, a student of the Deogarh Degree College, underlined the students' desperation. "I have two online classes: organic chemistry and physical chemistry. If I miss a single class, there's no one here who can later explain to me the difficult lessons of chemistry," he said.
"My classes began on July 13. I missed the first day's lessons and then decided to take the risk of climbing up the tank every day."
Mahesh Kumar Swain, a local social worker, said that requests to the government to set up a new telecom tower in the village had brought no results.
The village does have a tower, set up by BSNL in 2014 at the state government's request to help the police tackle the Maoist threat.
However, it only allows calls and not Internet access.
"It allows only 30 calls from our area at a time. In the age of 4G, this is hardly enough. Sometimes, we can't even make a single call (because of heavy mobile traffic)," Swain said.
He said that Internet connectivity was equally poor in most villages of Sambalpur and in the rural belts in other districts, causing students to suffer.
School and mass education minister Samir Ranjan Das pleaded helplessness.
"We have raised the issue of setting up towers, particularly in the tribal and Maoist-hit areas. Chief minister Naveen Patnaik has taken the matter up with Prime Minister Narendra Modi," he said.
"We know that education has been hit from school to college level because of the lockdown. But what can we do at this moment? Let's see when the situation improves...."