One chief for defence forces
Several former service chiefs lauded the decision to have a CDS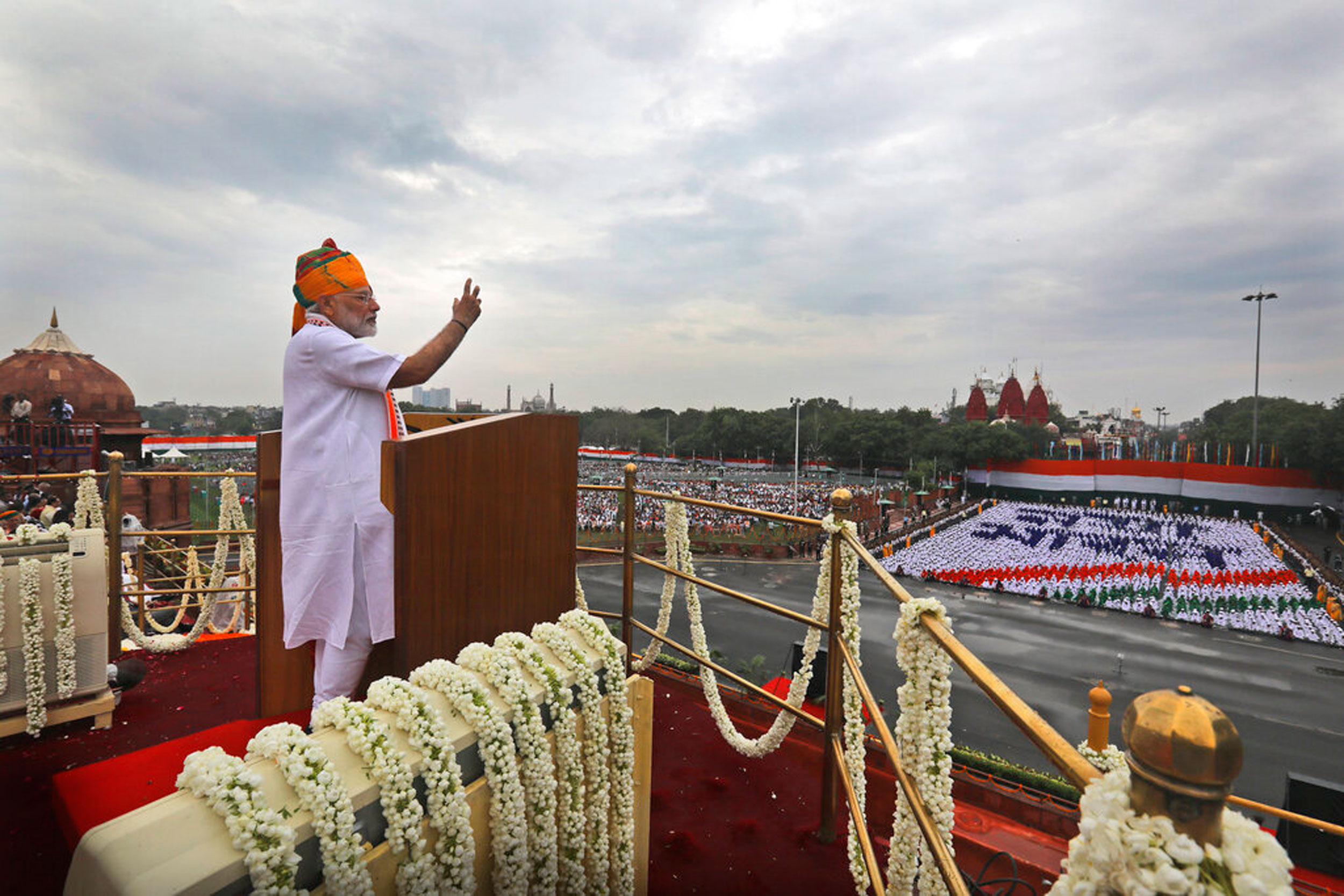 Prime Minister Narendra Modi addresses the nation on Independence Day at the Red Fort in New Delhi on August 15, 2019.
(AP)
---
New Delhi
|
Published 15.08.19, 06:31 PM
|
---
India will soon have a Chief of Defence Staff as head of the three forces of the army, navy and the air force, Prime Minister Narendra Modi said on Thursday, moving to implement an idea first proposed after the Kargil war of 1999.
The Chief of Defence Staff (CDS) will act as a one-point reference for the Prime Minister in military matters and will ensure efficient communication between the armed forces and the political executive to aid swift decision-making, defence ministry officials said.
"Our forces are India's pride. To further sharpen the coordination between the forces, I want to announce a major decision from the Red Fort: India will have a Chief of Defence Staff. This is going to make the forces even more effective," Modi said in his Independence Day address.
He said that better coordination among the forces had become an imperative considering the changing security situation and the changes in technology.
Officials said the CDS would be senior to the service chiefs and his primary role would be to help increase the operational coordination among the three services, PTI reported.
The agency quoted officials as saying the government was in the process of forming a high-level committee to finalise the modalities for appointing the CDS.
"It's a major announcement and it's now clear that the Prime Minister wants a single military adviser for better synchronisation of the armed forces," a defence ministry official said.
Several countries, he said, now have such an arrangement.
A high-level committee that had been set up after the Kargil conflict to examine gaps in India's security system had been the first to recommend the creation of a CDS, another defence ministry official said.
Later, a group of ministers was formed in 2001 to examine issues of national security and suggest ways of improving it. This group too recommended the creation of a CDS but advised a political consensus before that.
In 2012, a task force on national security headed by former secretary Naresh Chandra too recommended the creation of a CDS and, pending that, the establishment of the post of a permanent chairman, chiefs of staff committee.
Presently, the chiefs of staff committee is made up of the chiefs of the army, navy and the air force, with the senior-most among the three acting as the panel's chairman.
Several former service chiefs lauded the decision to have a CDS.
General (retd) V.P. Malik, the former army chief who had led the force during the Kargil conflict, described it as a "historic step" that would "make our national security more effective and more economical", PTI reported.
Admiral (retd) Sunil Lanba, former navy chief and ex-chairman of the chiefs of staff committee, said the step was "long overdue", the agency added.