Democracy returned to Malkangiri's Swabhiman Anchal, once considered an impregnable fortress of Maoist rebels, after a decade as people of the area turned up at the polling booths to cast their votes in the final phase of panchayat elections on Thursday. The poll boycott call of the rebels failed to evoke any response this time.
"A systematic developmental approach and tightened security with deployment of central forces like the BSF has yielded the desired results. The Maoists have been cornered," said a senior official involved in the election process.
On January 26, the BSF (Border Security Force) had launched a boat ambulance service to connect the area with the district's mainland as far as health services are concerned.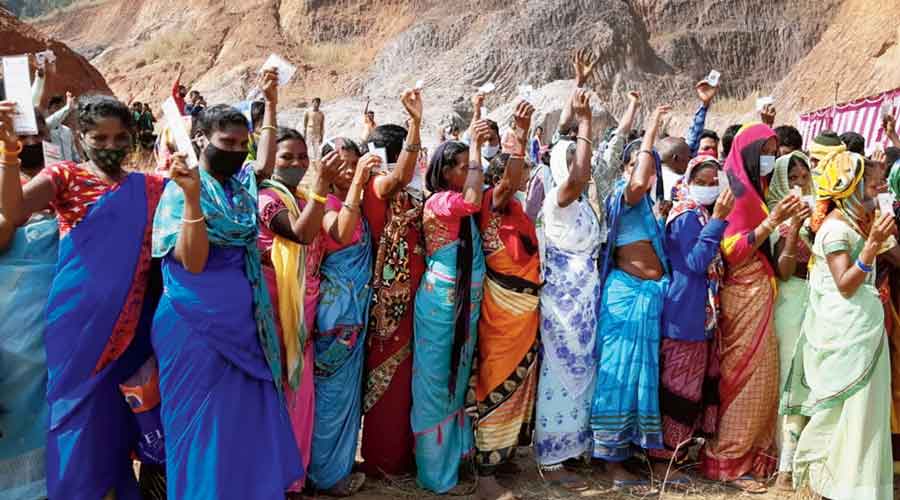 Queues at a polling booth. The Telegraph
Malkangiri district collector Vishal Singh also tweeted a few pictures of voting booths of Swabhiman Anchal where people were in a queue to cast their ballots.
Ram Chandra Muduli, 47, a villager of Swabhiman Anchal, told The Telegraph: "It's a defining moment for us. We have become part of the democratic process. I exercised my right to vote."
With an eligible voters of 18,189, the Swabhiman Anchal had got cut off from the district's mainland in the 1960s following the construction of Machkund reservoir. With boats becoming the only means of communication with the mainland for people the area turned into a Maoist den. The area made international headlines when the then Malkangiri collector R. Vineel Krishna was kidnapped by the Maoists in 2011. He was released after week-long negotiations with the state government.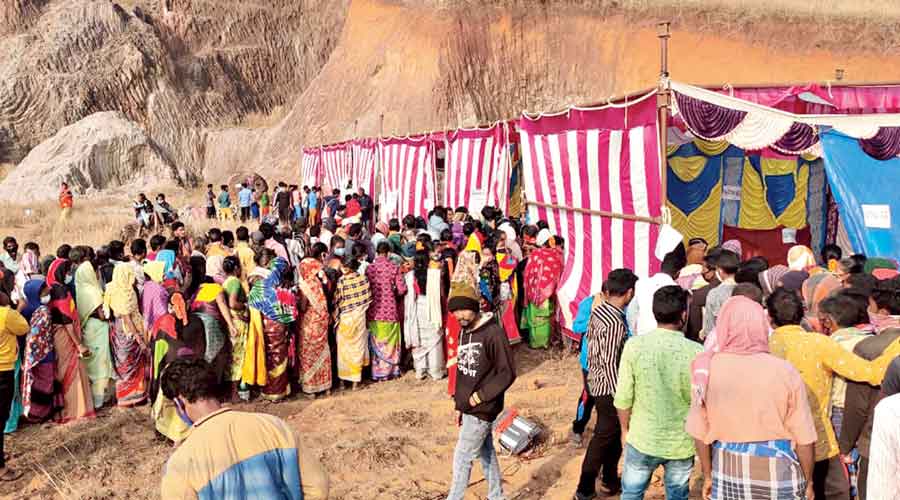 Queues at a polling booth. The Telegraph
But things changed drastically in 2018 following the inauguration of the 910-metre Gurupriya bridge by chief minister Naveen Patnaik. The bridge connected the people residing in nine gram panchayats of the area with the mainland by road for the first time after a gap of nearly five decades. Earlier, boats were the only means of communication with the mainland for the people of this area.
Swabhiman Anchal comes under the Chtrokonada block of Malkangiri district. "More than 50 per cent voting was reported. The percentage will go up once the final report comes," district panchayat office Jugal Nayak told this newspaper.
In order to facilitate voting, security forces had stepped up security with round the clock patrolling. They had also seized a huge cache of arms and ammunition last week from one of the hide-outs of the Maoists.
On the other hand, the fifth and final phase of polling for panchayat elections drew to an end in the state with nearly 70 per cent people casting their votes. Sporadic incidents of violence were reported from various parts of the state during polling. The violence triggered a bout of recrimination between major parties which accusing each other of fomenting trouble to suit their ends.