Odisha: There are some Covid-19 survivors money cannot bend
Mousami, 24, handed over to district collector a cheque for Rs 30 lakh to be donated to CM's relief fund and another for Rs 10 lakh to be given to the Red Cross Society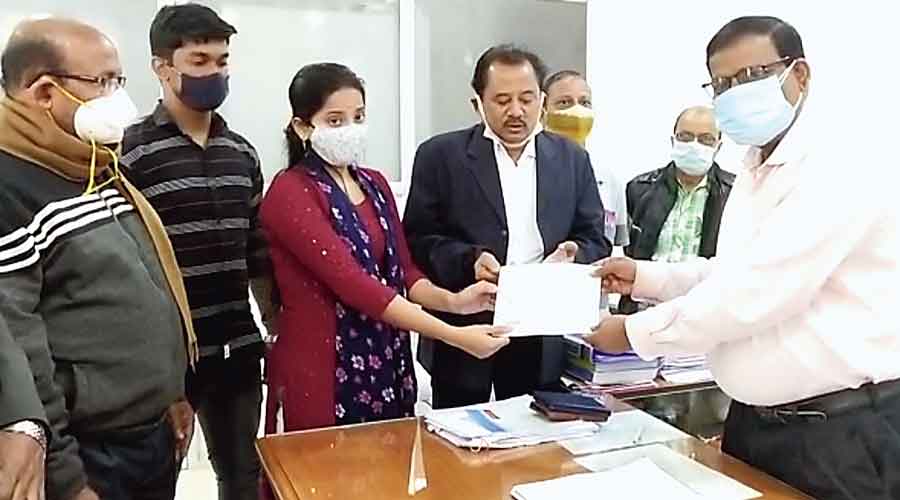 Mousami Mohanty hands over two cheques amounting to Rs 40 lakh to the Bhadrak district collector on Monday.
The Telegraph
---
Bhubaneswar
|
Published 19.01.22, 04:09 AM
|
---
Mousami Mohanty lost her husband Abhisekh Mohapatra to Covid a few months after their wedding last year. On Monday, Mousami settled an account.
Mousami, 24, the daughter of a peon in a government office, handed over to the district collector of Bhadrak in Odisha a cheque for Rs 30 lakh to be donated to the chief minister's relief fund and another for Rs 10 lakh to be given to the Red Cross Society.
The Rs 40 lakh was the amount that was remaining from the Rs 2.9 crore she had raised through crowdfunding for getting Abhisekh, 28, who was working as an engineer, treated in Calcutta.
Abhisekh had to be put on expensive Ecmo (extracorporeal membrane oxygenation) treatment after his condition worsened. He was flown to Calcutta from Bhubaneswar in June and admitted to a private hospital. But Abhisekh passed away on September 3 after a four-month struggle with Covid and its aftermath.
The treatment had cost Rs 2.5 crore. People from across the world had contributed Rs 2.9 crore.
"What will I do with the money now that my husband is dead? It's not my money. It's the people's money," Mousami, a science graduate who does not work, told The Telegraph on Tuesday.
"Listening to my appeal, people had come forward to save my husband, to save my marriage. We would not have been able to give him proper treatment without the love and support of the people."
Mousami added: "Why should I keep the money that is left with me? It is not possible to individually return the money. So, we decided to donate to the district Red Cross and the chief minister's relief fund."
Mousami and Abhisekh had tied the knot on May 5 last year at her hometown Basudevpur in Bhadrak. A few days after the arranged marriage, Abhisekh tested positive for Covid and had to be admitted to a hospital in Bhubaneswar.
Unable to bear the cost of the long and expensive treatment, Mousami had appealed for help on a crowdfunding website.
Mousami's elder brother Annada Shankar Mohanty, who works in a private firm, said: "We were so helpless at that time. The wedding had just taken place. At our wit's end, we appealed for help on a crowdfunding website and social media. People contributed generously. Despite all our efforts and the love of the people, doctors could not save him. Around Rs 2.5 crore was spent on Abhisekh's treatment."
Annada Shankar went on: "Since then, we have all been very disturbed. My sister was at the brink of ruin. When she started picking up the pieces of her life, she made it clear that she wanted to donate the entire surplus amount to a good cause."
The contributions for Abhisekh's treatment had been deposited in three accounts.
"We calculated the balance amount and it came to Rs 40 lakh. Mousami wanted all the money to be used for a people's cause. We contributed Rs 30 lakh towards the chief minister's relief fund and Rs 10 lakh towards the Red Cross. Not only Mousami, we all can breathe easy now," Annada Shankar said.
Asked about the future, he said: "We have not taken any decision. Let Mousami first settle down and overcome all her pain and suffering. Then we, as a family, shall take a call."