Odisha Congress protest over Lakhimpur Kheri case
Silent protest was completely different from the raucous and often loud demonstrations organised by the party on different issues in the past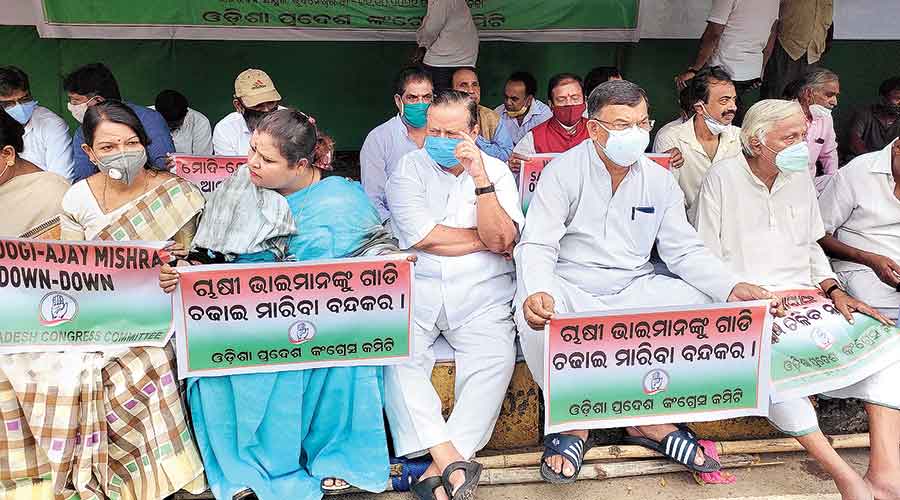 ---
Bhubaneswar
|
Published 12.10.21, 12:22 AM
|
---
Odisha Congress leaders on Monday organised a silent protest — "maun brata" — from 11am to 1pm near the Raj Bhavan here demanding immediate resignation of Union minister of state for home Ajay
Mishra Teni for trying to shield his son Ashis whose vehicle had allegedly mowed down four farmers at Lakhimpur Kheri in Uttar Pradesh recently.
The protest was organised on the call of All India Congress Committee (AICC).
However, this silent protest caught the attention of all as it was completely different from the raucous and often loud demonstrations organised by the party on different issues in the past.
The activists alleged that minister's son was driving the vehicle that crushed the farmers to death.
"We organised it on the call of the AICC. The Centre instead of withdrawing the anti-farmer laws is trying to stifle the voice of farmers. Here the minister's son's vehicle had run over the farmers. The minister should be immediately sacked and action should be taken against all the perpetrators of the crime," demanded OPCC president Niranjan Patnaik.
Former finance minister and Congress leader Panchanan Kanungo told The Telegraph: "The minister is the abettor. He had instigated others. Perhaps, the BJP had a plan to create a fear psychosis in the minds of people in UP so that no one would turn to support the ongoing farmers' agitation.
"They had thought of implementing the Gujarat model in UP and across the country by resorting to fear psychosis treatment. But they won't be successful in stifling the voice of people."
On the issue of observing the "maun brata", the Congress said the Prime Minister has so far maintained a stoic silence on the issue. "He talks on every issue and what has prevented him from opening his mouth on the issue. Why has the minister not been sacked so far? It should be answered. As the Prime Minister is more vocal, we decided we will observe the maun brata to listen to his voice," said Kanungo.
"Why did it take so many days for UP police to arrest Ashis? He is being treated with a kid glove. What has prevented the Prime Minister from sacking Ashis? If the Supreme Court had not intervened, even the UP police would not have acted on this issue," said a senior Congress leader and eminent lawyer Sibanada Ray
Carrying placards which demanded Mishra's resignation, the protesters pointed that the nexus between Modi-Shah-Yogi has prevented the resignation of the minister and delayed the arrest of Ashis. One of the placards read, "Modi-Yogi-Ajay Mishra down down". Another placard read, "Stop mowing down farmers under your wheels".