Three Odisha Congress legislators spring pedal power on petrol hike
The Assembly took up the issue of fuel price rise for discussion through an adjournment motion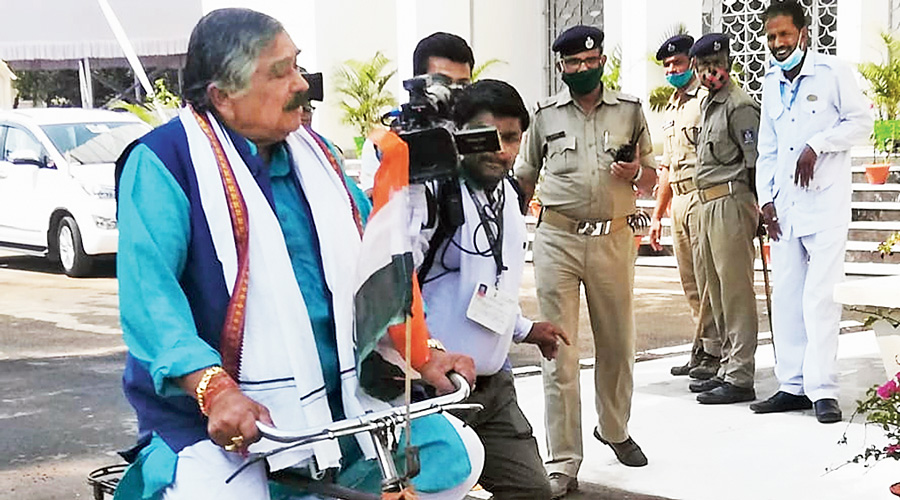 Congress MLA Suresh Kumar Routray on his way to the Assembly on Tuesday.
Telegraph picture
---
Bhubaneswar
|
Published 24.02.21, 01:33 AM
|
---
Three Congress legislators in Odisha on Tuesday came to the state Assembly on bicycles to protest against the steep rise in the prices of petrol and diesel.
MLAs, Suresh Kumar Routray, who is 76, has been in the forefront of protests the other two, Tara Prasad Bahinipati, 65, and Adhiraj Mohan Panigrahi, 45, pedalled their way to the Assembly from the Congress Bhavan, the party headquarters, which is about 1km away.
Their protest marked a day when petrol prices were up by 35 paise and diesel prices were up by 38 paise.
Routray, who represents Jatni constituency, accused the Narendra Modi government of betraying the common man by hiking the fuel prices.
"The price rise has robbed people of their sleep," he said. "Where is the achhe din. Now it's all bure din. Even at this age I have to ride the bicycle to protest price rise. The Centre should immediately reduce the tax on petroleum products. I don't remember how many times petrol and diesel prices have gone up this year," said Rourtray.
Panigrahi told The Telegraph, "Today morning we decided to come to the Assembly on bicycles. We could not immediately contact all the MLAs. Our legislature party leader Narasingh Mishra did not join us because of health issues. Both the state and the Centre should reduce their taxes from the petroleum products."
Bahinipati said: "Both the Centre and the state lack concern for the common man. Both the governments are equally responsible for the plight of the people. It's because of the rise in fuel prices that the prices of other essential commodities have also gone up."
The Odisha Assembly took up the issue of petrol and diesel price hike for discussion through an adjournment motion.
Replying to the motion, Odisha finance minister Niranjan Pujari said: "The state is collecting less amount of tax as compared to the Centre. Oil companies fix the price of petrol and diesel on the basis of basic price, central excise duty and value added tax. While the Centre is collecting Rs 32.90 from fuel, the state government is levying Rs 21.40 towards 32 per cent VAT on it. All the taxes collected are being utilised for various developmental works."
In a related incident, youth wing of the Congress has threatened to remove all the posters from petrol pumps speaking about the Pradhan Mantri Ujjwala Yojana from Wednesday.
Odisha Youth Congress president Smruti Ranjan Lenka quoted The Telegraph's report saying, "In May 2014, the Brent Current Price stood at 108 dollar per barrel. The crude excise was Rs 10 per litre for petrol. The retail pump price was Rs 71. Now the crude price has dropped significantly to around 65 dollar but the retail pump price has risen to Rs 100, while the central excise has increased to Rs 32 per litre. The price of cooking gas has jumped by more than Rs 100 while the central excise has increased to Rs 32 per litre. The price of cooking gas has jumped by more than Rs 100 in about two months' time to Rs 796 per cylinder."