NRC not final, says Assam BJP leader Himanta Biswa Sarma
'Nothing is final' while Narendra Modi and Amit Shah are around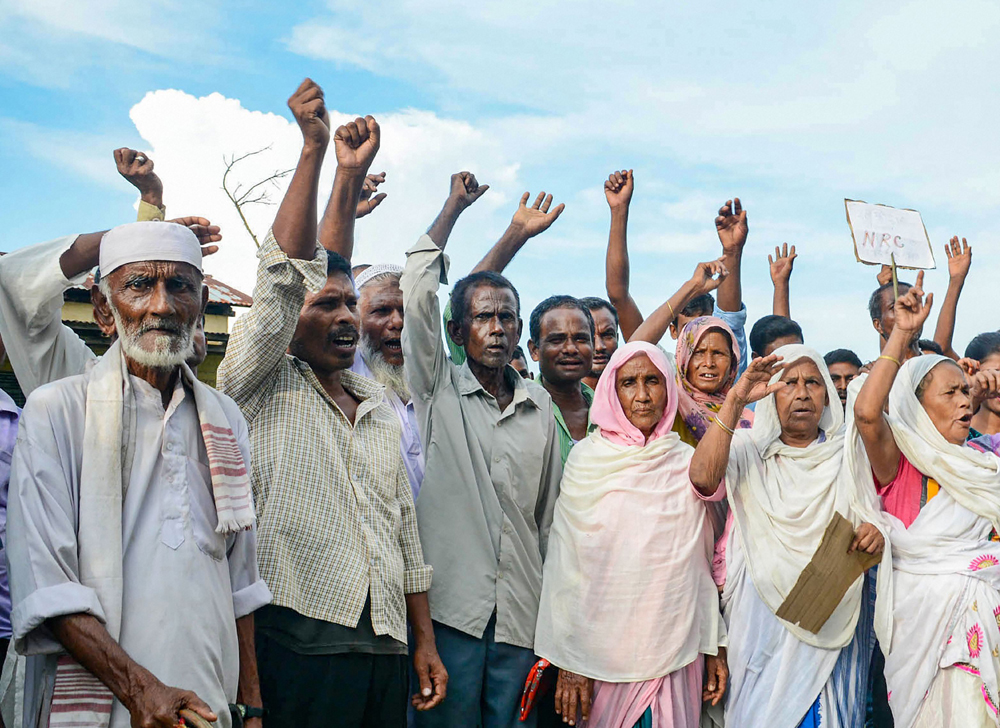 Villagers of Gorbheter and Bherveri, whose names are missing in the final list of NRC, stage a protest over non-inclusion of their names, at Gorbeter in Baska district of Assam on Monday, September 2, 2019.
(PTI)
---
Guwahati
|
Published 02.09.19, 10:56 PM
|
---
Assam minister Himanta Biswa Sarma on Monday said "genuine Indians" left out of the National Register of Citizens should not worry and "foreigners" included in it should not celebrate, declaring that "nothing is final" while Narendra Modi and Amit Shah are around.
The BJP leader told the channel News Live: "Those who are genuine Indians and whose names are not in the final NRC should not be afraid. And foreigners who got themselves included in the final NRC should not celebrate."
He added: "I want to make it clear that nothing is final till Prime Minister Narendra Modi and Union home minister Amit Shah are there… till the names of foreigners are excluded and that of genuine Indians included. Nobody should say the last word."
The NRC, aimed at identifying illegal immigrants, was published on Saturday after a four-year effort monitored by the Supreme Court. Over 19 lakh people were excluded.
Sarma, credited with helping the BJP make significant gains in the Northeast, did not explain how Modi and Shah could intervene.
In a tweet on Monday evening, he said: "In a detailed discussion on @NewsLiveGhy, I've explained how Assam Government will approach the Supreme Court again for a re-verification process to try and address anomalies in the #NRCFinalList."
The minister appealed to the All Assam Students' Union (AASU) and the Assam Public Works (APW) to join hands with the government to appeal to the Supreme Court not to accept the final NRC.
"If we all approach the Supreme Court with the same plea, I believe, the court will put this NRC on hold," Sarma said.
The AASU and the APW were disappointed with the NRC because they had expected the exclusions to be much higher. The BJP also felt the figure was too low. At the same time, it was concerned that "genuine citizens", including those from elsewhere in the country, had been left out. It assured Hindus that they need not worry.
The Supreme Court had earlier rejected the Centre's and the BJP-led state government's appeal for re-verification of 20 per cent of the names from the draft NRC from districts bordering Bangladesh and 10 per cent of the names from other districts.