No regret fielding Pragya Singh Thakur: Amit Shah
I will not be able to forgive her, says Modi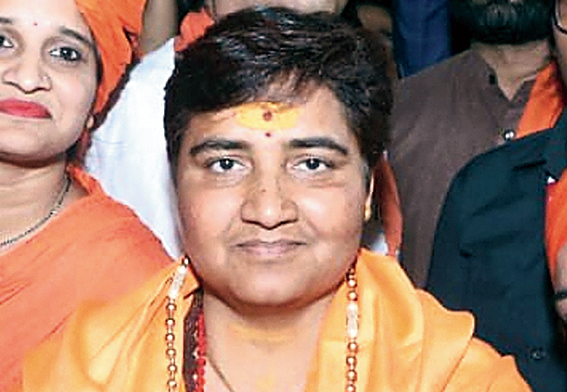 Pragya Singh Thakur
(PTI)
---
New Delhi
|
Published 18.05.19, 12:00 AM
|
---
BJP president Amit Shah on Friday made it clear the party does not regret fielding terror accused Pragya Singh Thakur as a Lok Sabha candidate despite the embarrassment she has caused it mid-election by lauding Mahatma Gandhi's assassin as a "patriot".
Shah threw his weight behind Pragya hours after Prime Minister Narendra Modi said he would never be able to forgive her for that comment.
Reporters had asked Modi whether the BJP regretted giving Pragya the Bhopal ticket considering the way she has embarrassed the party twice in a month, the first time by claiming her "curse" had killed Mumbai cop Hemant Karkare, who died during the 26/11 attack.
Modi passed on the question to Shah, who replied: "The two issues are different. No, we have no regret, not at all."
"Pragya Thakur's candidature is our satyagraha (protest) against a fake case of 'saffron terror' foisted on her. The Congress compromised with national security and coined the term 'saffron terror' for its vote-bank politics…. Rahul Gandhi should apologise for this insult to Hindu culture."
Earlier, asked about Pragya's Godse statement, Modi had told News 24 channel that such comments are very bad and should be condemned.
"This kind of language and this kind of thinking should not be allowed…. She has apologised but I will not be able to forgive her," he said.
The BJP has taken an entire day to issue a showcause notice to Pragya. Similar notices have been served on two others who had tweeted similar views: Union minister Ananth Kumar Hegde — who has blamed "hackers" — and MP Nalin Kumar Kateel. They have 10 days to respond.
In a statement, Shah has distanced the party from the remarks, describing them as personal statements.
On Thursday, soon after Pragya had told ANI that "Godse was, is and will always remain a patriot'', BJP spokesperson G.V.L. Narasimha Rao had condemned the remark and asked her to apologise.
Initially, Pragya merely said "the party's line is my line" before issuing a half-hearted apology, declaring: "If it has hurt anybody's feelings then I apologise."
The BJP has suspended Anil Saumitra, its Madhya Pradesh spokesperson, for a Facebook post in which he described Gandhi as Pakistan's "Father of the Nation''.
In a statement, the CPM politburo recalled how Modi had lauded Pragya as "a symbol of India's civilisational heritage''.
It described her induced apology as an "eyewash, confirming that she adheres to her position'' and said her candidature should be cancelled because of the statement.
The CPM added that it was desisting from approaching the Election Commission on the matter because of the panel's "recent track record''.