No immunity from arrest for MPs even if session is on, says Naidu
Opposition has been protesting in Rajya Sabha over Sanjay Raut's arrest and ED summons to Mallikarjun Kharge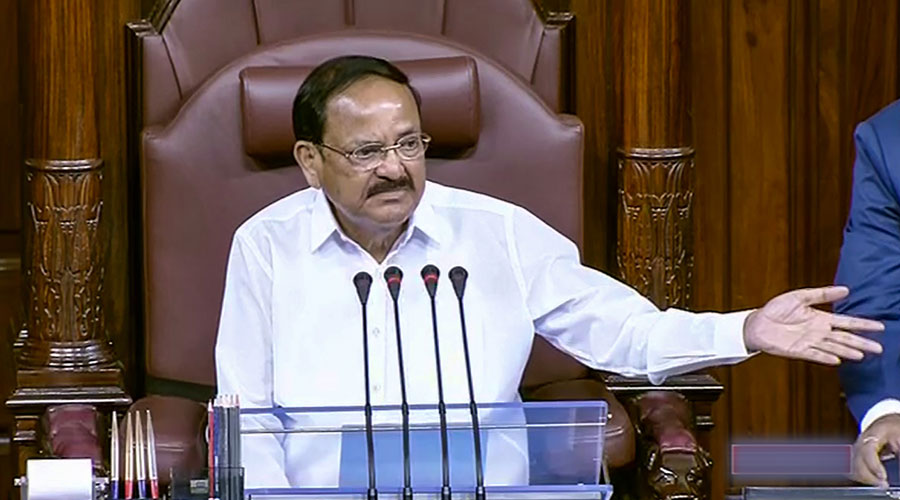 M Venkaiah Naidu.
File photo
---
New Delhi
|
Published 06.08.22, 03:09 AM
|
---
Rajya Sabha Chairman M. Venkaiah Naidu on Friday said that MPs enjoy no immunity from arrest in criminal cases even while a Parliament session is on, speaking amid Opposition protests against the arrest of Shiv Sena member Sanjay Raut and the Enforcement Directorate's summons to Mallikarjun Kharge.
Without mentioning any particular instance, Naidu said: "There is a wrong notion among the members that they have a privilege from action by agencies while the session is on."
He cited a precedent from 1966, subsequent rulings by presiding officers and court verdicts, and said the immunity provided to MPs under Article 105 of the Constitution relates only to civil cases.
"Under Article 105 of the Constitution, members of Parliament enjoy certain privileges so that they can perform their parliamentary duties without let-up or hindrance. One of the privileges is that a member of Parliament cannot be arrested in a civil case 40 days before the commencement of the session or committee meeting and 40 days thereafter," Naidu said.
"This privilege is already incorporated under Section 135A of the Civil Procedure Code, 1908. However, in criminal matters, members of Parliament are not on a different footing than a common citizen. It means that a member of Parliament does not enjoy any immunity from being arrested in a criminal case during the session or otherwise."
Opposition MPs have been protesting in the Rajya Sabha all week over Raut's arrest and the ED summons to leader of the Opposition Kharge, accusing the government of using its investigative agencies to silence critics.
Kharge, who was asked to appear before the ED at 12.30pm on Thursday, had himself raised the issue in the House before heading to the agency office.
The octogenarian Congress leader later tweeted: "I was summoned by ED while I was in the Parliament questioning the incompetent Modi Govt, I obliged. I was to host dinner for Vice President election candidate Smt Margaret Alva ji. I was held back unreasonably by ED, but I obliged.
"This dictatorial regime can be rest assured that I can do this another 100 times. If they want to make the process a punishment, I will embrace it. Resilience is in @INCIndia's blood just like cowardice is in BJP's."
Sena MPs loyal to Uddhav Thackeray have been particularly agitated over Raut's arrest during the session.
On Wednesday, Sena MP Priyanka Chaturvedi tweeted: "Shri @rautsanjay61 ji was detained/ arrested by the ED while the house was in session & Hon. Chair was not informed of the same as per Rule 222A, Ch. XX-A which needs to immediately intimate such act to the chair. ED is even undermining constitutional authority of the chair. Shame."
Rule 222A of the Rules of Procedure and Conduct of Business in the Rajya Sabha states: "When a member is arrested on a criminal charge or for a criminal offence or is sentenced to imprisonment by a court or is detained under an executive order, the committing judge, magistrate or executive authority, as the case may be, shall immediately intimate such fact to the Chairman indicating the reasons for the arrest, detention or conviction, as the case may be as also the place of detention or imprisonment of the member in the appropriate form set out in the Second Schedule."