Rajya Sabha: Congress livid over Kharge ED summons
Move being seen as an insult to India's parliamentary tradition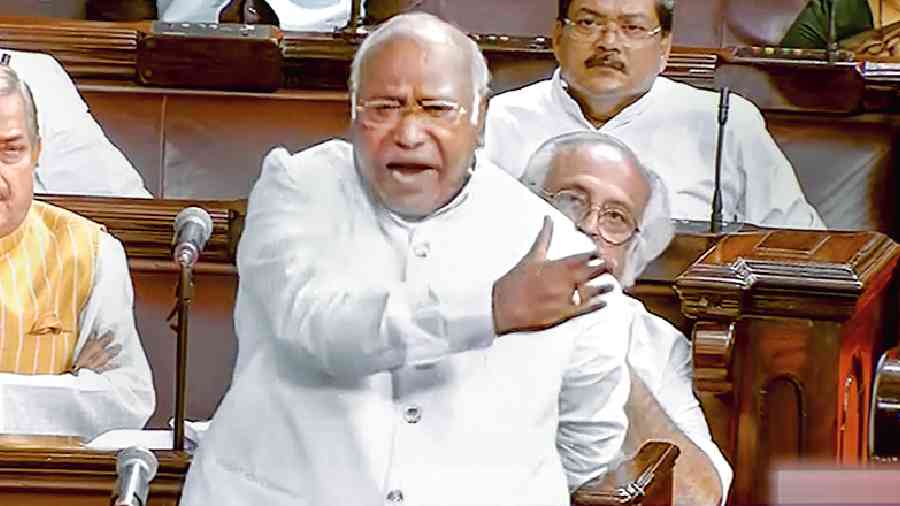 Mallikarjun Kharge speaks in the Rajya Sabha before leaving for the ED office on Thursday.
PTI
---
New Delhi
|
Published 05.08.22, 02:13 AM
|
---
The regular political rivalry in the country has been replaced by a vicious offensive, with the Opposition accusing the Narendra Modi government of conspiring to finish them off using central agencies and insisting that such vindictiveness had never before been witnessed in independent India.
The Congress was aghast that the leader of the Opposition in the Rajya Sabha, Mallikarjun Kharge, had been summoned by the Enforcement Directorate for questioning while the House session was on -- a first in the country that is being seen as an insult to India's parliamentary tradition.
Rubbing salt into the wound, Kharge was asked to appear at 30 minutes past noon when his notice to discuss the misuse of central agencies was scheduled to come up.
Before Kharge left at 12.20pm, he raised the matter in the House, asking whether calling the leader of the Opposition in the middle of the session was reasonable. He said he would appear before the ED as he was a law-abiding citizen but Parliament should ponder if such a practice was desirable in a democracy.
Kharge's interrogation continued for eight hours. Before he was released around 8.30pm, Congress communications chief Jairam Ramesh tweeted: "Mallikarjun Kharge was supposed to be hosting a dinner for common Opposition candidate for Vice-President Margaret Alva at 7.30pm today. And he is still with ED. This is height of political vendetta by Modi Sarkar."
All the Opposition MPs had been invited to the dinner but the host was missing.
Congress leader Rahul Gandhi described the questioning, in the National Herald case, as intimidatory tactic.
"This is absolutely an attempt to intimidate. They think they can silence us by mounting some pressure. We are not the one to fall silent. Let them do whatever they can. It doesn't make a difference to us. What Narendra Modi and Amit Shah are doing in this country, which is against democracy, we will firmly stand against that," Rahul told reporters outside Parliament.
Asked about the BJP's threat that the Congress would not be allowed to run away, Rahul said: "Who is trying to run away? They may be looking for an escape. We are not going to be intimidated. Hum Narendra Modi se nahin darte, kar len jo karna hai (We are not scared of Narendra Modi, let him do whatever he wants). Whatever my responsibility is -– to protect this country, to protect democracy, to preserve social harmony, I will continue doing that. Let them do what they can."
A little later, he iterated in response to questions: "I don't fear. And there is no question of getting intimidated by Modi. Not at all."
Asked about the barricading around his residence last evening, Rahul said: "Let them put more barricades. Truth cannot be barricaded. Let them do whatever they want."
A heavy deployment of police outside the Congress headquarters and the residences of Sonia Gandhi and Rahul Gandhi on Wednesday had incensed the party leadership, who felt the government was trying to create panic and pressure them into submission.
Such scenes of heavy police presence and barricading at the residences of key Opposition leaders had not been witnessed in recent memory in Delhi. The Congress said the move was intended to stymie the planned agitation on Friday against the price rise but that would not be abandoned.
The Congress has persistently accused the Modi government of indulging in the politics of coercion by selectively unleashing the ED and the CBI on political rivals and trying to achieve a polity without an Opposition.
While Kharge told the Rajya Sabha that the government meant to destroy the political opposition, the Congress condemned the move to summon him from Parliament as an attack on democracy.
Senior leader Digvijaya Singh said: "This never happened in our democratic history that the leader of the Opposition is summoned by a central agency when he is in Parliament. There is no other example. They could have called Khargeji before 11am or after 5pm. They have reduced democracy to a mockery. Why is Modi so scared? Because we are talking about price rise? Isn't that a reality? Don't people know that prices of essential commodities have risen sharply? People should also understand, we are fighting their battle."
Pramod Tewari said what the ED had done amounted to a deliberate insult of India's rich parliamentary tradition. "The ED had already questioned Kharge in this case. But the fresh summons have come when his notice on the misuse of the ED is about to be taken up in Parliament."
Another MP, Ranjita Ranjan, said the government's ill-will was obvious and alleged that governance had been turned into a tamasha.