Nitish Kumar slams call to ban loudspeaker
His comments came shortly after his statement on Friday, rubbishing the move by BJP govt in Uttar Pradesh ordering removal of loudspeakers from religious places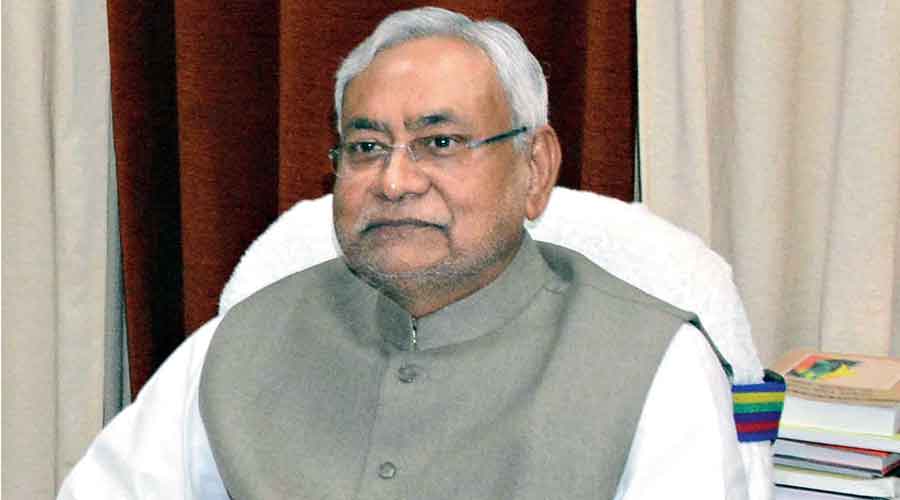 ---
Patna
|
Published 01.05.22, 12:27 AM
|
---
Bihar chief minister Nitish Kumar and his Janata Dal United (JDU) waded into the loudspeaker controversy by lambasting the removal of amplifiers from religious places in Uttar Pradesh, Karnataka and other states, taking a stand against ally Bharatiya Janata Party (BJP), as well as, its politics of polarisation.
"This is a useless thing. We do not interfere in any religion in Bihar. Never. Everybody has the right (to practise his/her religion) and they do it," Nitish said on Saturday.
The chief minister was talking to media persons in Purnea after inaugurating the first grain-based greenfield ethanol manufacturing plant of eastern India, Biofuels Private Limited. Senior BJP leader and state industry minister Syed Shahnawaz Hussain was by his side on the occasion.
Nitish's comments came on the heels of his statement on Friday evening, rubbishing the move by the BJP governments in Uttar Pradesh and other states ordering the removal of loudspeakers from religious places, and a similar demand by its leaders in Bihar.
"I do not agree with the demands to ban loudspeakers or remove them from religious places. This is useless. Bihar is in no way concerned with such things," Nitish had said while attending an iftar hosted by ally Hindustani Awam Morcha Secular leader and former chief minister Jitan Ram Manjhi.
The chief minister also pointed out without taking any names that some people were saying or doing things as per their whims and fancies. Several BJP leaders, including a few members of his cabinet, have recently demanded the removal of amplifiers from mosques.
Nitish has recently organised and attended back-to-back iftars to make a point that he was maintaining a distance with the BJP. He has also regularly asserted about the need for communal harmony and amity.
"Either there is some problem in their hearts or their minds because they are raising the demand for the removal of loudspeakers from mosques at a time when the month of Ramazan is going on. We should understand this," JDU spokesperson and MLC Neeraj Kumar added to Nitish's comments on Saturday.
Neeraj also asserted that people demanding removal of sound amplifiers from mosques should first reveal their stand on their use in temples and Hindu monasteries during morning prayers, various rituals organised by individuals, as well as, various programmes of political parties.
The JDU got support from Manjhi also. He said, "The demands to remove loudspeakers with an intention to hurt the sentiments of people was not good. The politics of loudspeakers will not yield anything to the people indulging in it."
All India Congress Committee (AICC) secretary and Kadwa MLA Shakeel Ahmad Khan welcomed Nitish's statements and said that a crackdown on all types of noise pollution would be a good thing instead of doing it selectively.
"Nitish Kumar's statements in this context are logical. We will accept it as the stand of the government," Khan said.
On the other hand, BJP leader and labour resources minister Jivesh Mishra took recourse to the need to curb noise pollution and disturbance in sleep when loudspeakers start blaring at 4am.
"God or Allah hear the voice of the conscience, not of loudspeakers. Had it not been so then many people would have been to heaven," he said.
RJD leader Tejashwi Prasad Yadav also jumped into the controversy and asked: "Will the raging issue of unemployment vanish with the removal of loudspeakers?"