Nitish Kumar offers job to the kin of SC/ST murder victims
The move, which is being seen as a masterstroke to woo Dalits ahead of the Assembly polls, invited jibes from Mayawati and Tejashwi Prasad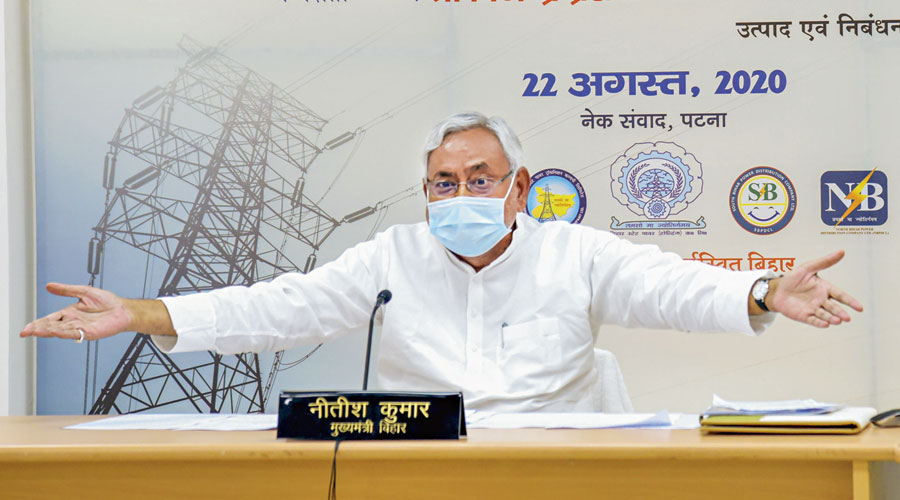 ---
|
Patna
|
Published 06.09.20, 01:25 AM
---
Bihar chief minister Nitish Kumar announced on Friday that if any person belonging to the Scheduled Castes or Scheduled Tribes was murdered, then a member of the deceased's family would be provided a job.
The announcement, which came at a review meeting of the state level vigilance and monitoring committee constituted under the SC and ST (Prevention of Atrocities) Act, is being widely considered as a masterstroke to woo the Dalits (SCs), who comprise around 16 to 17 per cent of the electorate, in the run-up to the Assembly elections.
Nitish, who is also the national president of Janata Dal United (JDU), asked the officials to immediately formulate the appointment rules in this regard. He also directed them to dispose of all pending cases under the Act by September 20 by expediting investigation.
Nitish's populist move rang sharply across the horizon of the poll-bound state and came as a jolt to the Opposition, which hurried to give their reactions and announce steps to counter its ramifications on the elections.
In fact, it attracted a sharp response from Bahujan Samaj Party leader and former Uttar Pradesh chief minister Mayawati. Her party has contested a large number of seats in every Assembly poll in Bihar over the last two decades, and is expected to do so again this time.
"The present government in Bihar is once again trying to lure the people belonging to the SC and ST categories by giving various assurances ahead of the Assembly elections despite ignoring or neglecting them throughout its entire reign. The time has come to bring them to book," Mayawati tweeted on Saturday.
Mayawati also exhorted the people belonging to SC and ST communities not to be swayed by the false promises made by the Nitish government.
As the day progressed, Rashtriya Janata Dal (RJD) leader and Lalu Prasad's younger son Tejashwi Prasad convened a press conference at the state party headquarters to take on Nitish over his announcement.
"Since the election is near, Nitish has announced jobs for the family members of those Scheduled Castes and Scheduled Tribes people who are killed. But why jobs are not being given to the family members of people belonging to other backward castes (OBC) and general category? Nitish's move is like encouraging the murder of SC and ST people," Tejashwi said.
Tejashwi, who is the leader of the Opposition in the legislative Assembly, hurried to announce that he would fill 4.5 lakh vacancies in various government departments if his party comes to power. He also promised to create vacancies according to the population of the state.
The Congress also attacked Nitish over his latest announcement. The party's Bihar in-charge Shaktisinh Gohil termed it a false promise at a time when the present government is poised to lose power.
"Everybody knows that polls will be announced in Bihar in a few days and no work will happen, but Nitish is showing his love for the Dalits. He stayed in power for 15 years but did not do anything, but is now trying to win the elections using this issue," Gohil said.
Poll experts said that Nitish's latest pro-Dalit move is also intended to counter ally Lok Janshakti Party (LJP), which takes pride in showcasing itself as a party of the SCs, and is currently flexing its muscles under the leadership of Union minister Ram Vilas Paswan's son and Lok Sabha member Chirag Paswan.
The LJP has even threatened to field contestants against JDU candidates if the situation arises. Nitish could proudly flaunt his latest move if this happens. Nitish has already brought former Dalit chief minister and Hindustani Awam Morcha Secular leader Jitan Ram Manjhi under the NDA fold to counter Chirag's barbs on him.