Virus deadlier to catch, but spreads slower
Nipah virus outbreak easier to contain, say experts
Kerala, already battling a large Covid-19 epidemic, has started contact tracing, containment efforts and testing of the close contacts of a 12-year-old boy who died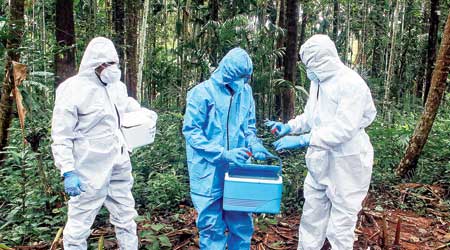 Forest and animal experts collect bat samples at Chathamangalam in Kerala's Kozhikode on Monday.
PTI
---
New Delhi
|
Published 07.09.21, 01:29 AM
|
---
A Nipah virus outbreak, although deadlier, is easier to control, and even douse, in contrast to Covid-19, virologists said on Monday amid uncertainty about the size of Kerala's second and India's fourth Nipah flare-up.
The Nipah virus has documented human kill rates 50-fold or higher than the 1.3 per cent average case fatality rate recorded among Covid-19 patients in India, but both viruses demand similar strict infection control measures, the researchers said.
Kerala, already battling a large Covid-19 epidemic, has started contact tracing, containment efforts and testing of the close contacts of a 12-year-old boy who died from Nipah infection in Kozhikode district on Sunday. Two healthcare workers, among the boy's 20 close contacts, have developed symptoms.
The public health measures to control both infections are similar — trace and quarantine all the close contacts of patients, test and isolate anyone who may show symptoms, and create a perimeter zone to prevent the spread of infection.
Health authorities have cordoned off the Chathamangalam panchayat and adjacent areas and imposed lockdown-like restrictions within 3km radius of the boy's house and are currently looking out for anyone else with symptoms.
"Nipah is harder to catch than Covid-19," said T. Jacob John, former head of clinical virology at the Christian Medical College, Vellore. Person-to-person spread of the Nipah virus requires touch or close contact with infected persons through nasal or respiratory droplets, urine, or blood.
But SARS-CoV-2, the virus that causes Covid-19, is transmitted through the air, albeit only short distances. Virologists say this makes SARS-CoV-2 spread faster across a community.
The reproductive number — a measure of how many persons get the infection from one infected person — of the two viruses are quite different. The reproductive number value for the SARS-CoV2 Wuhan strain was 2-3, while the value for the highly contagious Delta variant is 5-6.
But the reproductive number for the Nipah virus calculated on the basis of 248 patients during several outbreaks in Bangladesh between 2001 and 2014 is 0.33. In other words, it would take 10 Nipah patients to infect three more persons, while 10 Delta infected patients could spawn 50 more infections.
Strict adherence to infection control, efficient contact tracing, and surveillance can help contain and douse out Nipah outbreaks relatively quickly, John said. But SARS-CoV-2 is likely to remain circulating among humans, become endemic, causing a trickle of cases for years to come, he said. 
Nipah is largely considered a zoonotic disease — an infection that humans get from contact with animals or birds — with poor person-to-person transmissibility, a prerequisite for a pandemic. But outbreak investigations have shown that it does spread from person to person.
The Nipah virus, which resides in fruit bats, has caused sporadic outbreaks in Malaysia, Singapore, Bangladesh and India over the past two decades with severe disease and death and mortality rates reaching an average of 70 per cent.
The virus jumping from bats to humans appears to be a "rare event," said Sudanshu Vrati, a senior virologist and the director of the Regional Centre for Biotechnology, Faridabad (Haryana). It is believed to occur through contact with bat droppings or bat saliva or contaminated fruit.
The previous outbreaks in India had occurred in Bengal's Siliguri in 2001 and Nadia in 2007 and in Kozhikode-Malappuram area in 2018. The 2018 Kerala outbreak had claimed the lives of 21 of the 23 patients, a mortality rate of 91 per cent.
The high mortality actually curbs the infection from spreading because, experts say, a patient if appropriately isolated from others, doesn't get a chance to pass it to others.
"But we need to remain vigilant as the Nipah virus too has the potential to evolve," said Vrati. "If the virus gains mutations that allow it to spread easily from person to person, we could face the risk of a Nipah pandemic."