Kerala: Number of high risk people for Nipah virus rise to 32
The deadly zoonotic virus in its latest outbreak claimed the life of a 12-year-old boy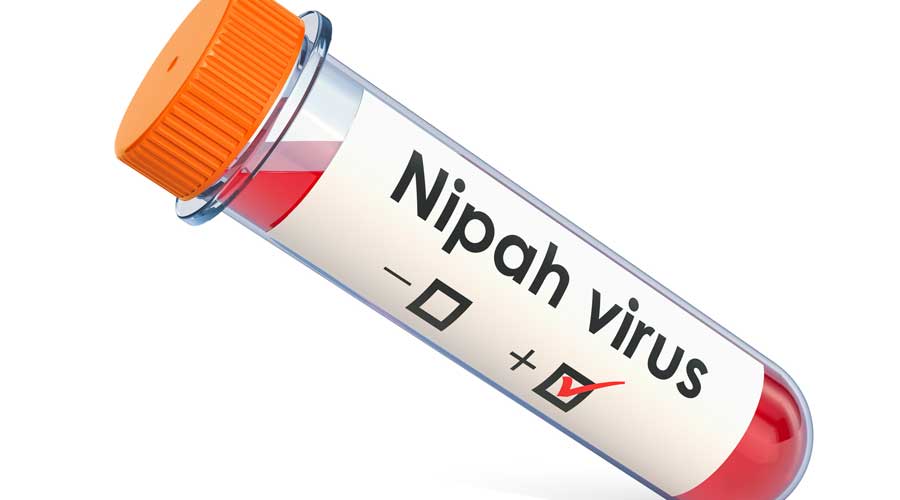 Eight of the high-risk contacts, including the child's mother and two nurses have developed fever although their condition remained stable.
File picture
---
Bangalore
|
Published 07.09.21, 01:22 AM
|
---
The number of people categorised as high risk primary contacts of the Nipah victim rose to 32 as 251 people have been so far found to have had some proximity to the 12-year-old boy who died in Kerala in the latest outbreak of the deadly zoonotic virus.
Kozhikode district collector N. Tej Rohit Reddy informed on Monday that all 32 high-risk contacts have been admitted to a specially created Nipah ward at the Government Medical College in the north Kerala city.
Eight of the high-risk contacts, including the child's mother and two nurses have developed fever although their condition remained stable.
State health minister Veena George who has been camping in Kozhikode since Sunday told reporters that samples of the eight symptomatic cases have been sent to the National Institute of Virology in Pune.
The medical college set up a special lab to test fluid samples of contacts and any suspect case.
"The availability of a lab (in Kozhikode) is helpful to quickly decide on shifting the patients to the special ward and begin treatment," said George.
Officials from the animal husbandry department and forest department launched a massive drive to identify the source of the infection that killed the boy who is suspected to have eaten rambutan fruit grown in the area.
Veterinary experts from the animal husbandry department collected swabs and blood samples from a goat from the child's home since he had tended to the animal that had fallen sick recently. But deputy director of the department K.A. Baby told reporters that there was no precedence to a domestic animal testing for the virus.
"Samples of body fluids from domestic animals were collected just to rule out any possibility although we don't have any evidence of them being the host for this virus," Baby said.
He said work was on to trap wild boars and fruit bats to collect fluid samples. While fruit bats are known to be hosts of Nipah, wild boars could have traces of the virus if they consumed fruits contaminated by the bats.
Health workers had already secured samples of rambutan fruits to test if they carried any trace of the Nipah virus possibly transmitted by an infected fruit bat.
Local police barricaded a 3km area around the child's home in Chathamangalam with no one allowed to leave or enter the area until further notice.
"We have created this containment zone to ensure everyone remains in their homes and outsiders do not have access to this part of the town," sub-inspector of Mukkam police station Sajith told reporters on Monday after surveying the place.
He said shops selling essential commodities could stay open from 7am to 2pm in the containment zone.
The state had two earlier outbreaks of Nipah in 2018 and 2019. While 17 people died in the 2018 outbreak in Kozhikode, a college student who contracted the virus in 2019 in Ernakulam district was completely cured.