India's air pollution deaths are about 30% higher than earlier estimates: Study
1.67 million premature deaths during 2019, or more than 10 times the country's coronavirus death toll during 2020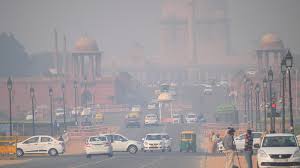 The average exposure to particulate matter sized 2.5 microns (PM2.5) ranged from 15.8 microgram per cubic metre in Kerala to 217 in Delhi
File picture
---
New Delhi
|
Published 23.12.20, 01:50 AM
|
---
New research has suggested that India's air pollution deaths are about 30 per cent higher than earlier estimates — 1.67 million premature deaths during 2019, or more than 10 times the country's coronavirus death toll during 2020.
These 1.67 million premature deaths attributable to air pollution made up nearly 18 per cent of India's total deaths during 2019, according to the study that has underlined the burden of disease and death and the economic impacts of poor air quality.
The study by a consortium of researchers at the Public Health Foundation of India, New Delhi, and collaborating institutions has calculated the economic loss from disease and deaths due to air pollution at 1.4 per cent of the country's gross domestic product in 2019, or Rs 260,000 crore. This is more than three times higher than the Centre's current health budget of about Rs 65,000 crore.
The largest proportions of air pollution-linked deaths were due to chronic obstructive pulmonary disease (32 per cent), ischaemic heart disease (30 per cent), strokes (16 per cent) lower respiratory infections (11 per cent) and neonatal disorders (5 per cent).
"Improvements in the study methodology have led to a higher estimate of the impacts of air pollution on health in India than previously estimated," said Lalit Dandona, a professor at the PHFI and chair of population health at the Indian Council of Medical Research.
Their earlier study had estimated 1.24 million air pollution deaths in 2017. But the new methodology yields estimates of 1.6 million deaths in 2017 and 1.67 million in 2019. The revised figures have emerged from refinements on how air pollution impacts low birthweight, premature births and strokes.
"Air pollution impacts even unborn children — our data clearly show how air pollution has an impact across the course of life from before birth into late adulthood," said Kalpana Balakrishnan, director of the ICMR Centre for Advanced Research on Air Quality Climate and Health and member of the study team.
The new study has underscored significant differences in air quality across states. The average exposure to particulate matter sized 2.5 microns (PM2.5) ranged from 15.8 microgram per cubic metre in Kerala to 217 in Delhi. Bihar, Delhi, Haryana and Uttar Pradesh had the worst air quality.
The economic loss due to air pollution as a percentage of the state GDP was the highest in the northern states because people there are exposed to "very high concentrations" of PM2.5. Bihar and Uttar Pradesh had the highest economic loss as a percentage of GDP but had lowest per capita GDP among states.
The findings, published on Tuesday in the journal Lancet Planetary Health, imply that health and economic impacts of air pollution are highest in the less developed states. "This is an inequity that needs to be addressed," Dandona said.
The study also identified long-term changes in air pollution patterns — a 64 per cent reduction in the death rate attributable to household air pollution but a 115 per cent increase in the death rate from outdoor air pollution.
Household air pollution is decreasing in India, resulting in 64 per cent reduction in the death rate attributable to it from 1990 to 2019, whereas the death rate from outdoor ambient air pollution has increased during this period by 115 per cent.
The researchers say their findings underline the need for state-specific air pollution control strategies. "It is imperative that policy-makers at the local and national levels take decisive steps to address this serious threat to public health," said Christopher Murray, director of the Institute for Health Metrics and Evaluation at the University of Washington.
The air pollution study is part of an effort to estimate the global burden of diseases directed by Murray and his colleagues.