Nepal tables bill to redraw India border
New map includes three territories in dispute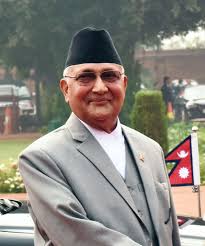 ---
---
The Nepal government on Sunday tabled a constitution amendment bill to provide legislative backing to a new map that includes three territories in dispute with India within Nepal's territorial limits.
The introduction of the bill had the unanimous support of the House of Representatives — Nepal's lower house — with the main Opposition party, the Nepali Congress, also now on board.
The bill was initially scheduled for introduction on Wednesday but the K.P. Sharma Oli government held it back at the last minute because not all parties were completely supportive despite a broad consensus, indicating that back channels were at work to stall the legislation.
India did not immediately respond to the decision of the Nepal government to go ahead with the constitution amendment that requires to be cleared by a two-thirds majority in both houses of Nepal's bicameral legislature.
While the cabinet has already cleared the map, the amendment is needed to change Nepal's map in the coat of arms/emblem.
Nepal's new map includes in its territory Kalapani, Lipu Lekh and Limpiyadhura — in Uttarakhand — that have been held by India since 1962.
While this is an old dispute, it has become an irritant in bilateral ties like the border disputes with Pakistan and China after India identified Kalapani in the new map released last year to factor in changes in Jammu and Kashmir.
The issue got prised open further earlier this month after India inaugurated a road in Lipu Lekh to facilitate the Kailash Mansarovar pilgrimage, and described the area as "China border".
For the beleaguered Nepal Prime Minister K.P. Sharma Oli, the Lipu Lekh dispute was a godsend as it helped him whip up nationalist sentiments at a time when he is facing political troubles, particularly from within his own party, Nepal Communist Party.
Given Oli's pro-China leanings and Beijing's growing footprint in Nepal, experts and diplomats believe that Kathmandu would not have taken things to this level without the tacit support of the Chinese government which is engaged in a face-off with India on at least four points of the Line of Actual Control.
Even so, the developments in Nepal are an embarrassment for the Modi government which prides itself for a "robust'' foreign policy but whose muscular approach seems to have alienated the neighbour with which India shares an open border.