India-Pakistan talks in Saudi statement
The contents of the joint statement were in sharp contrast with the Indian government's aggressive post-Pulwama narrative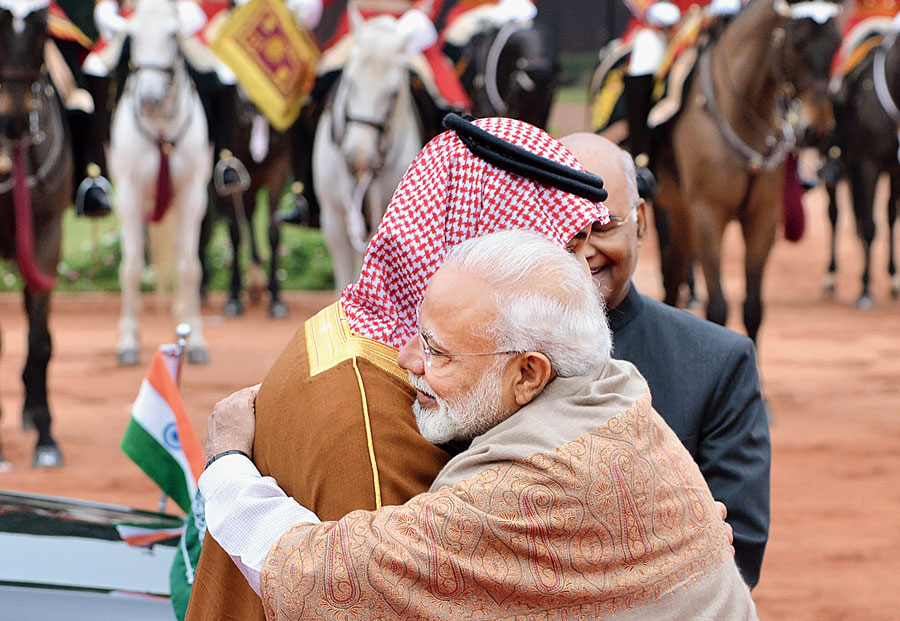 CAN YOU SPOT THE RAGING FIRE? PM Modi, who took care to hug Saudi Prince MBS more than once since Tuesday night, shares a laugh with the Saudi royal at Hyderabad House in New Delhi on Wednesday. On Sunday, Modi had told a rally in Bihar: 'Jo aag aapke dil mein hai, wahi aag mere dil mein hai'
Picture by Prem Singh
---
New Delhi
|
Published 20.02.19, 10:02 PM
|
---
Prime Minister Narendra Modi and Saudi Arabia's Crown Prince Mohammed bin Salman (MBS) on Wednesday laid stress on the importance of "good neighbouring relations" and "agreed on the need for creation of conditions necessary for resumption of the comprehensive dialogue between India and Pakistan".
The contents of the joint statement -- released over eight hours after the bilateral engagement –- were in sharp contrast with the aggressive post-Pulwama narrative steered by the political leadership and the Right-wing ecosystem in India.
As to whether the reference to the "composite dialogue" with Pakistan was an indication that the Crown Prince has offered to mediate, T. S. Tirumurti, the secretary (economic relations) in the external affairs ministry, said: "At this point of time, no mediation has been offered.''
The delay in making public the joint statement was apparently because the two sides were trying to reconcile differences on the text pertaining to the part on terrorism, especially vis-à-vis Pakistan. Another issue that took time to clinch was the release of Indian prisoners. Saudi Arabia has agreed to release 850 of the 2,224 Indian prisoners.
On terrorism, the joint statement makes a reference that assumes significance against the backdrop of allegations that Kashmiris are being targeted in several parts of India after the Pulwama attack.
"Affirming that the menace of extremism and terrorism threatens all nations and societies, the two sides rejected any attempt to link this universal phenomenon to any particular race, religion or culture," the joint statement said.
Apart from the context of dialogue, there is no mention of Pakistan in the joint statement. In his public remarks, MBS -- who was in Islamabad on Monday -- did not make any specific reference to Pulwama.
The Crown Prince appreciated Modi's personal initiatives to have friendly relations with Pakistan after joining India in calling for an end to terrorist havens and the use of terrorism as an instrument of state policy.
Briefing journalists, Tirumurti said the Crown Prince joined the Prime Minister in condemning the Pulwama attack in the strongest terms, adding that Pakistan's complicity in the terror strike that killed 44 security personnel was conveyed to MBS.
"They expressed strong condemnation of terrorism in all its forms and manifestations. They called on all states to reject the use of terrorism against other countries, dismantle terrorist infrastructure, cut off any kind of support and financing to terrorists from all territories against other states, and bring perpetrators of terrorism to justice.
"Both leaders called upon all countries to renounce the use of terrorism as an instrument of state policy. They called on states to deny access to weapons to commit terrorist acts against other countries. Both leaders underlined the importance of comprehensive sanctioning of terrorists and their organisations by the UN. They called for concerted action by the international community against terrorism and early adoption of the UN Comprehensive Convention on International Terrorism," Tirumurti read out.
He refused to comment on how the observations on comprehensive sanctioning of terrorists and their organisations by the UN squares up with the Saudi-Pakistan joint statement which had spoken against the politicisation of the UN listing process. But Tirumurti added: "If you are really looking at politicisation you know who is politicising it."
In the media remarks of MBS, there was no mention of Pulwama but only a general reference to terrorism. "Terrorism and extremism are common concerns. Saudi Arabia will cooperate with India especially in intelligence sharing. We will cooperate not just with India but also with other neighbours," he said.
The Congress had as it is launched a scathing attack on Prime Minister Narendra Modi for breaking protocol and offering a tarmac welcome to Saudi Arabia's Crown Prince Mohammed bin Salman when he touched down on Indian soil on Tuesday, a day after visiting Pakistan.
"By breaking protocol and welcoming Saudi Crown Prince Mohammad Bin Salman with such abundance -- only hours after he promised billions to Pakistan --- PM Modi has shown the country, the martyrs and every soldier in India what he thinks of their service & sacrifice,'' the Congress said in a tweet while posting a video of last night's airport reception complete with Modi's trademark hug reserved for foreign dignitaries.
The Congress criticism came after a night-long round of criticism in social media of the Prime Minister for breaking protocol for the Crown Prince so soon after he had announced $20 billion in investments for Pakistan besides appreciate Islamabad's role in fighting terrorism.
Terrorism apart, Saudi Arabia has decided to invest $100 billion in India in a range of areas including energy, refining, petrochemicals, infrastructure, agriculture and manufacturing. This includes ongoing projects including the refinery that is coming up in Ratnagiri.
On regional connectivity projects, Tirumurti said, both sides agreed that they should be based on universally recognised international norms, including respect for sovereignty and territorial integrity of states. This is of significance in the context of the China-Pakistan Economic Corridor that runs through Pakistan Occupied Kashmir and is part of China's Belt and Road Initiative that India has not joined owing to sovereignty issues.
Haj quota up
Both sides have agreed to increase the frequency of direct flights from India to KSA by 384,000 seats annually. The Haj quota has been increased from the present 175,000 to 200,000. The enhanced quota will come into effect only after the logistics are worked out.