Why the Saudi crown prince changed his route to India
After Pulwama, India had told Saudi Arabia that travelling to New Delhi straight from Islamabad was unacceptable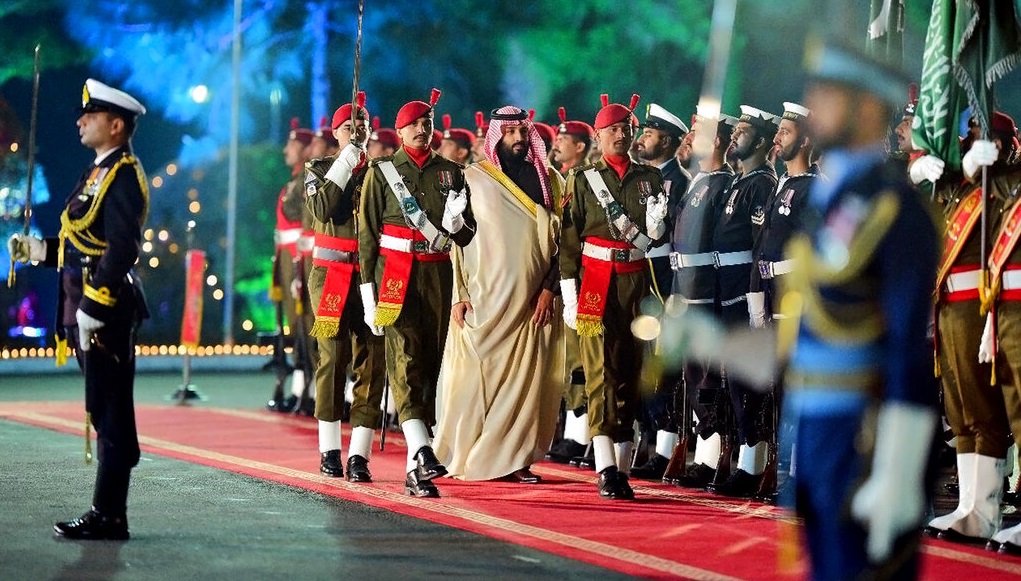 Mohammed bin Salman reviews the guard of honour in Islamabad on Sunday.
AP
---
New Delhi
|
Published 18.02.19, 10:04 PM
|
---
India has chosen not to view Saudi Arabia's announcement that it had signed investment agreements worth $20 billion with Pakistan as a reflection on Delhi's post-Pulwama efforts at isolating Islamabad, calling it a "bailout" incomparable with the kingdom's engagement in a "very robust (Indian) economy".
There was no official comment from India on Saudi Crown Prince Mohammed bin Salman's Pakistan visit, which concluded on Monday evening.
Sources claimed that the crown prince, known in the western world as MBS, has agreed to rework his India schedule to arrive in New Delhi straight from Riyadh instead of Islamabad in view of India's sensitivities.
MBS is scheduled to land in the capital on Tuesday evening for a bilateral engagement beginning on Wednesday.
The sources said that after the Pulwama attack, India had told Saudi Arabia that MBS travelling to New Delhi straight from Islamabad was unacceptable, given the diplomatic offensive that has been unleashed to isolate Pakistan.
There was no official word from either side on this but it is clear that the crown prince will not be coming here from Pakistan. The five-nation Asia visit of MBS — who is under fire in the western world, in particular, for the murder of Saudi critic and journalist Jamal Khashoggi — has been reworked more than once over the past week. He was initially supposed to travel to Pakistan, India, China, Malaysia and Indonesia on this visit but has since rescheduled the last two stopovers.
India also maintained a studied silence on the Saudi-Pakistan joint statement that has Saudi Arabia appreciating Pakistan's "achievements and sacrifices" in the war against terrorism, and a call for avoiding the politicisation of the UN listing regime.
While the portion on terrorism can be dismissed as platitude, the reference to the UN listing programme comes at a time India has said it would renew efforts to get Maulana Masood Azhar of the Jaish-e-Mohammed labelled as a designated terrorist under the 1267 Sanctions Committee of the UN.
In Pakistan, MBS not only announced a $20-billion investment — in the first phase — but also said: "We've been a brotherly country, and very friendly country to Pakistan. We believe that Pakistan's going to be a very very important country in the coming future. We want to be sure that we are part of that."
Saudi Arabia's foreign minister Adel bin Ahmed Al-Jubeir said at a media briefing in Islamabad that his country would now try to play its key role in de-escalating tensions between India and Pakistan. He also clarified that the $20 billion pledged to Pakistan this time was by way of investment and not charity.
Sources here said that Saudi Arabia has shown greater understanding of India's concerns about terrorism. The Saudis do not buy the Pakistani narrative on Kashmir, and see it as a bilateral issue between India and Pakistan, they said.
In a readout, the secretary (economic relations) in the external affairs ministry, T.S. Trimurti, pointed out that Saudi Arabia had strongly condemned and denounced the Pulwama terror attack: "We appreciate the Kingdom's cooperation in security and counter-terrorism areas over the years... The Kingdom has shown greater understanding of our terrorism-related concerns and also agreed to work with India in countering this global menace."
His readout also detailed the depth of the India-Saudi partnership; adding that Riyadh wants to take the nine-year-old strategic partnership even further.
India is among Saudi Arabia's eight strategic partners with which it intends to deepen partnership in politics, security, trade and investment and culture. The other countries include China, Japan and South Korea in Asia, the US, besides three from Europe.
The two countries are exploring the possibility of elevating cooperation in defence to joint production and joint exercises, particularly naval exercises. During this visit, the two sides also hope to sign five MoUs in investment, tourism, housing and information and broadcasting.
Sources said that India would also raise the issue of Indian prisoners in Saudi Arabia. In Pakistan, MBS announced the immediate release of 2,107 Pakistani prisoners in Saudi Arabia.