NC's 2 killed, BJP's 2 exit in Kashmir
Pre-poll violence three days before municipal elections in Jammu and Kashmir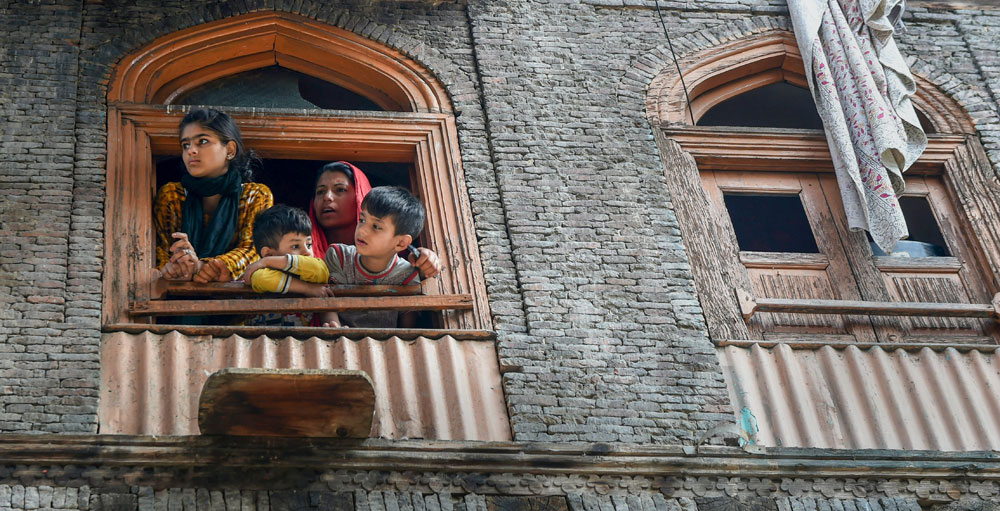 Woman and children watch as police arrive at the spot where two National Conference workers were allegedly shot dead by militants, three days ahead of the first phase of elections for urban local bodies, at Karfali Mohalla in Down Town, Srinagar on Friday.
PTI
---
Srinagar
|
Published 05.10.18, 10:34 PM
|
---
Militants killed two National Conference workers and injured another in Srinagar on Friday, three days before municipal elections in Jammu and Kashmir, prompting many jittery candidates to pull out and publicly apologise for having filed their nominations.
Police sources said dozens of other candidates had called them, seeking heavier security.
Ironically, the first political killings here after last month's announcement of the October 8-16 polls targeted a party that is not in the fray.
The National Conference, along with rival People's Democratic Party and some other parties, is boycotting these polls. Kashmir's grand old party has, however, always borne the brunt of militant attacks, facing a sort of "damned if you do, damned if you don't" situation.
The BJP's Muzamil Jan, who was in the fray from Srinagar's Dalgate, pulled out saying she didn't want to lose her life. The party has won more than 70 wards in the Valley unopposed, opening its account in the region for the first time ever.
The BJP's Dooru constituency president, Ghulam Hassan Bhat, resigned his basic membership of the party and withdrew his nomination.
A police officer said motorcycle-borne militants sprayed bullets on a meat shop in the city's Karfali Mohalla locality, hitting three men inside.
Nazir Ahmad Bhat, public relations officer of Habba Kadal MLA Shamima Firdous, and his associate Mushtaq Ahmad Wani died in hospital. Party worker Shakeel Ahmad Zangoo, the meat shop owner, was injured.
Local people said both the slain men were former militants.
Firdous said a political party that is contesting the polls was spreading canards accusing the National Conference of fielding proxy candidates, and suggested this may have been the reason for the attack.
"There is no truth that they (Nazir and Wani) were contesting elections. Our party has got nothing to do with these elections," she said.
Firdous said that Nazir, whom she described as the "backbone" of her party in the constituency, had gone to the shop to buy meat.
Nazir had played a key role in mobilising voters for Firdous in the 2014 Assembly elections. The Habba Kadal constituency is a separatist stronghold and tends to witness the lowest voter turnouts in the Valley.
The attack is likely to further dampen the already low public interest in these elections. Around two-thirds of the 598 wards in the Valley will not see any voting, either because there's no contestant at all or because the lone candidate won unopposed.
Srinagar, which has traditionally boycotted elections since the start of the militancy, is one of the few towns in the Valley where an impressive number of candidates, 330 in 74 wards, are contesting.
The killings shocked the pro-India camp in the Valley.
"I cannot condemn strongly enough the murderous terrorist attack against three of my party workers," former chief minister Omar Abdullah tweeted. "May the families of Nazir, Mushtaq & Shakeel find strength in this most difficult time."
People's Democratic Party president and former chief minister Mehbooba Mufti too expressed anguish.
"Pained to hear about the killing of two NC workers. My heart goes out to their families and children. Cannot possibly imagine what they must be going through," she tweeted.