Naveen sees major role
At the public meeting, Naveen raked up the issue of special category state status for Odisha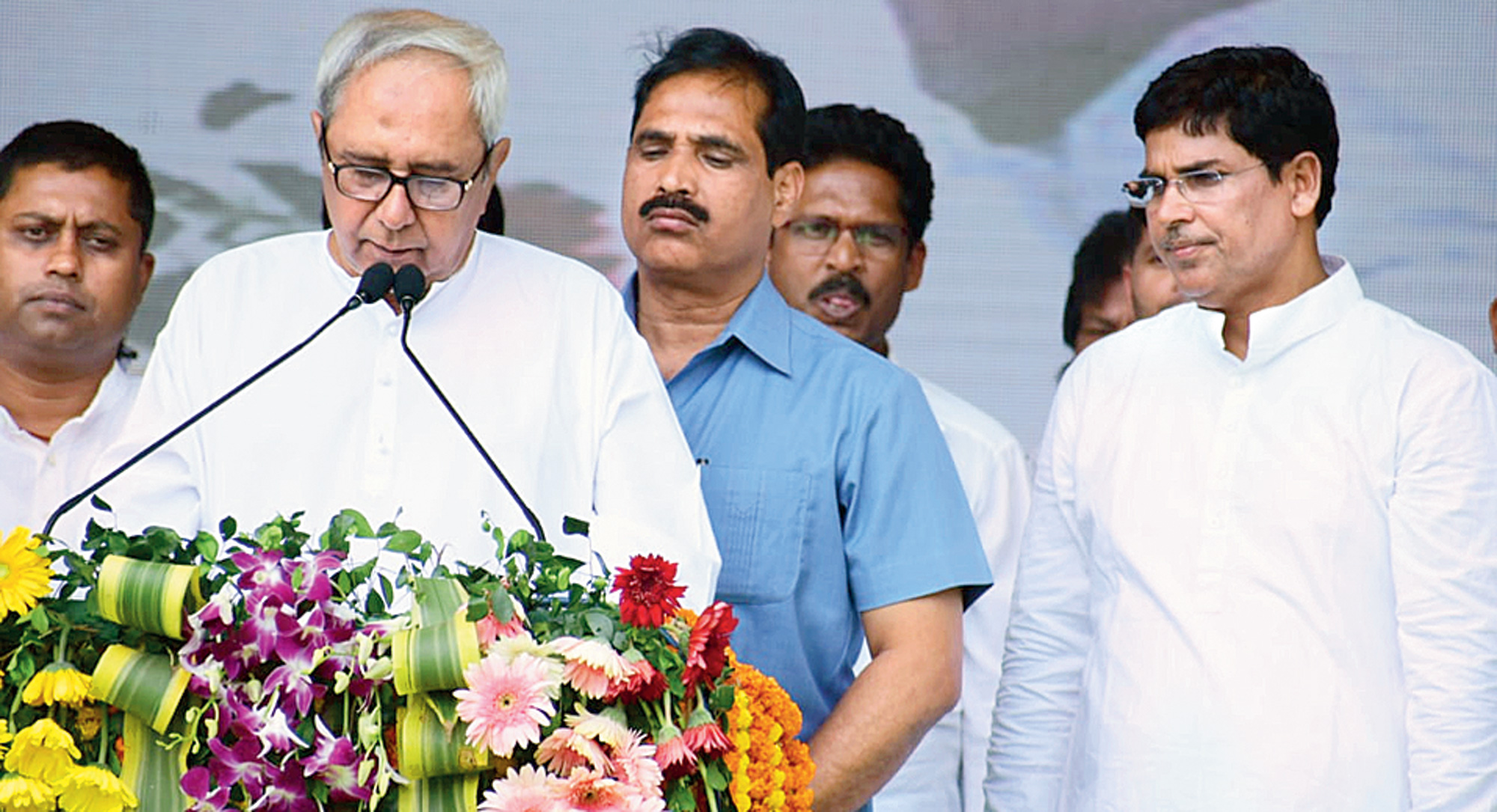 ---
---
Odisha chief minister Naveen Patnaik on Sunday asserted that his Biju Janata Dal would sweep the Lok Sabha election in the state and indicated he believed that no national party would get simple majority to form the government at the Centre.
Launching his election campaign at Nayagarh, about 90km from here, Naveen said: "We (the BJD) and the people of Odisha will have a major role in the formation of government at the Centre. This is a golden opportunity for us. The BJD will win all the 21 Lok Sabha seats (in the state). The conch (BJD's symbol) will sweep all the Lok Sabha seats. "
Last time, the BJD had won 20 Lok Sabha seats and the BJP had to be content with the lone Sundergarh seat. In the 147-member Assembly, elections for which will be held along with the Lok Sabha, the BJD has a strength of 118, the BJP 10, and Congress 16.
Naveen, who is seeking his fifth term in a row, started his campaign from Nayagarh as a prominent BJD leader from the area and Sabha member Pratyusha Rajeswari Singh on Saturday joined the BJP and is likely to contest either the Lok Sabha seat (Kandhamal) or one of the Assembly segments (Nayagarh)in the area. The BJD has fielded educationist Achyut Samant in Kandhamal.
At the public meeting, Naveen raked up the issue of special category state status for Odisha. "In its election manifesto in 2014, the BJP had promised special category state status for Odisha. After forming the government at the Centre, they have forgotten their promise," he said.
Naveen accused the Narendra Modi government of ignoring the state's interest on the Mahanadi river water dispute and favouring the erstwhile BJP-led Chhattisgarh state government. The Centre, Naveen alleged, had also neglected Odisha's interests in railway, telecom, national highways and on non-revision of coal royalty.
Naveen added: "The BJP leaders in the state are aware of all these issues. They cannot fight for the interests of Odisha. They are being controlled by their high command from Delhi. Our high command is the people of Odisha. Our remote control is with the four crore people of Odisha."
During a recent visit to Odisha, Congress president Rahul Gandhi had alleged that Naveen was controlled remotely by Narendra Modi from Delhi.