Modi tweets haunt cop pursuing journalists
The police officer had a key role in the crackdown on Valley journalists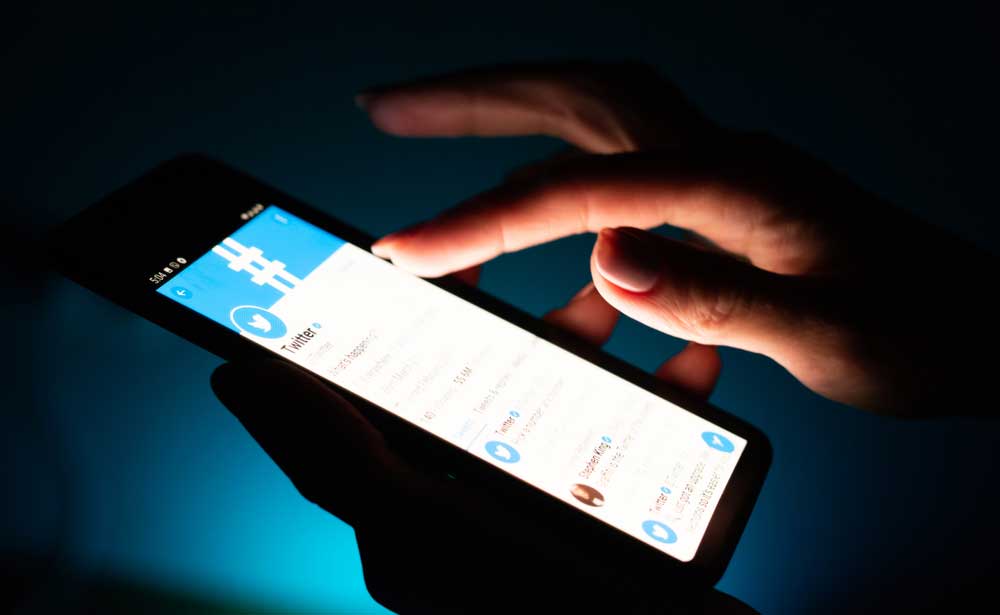 ---
|
Srinagar
|
Published 22.04.20, 09:22 PM
---
Old tweets censuring Narendra Modi and Hindutva have returned to haunt a police officer leading the crackdown on Valley journalists for their alleged anti-national writing, and a bureaucrat who backs him too faced a similar predicament.
Superintendent of police Tahir Ashraf, who heads Kashmir police's cyber wing, and Srinagar deputy commissioner Shahid Iqbal Choudhary had posted these tweets before Modi became Prime Minister.
One of Ashraf's tweets appeared to describe Modi as "sadistic"; another referred to "Hindutva terror". Choudhary's tweet derided "mobocracy".
Both officials faced a social media storm after these tweets were dug up on Wednesday, with many users asking whether they should now be booked under harsh laws.
Ashraf had a key role in the police booking three Valley journalists — Masrat Zahra, Peerzada Ashiq and Gowhar Geelani — in the past few days.
Freelancers Zahra and Geelani have been booked under the Unlawful Activities Prevention Act, which allows individuals to be designated as terrorists, for their social media posts. Both have had their work published in the national and international media.
Peerzada, The Hindu's Jammu and Kashmir correspondent, is accused of spreading fake news.
The cyber police headed by Ashraf had lodged the FIRs against Zahra and Geelani and questioned Peerzada.
Over the past few months, Ashraf and Choudhary have also been at the forefront of the administration's efforts to deal with protests– on social media and on the streets – against the scrapping of Jammu and Kashmir's special status.
Ashraf had in a 2013 tweet referred to a comment Modi, then Gujarat chief minister, had made on the 2002 riots in an interview with Reuters.
Asked whether he regretted the violence, Modi had said: "(If) someone else is driving a car and we're sitting behind, even then if a puppy comes under the wheel, will it be painful or not? Of course it is."
Ashraf's 2013 tweet read: "Narendra Modi's puppy analogy on 2002 riots shows his real character... sadistic."
Ashraf deleted the tweet after the controversy broke on Wednesday.
In another tweet, posted in 2014, Ashraf had written: "Rise of Hindutva Terror: Youth Killed in Pune."
A tweet posted by Choudhary in January 2014, just months before Modi became Prime Minister, read: "Mobocracy in name of Democracy!!! aap ka andaaz he alag hai!!!"
The second sentence means: "Your style is different."
While the exact context of the tweet remains unclear, some of those who highlighted the post on Wednesday implied it was aimed at the Hindu Right-wing. Choudhary did not appear to deny it.
Journalists' queries on the tweets evoked no responses from officials.
Valley police chief Vijay Kumar remained silent to a question asked by members of a WhatsApp group for national correspondents, of which Kumar is a part. He was asked whether there would be any action against Ashraf or Choudhary.
Choudhary saw a design in "digging out" the past.
"Underlying reasons for digging out past tweets r well known. Want my friends to know: we're handling a bigger challenge than this; so, will not respond any further," he tweeted.
"Meanwhile, I stand by my thoughts: mobocracy/lynching is bad all the time. No question of then/now, there/here!"
Journalist Siddharth Vardarajan took a couple of digs referring to Ashraf's 2013 tweet.
"I only hope some awful counterpart of the J&K police Cyber Cell elsewhere in India doesn't file an FIR against him for this 'incriminating' material, calling our dear leader 'sadistic'," Vardarajan tweeted.
"Now I would expect a police officer who heads a 'cyber cell' to know that deleting a tweet does not make it go away," he said in another post.
Some, however, praised the officer who had booked the journalists.
"Kudos to @Tahir_A for doing a magnificent job against those who are spreading fake news & helping terrorists in Kashmir. More power to you. #Staysafe," tweeted filmmaker Ashok Pandit.
Pandit had once declared the Jammu and Kashmir police a terrorist force, prompting some to ask on Wednesday whether he should be booked for that comment.
On April 16, Ashraf had tweeted that the cyber cell had registered 13 FIRs for misuse of the social media in Kashmir.
Three days later, a journalist named Kamran Manzoor tweeted: "I am under surveillance of cyber police station Srinagar Kashmir. But I want to assure them that I will not upload any unlawful content on social media again and I will never misuse social media now."
Within an hour, Ashraf had re-tweeted the post with a comment, "God bless you, all the best."
Choudhary had endorsed Ashraf's action, tweeting: "Man behind purification of Social Media @Tahir_A . God bless."
Ashraf responded: "Thank you sir."